Fathers of 2 suspects devastated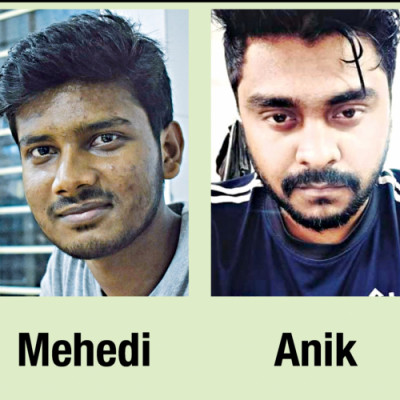 Fathers of two of the suspects of Abrar killing yesterday said their sons should face the full force of law and demanded a separate investigation into how their meritorious sons got involved in the heinous crime while studying at a prestigious institution like Buet.
They demanded that the problems in the system should be addressed so that no other parents face their fate.
Key suspects Anik Sarker and Mehedi Hasan Robein are from Rajshahi. Officers investigating the case said Anik was the most ruthless of the attackers while Robein was the one who started hitting Abrar Fahad, a Buet student who was beaten to death at his dormitory early Monday.
Anik of Mohonpur upazila was the information and research affairs secretary and Robein of Paba upazila was the organising secretary of Buet BCL.
Anik is one of the two sons of Anwar Hossain Sarker, an apparel businessman.
He broke down in tears while talking to this correspondent yesterday and said his dreams about his son came crashing down when he heard about his son's involvement in the killing.
"I thought he would be an asset of the country after completing his education… I am well-off and always met his demands. He was the brightest student in our area. Why did he feel the need to take someone's life?"
Anwar often advised his son against engaging in politics since he went to Dhaka to study in Notre Dame College and then Buet.
"I want to know how my son got engaged in politics and why he killed someone. I want the government to investigate that and root out the problems."
He then added that his son must face the trial for what he had done.
Anik's mother has not stopped crying since learning about Anik's involvement with the murder, he said, "It feels like my backbone has been broken."
Another accused Robein is the only child of Maksud Ali, a teacher of Bharuapara High School. He said he had been waiting for Robein's graduation next year.
Maksud, also a joint secretary of ward unit Awami League, said, "As he got involved [in the crime], he must face the trial."
He too demanded an investigation into how his son got involved in the killing.
"There is no end to my miseries now. He is my only child. I don't want any other fathers to go through this."