Homegoers' plight just won't let up
Trains run late for up to 15 hours; gridlock worst on Dhaka-Tangail highway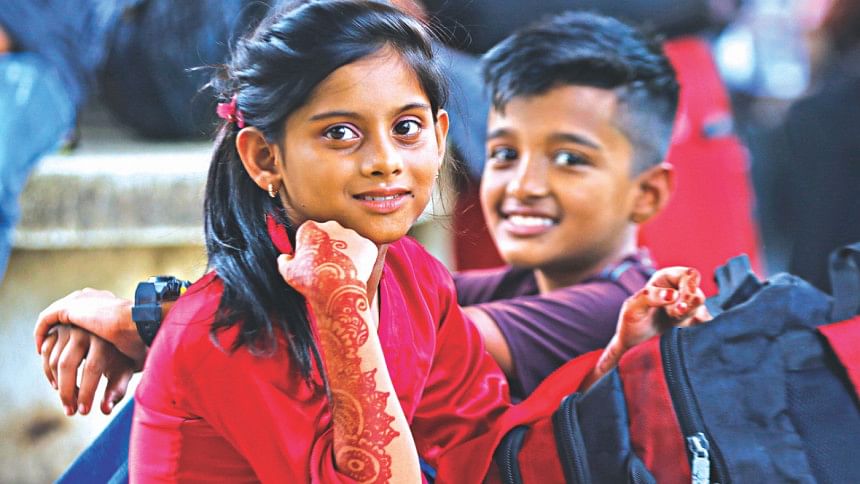 To spend Eid back home in Dinajpur, Sultan Mahmud and his family members started from the capital's Gabtoli around 10:00pm on Friday.
Their bus was already an hour behind schedule and then it got stuck in severe traffic jam on the Dhaka-Tangail highway. It could make it to Bogura, just over halfway into the journey, 15 hours later at 1:00pm yesterday.
The vehicle finally reached the northern district around 6:30pm, Sultan said over phone.
The journey usually takes eight to 10 hours.
"I'm diabetic. I hardly found any washroom anywhere. You can understand what I went through," said Sultan, a 50-year-old service holder. 
Like Sultan and his family, tens of thousands of holidaymakers suffered immensely yesterday on their way home to celebrate Eid-ul-Azha tomorrow. They remained stuck in seemingly never-ending agonising tailback on highways and near ferry terminals.
Like on Friday, the schedule of trains to the north-western and southern districts collapsed again yesterday.
Passengers spent hours at different terminals in the capital as buses arrived late getting stuck on the highways. Annoyed at a huge tailback on the Dhaka-Tangail highway, some passengers demonstrated on the road and vandalised two microbuses.
On the other hand, Bangladesh Railway rescheduled train timing after Friday's derailment of a Khulna-bound train, but many people, unaware of the new schedule, thronged the Kamalapur and other railway stations much earlier.
People, heading for the south-western districts through Paturia-Daulatdia ferry route, also suffered due to a three-kilometre tailback near the terminal, amid a huge presence of vehicles.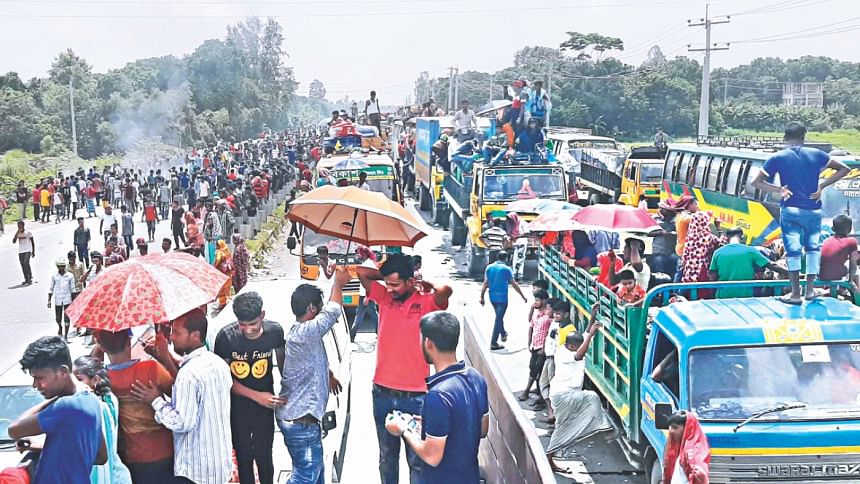 SUFFERINGS ON HIGHWAY
Like the previous day, holidaymakers had to spend hours on Dhaka-Tangail highway in Tangail and from the western end of Bangabandhu Bridge to Hatikumrul in Sirajganj.
At one point, some angry passengers started demonstration placing logs at different points on the Dhaka-bound lane of the highway and vandalised two microbuses in Rabna bypass area in Tangail Sadar upazila around 10:45am.
On the last day of home rush for Eid-ul-Fitr earlier this year, passengers staged a similar demonstration on the highway.
Thousands of passengers, including women and children, suffered since yesterday morning as vehicular movement came to a halt on 40km of the road from Mirzapur to the approach road of the Bangabandhu bridge.
After 11:00am, the vehicles started moving at a snail's pace on Mirzapur-Bangabandhu bridge approach road, police said.
The tailback had appeared when the bridge authorities suspended toll collection for one-and-a-half-hours from 7:10am, said Shafiqul Islam, additional superintendent of police in Tangail.
The authorities suspended the toll collection as a huge number of vehicles got stuck from the western side of the bridge to Hatikumrul point in Sirajganj mainly because of excessive pressure of vehicles and a narrow bridge at Nokla, Shafiqul said.
Toll collection remained suspended for another two hours since 6:00pm, causing a 30km tailback again.
Shamim Rahman, a private service holder, started at 11:00pm on Friday from the capital's Mazar Road area to go to his Thakurgaon home and could reach till Sherpur of Bogura at 7:15pm yesterday. It might take at least another five hours to reach Thakurgaon.
"I already passed 20 hours with some dry food. It's a nightmare," he said over the phone, adding that he had faced a similar situation last year.
Sanjit Kumar Roy, superintendent of police in Tangail, told journalists that operation of heavy and rundown trucks on the highway was banned for three days before Eid, but still the pressure of vehicles was high.
Md Shahidul Islam, deputy commissioner in Tangail, said at least 35,000 vehicles were plying on the highway everyday due to Eid rush.
TRAIN
Around 8:30pm on Friday, garment worker Moyna Akter went to Gazipur's Joydevpur Rail Station to go to her village in Bagerhat.
But the crowd was so intense that she could not board a train. She was at the station till yesterday noon and came to Dhaka's Kamalapur station in Sundarban Express.
"I had no other option than to come to Dhaka this way and take the same train to go to Khulna. I need to get home to my children who live with my mother," she told The Daily Star.
Sundarban Express left the station around 2:15pm, although it was originally scheduled to do so at 6:20am.
Like Moyna, several thousand other passengers spent hours at the station waiting for their trains. Some were sleeping on platform while many were busy feeding their children.
Till 2:15pm, only two trains -- Sundarban and Panchagarh-bound Ekata Express -- left Kamalapur with many on roofs.
Most of the trains heading for north-western and southern districts have been running behind schedule since the beginning of the Eid journey on August 7.
But the schedule totally collapsed on Friday after a coach of Sundarban Express derailed near Bangabandhu Bridge halting train movement for three hours.
As per the rescheduled timing, Dhumketu Express, Nilsagar Express, Rangpur Express, Lalmonirhat Eid Special and Silkcity Express were running nine to 15 hours late.
Meanwhile, the railways ministry said passengers could take refunds for tickets if they chose not to travel in line with the new timing.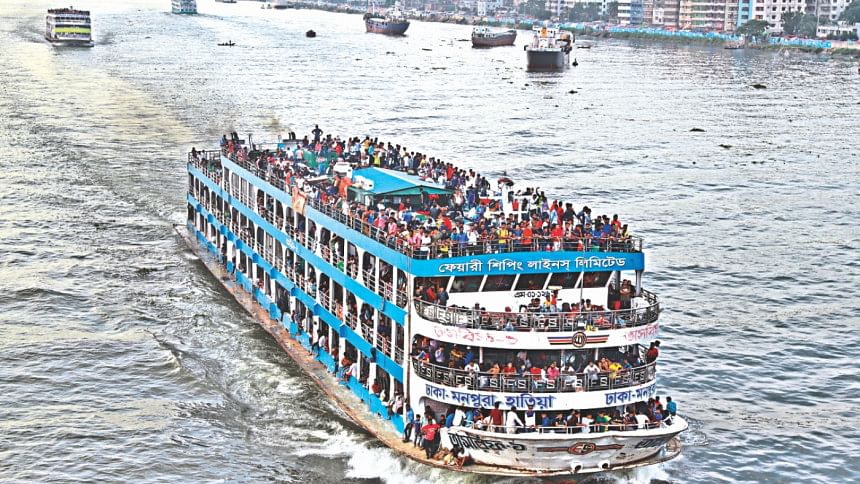 FERRY TERMINALS
Mohna Azam, a student of Eden Mohila College, and her family members were supposed to start for Satkhira home from Shyamoli at 3:00pm on Friday. However, the bus authorities called her at the last moment and said the vehicle will arrive at 6:00pm.
The bus came at 9:30pm and left the counter there half-an-hour later.
They crossed the Padma through Paturia-Dauladia ferry terminal at 8:00am yesterday after remaining stuck in an agonising jam for hours near the ghat.
The bus finally arrived in Kolaroa in Satkhira at 1:00pm, she said over phone.
On Friday, huge pressure of vehicles led to a 20-km long queue on Dhaka-Aricha highway ahead of the Paturia-Daulatdia ferry terminal, causing people to suffer badly.
However, the situation improved a little yesterday morning and the tailback reduced to around three kilometres in the afternoon.
Zillur Rahman, assistant general manager of BIWTC at Aricha Ghat, said they were trying to handle the situation with 20 ferries, but strong currents of the Padma and huge pressure of vehicles were causing trouble.
The situation at Shimulia and Kathalbari ferry terminals were comparatively better, said sources there.
[Our Manikganj and Munshiganj correspondents contributed to the report]