224 killed on road in 12 days of Eid rush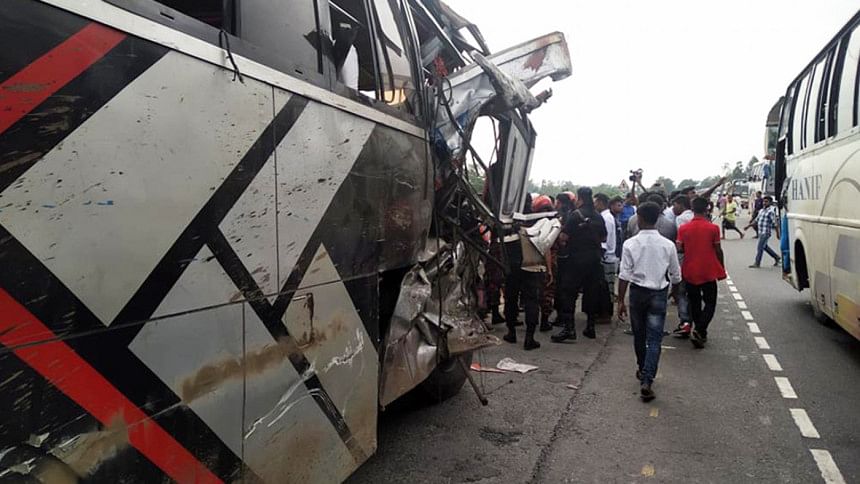 At least 224 people were killed and 866 injured in 203 road crashes across the country in the 12 days of Eid holiday rush, a passenger welfare group said yesterday.
Most crashes happened after the holidays when people were returning to Dhaka, according to Bangladesh Jatri Kalyan Samity. 
It blamed absence of monitoring and speeding on relatively empty highways.
Over 52 percent of the incidents involved vehicles running over pedestrians on roads, Mozammel Hoque Chowdhury, secretary general of the association, told a press conference at Dhaka Reporters Unity.
Read more: Eid-time road crashes killed 259 people
The report is based on news published on 41 national and regional dailies and 11 online news portals, he said.
Also during the holiday rush, 13 people were killed and 15 others injured in 14 incidents involving trains. On waterways, 16 people were killed, 27 others injured and 59 went missing in 24 accidents.
In the 13 days of last year's Eid-ul-Azha rush, at least 259 people were killed and 960 others injured in 237 crashes.
Mozammel yesterday said reckless driving, unfit vehicles, carrying of people on trucks, unskilled drivers, three-wheelers on highways, absence of footpaths on highways, overworked drivers and an increasing number of motorcycles during Eid rush were the main causes of the crashes.
The roads were in better shape and several new launches and trains ran before Eid, but people were overcharged by operators and they suffered due to congestions on roads and ferry terminals and by trains running late.
According to the report, 108 people were killed and 242 others injured in 101 crashes between August 6 and 12. Eid was on August 12.
On the other hand, 102 people were killed and 624 others injured in 102 crashes from August 13 to August 17.
The increasing number of accidents after Eid can be attributed to drivers taking inadequate rest during the rush.
"We often see ministers, the Rab DG and IGP visiting the roads before Eid. But we see the opposite picture after Eid. There is no one in field to monitor after Eid," Mozammel said.
Ayubur Rahman, adviser of the association and former chairman of the Bangladesh Road Transport Authority, also said more crashes happened after Eid because of a lack of monitoring.
The number of crashes will drop once the Road Transport Act-2018 is implemented, he hoped.
Mozammel pointed out that 27.4 percent of the accidents involved buses, 26.33 percent motorcycles, 16.4 percent trucks, pickups, lorries and trailer trucks, and 7.82 percent cars and microbuses, 13.52 percent auto-rickshaws and other vehicles.
He said 52.21 percent of the accidents occurred after vehicles hit pedestrians, 21 percent were head-on collisions, 17 percent due to drivers losing control and 9.85 percent accidents happed due to unknown reasons.
The organisation also gave 12 recommendations including providing training to drivers, introducing digital traffic control system, a separate cell to find out reasons behind accidents, implementing the ban on three-wheelers and slow vehicles on national highways, ban on motorbikes during Eid rush and checking vehicles before a trip.
Mozammel said the authorities used to deem their findings and recommendations as a "disturbance", but now the authorities' outlook have changed "a little".