Trains late for up to 7 hours
Rail minister says 'sorry' as Eid holidaymakers suffer; less hassle in road trips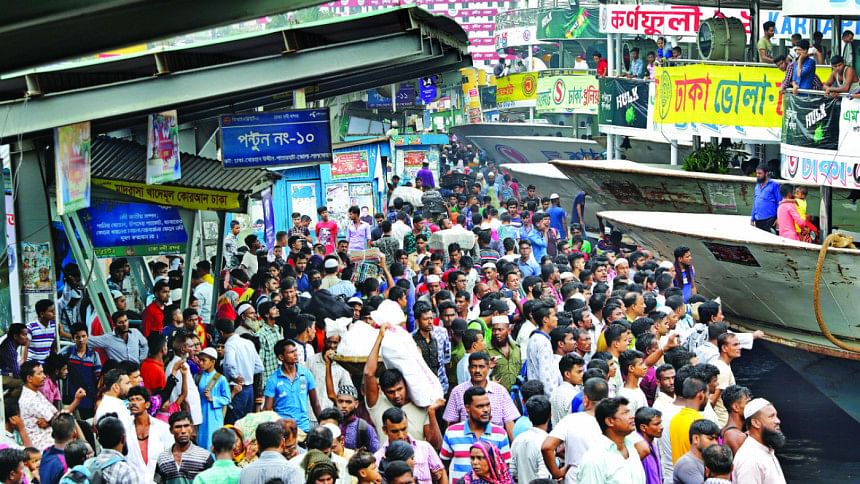 Shumi Akhtar, a student of Jagannath University, reached the capital's Kamalapur Railway Station around 8:30am yesterday. She was supposed to catch a train in half an hour to go to her home in Gaibandha to celebrate Eid with her loved ones.
However, the train -- Rangpur Express -- did not arrive till 1:30pm when this correspondent talked to her at the station.
"I've already waited for five hours. I don't know when I will get home," said an anxious Shumi, adding, "It takes eight hours to reach the Gaibandha station. It will be quite late and that's why I told my father to wait for me there."
Although the railways authorities said the departure time was rescheduled at 2:10pm, the train finally arrived at 4:00pm and left half an hour later, Shumi told this correspondent over phone later.
Like her, thousands of Eid holidaymakers had to suffer this way at the country's premier railway station as at least half a dozen trains -- particularly those running to the northern districts -- were delayed by one to seven hours.
Fortunately, bus services from the capital were relatively better yesterday. There was no major tailback either at the city's exit points or on the highways.
SUFFERING AT KAMALAPUR
People, who bought advance train tickets standing in queues for hours a few weeks ago, started arriving at Kamalapur since morning.
One of them was Mohammad Sujan. He reached the station around noon to board Chapainawabganj-bound Rajshahi Express which was scheduled to begin its journey at 12:20pm.
The train left at 2:15pm. But while waiting there, Sujan said, "It's true that we are waiting, but once we reach home all our sufferings will be gone."
Railways Minister Nurul Islam Sujan visited the railway station in the morning and apologised for the delays on the first day of the weekend ahead of Eid.
"We can't ensure hundred percent smooth journey for the holidaymakers, but we are trying our best," he told journalists at the railway station.
A total of 18 trains left Dhaka till 10:00am while the schedule of four trains were disrupted, he said. "I'm really sorry for this and it won't happen from tomorrow," he added.
The newspaper found that the Rangpur Express was delayed by more than seven hours, Chapainawabganj-bound Rajshahi Express around two hours, Rajshahi-bound Dhumketu Express over two hours, Khulna-bound Sundarban Express one hour and 15 minutes, Nilphamari-bound Nilsagar Express one hour and 40 minutes and Sylhet-bound Chalantika Express one hour and 40 minutes.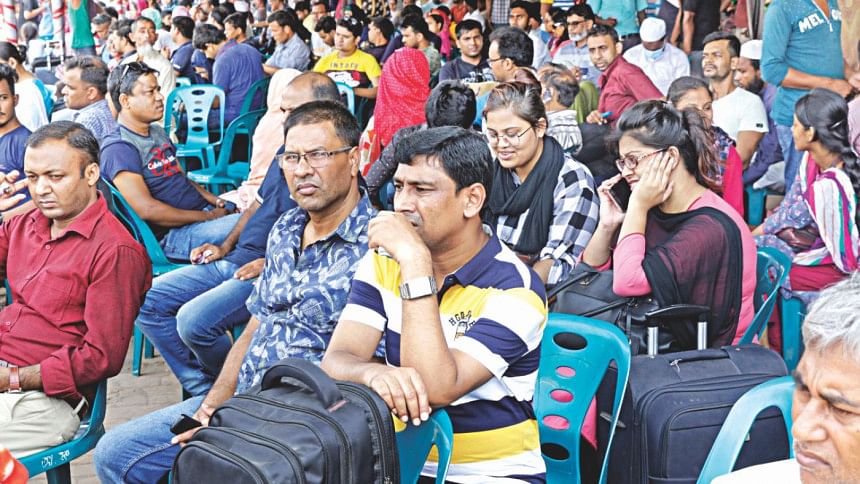 BUS SERVICES
Talking to The Daily Star, most of the holidaymakers who chose to travel by bus expressed satisfaction over their journey yesterday. They said almost all bus operators maintained schedule and the highways were largely congestion free.
We left our home in Dhaka's Gulshan Link Road around noon thinking of traffic congestion, but we reached here within an hour," said Nilufar Parvin, who was about to board a bus to Jhenidah, at the Gabtoli Bus Terminal.   
"We are delighted that we are about to begin our journey on time. I hope the Eid journey is going to be hassle free this year," Parvin, a government employee, told this correspondent around 3:00pm.
However, bus operators claimed they had to reduce the number of their usual trips due to a smaller number of passengers. They expected the Eid rush would intensify on June 3, two days before the festival.
Mohammad Dulal, a counter master of Hanif Paribahan, said, "Although our buses are operating on schedule, we are worried about the loss being incurred because of less than the expected number of passengers."
FERRY SERVICES
The major ferry routes -- Paturia-Daulatdia and Shimulia-Kathalbari -- started to witness the Eid rush yesterday morning.
Our Manikganj correspondent reported that more than 300 cars and microbuses and 150 buses and trucks were seen lined up near a jetty at Paturia Ferry Ghat around 3:30pm. Officials there said the services were usual ahead of Eid.
At Shimulia Ferry Ghat, the rush of passengers was high, but they did not have to suffer as there was no traffic congestion or halt in ferry services, reports our correspondent in Munshiganj.
In Tangail, a tailback of several hundred vehicles was seen on the eastern link road of Bangabandhu Bridge on Thursday midnight. But it eased early yesterday.
Meanwhile, Road Transport and Bridges Minister Obaidul Quader yesterday said the journey of homebound people would be comfortable ahead of Eid-ul-Fitr as there was no possibility of traffic jam on highways.
"There is no concern of having traffic congestion on roads and highways ahead of Eid-ul-Fitr this year… If discipline is brought in transportation, I think there will be no traffic jam on the roads across the country, including the capital," he said, UNB reports.
Quader, also Awami League general secretary, made the remarks while speaking at a press briefing after his visit to Gabtoli Bus Terminal in the city.