26 killed on roads during Eid holidays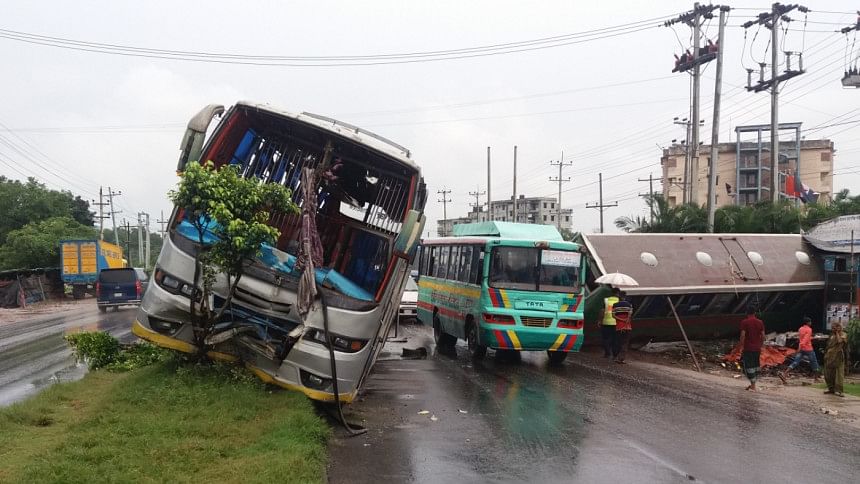 At least 26 people were killed and several others injured in road accidents across the country during the three-day Eid vacation that ended on Tuesday.
Besides, four more died and 20 others were wounded in road crashes yesterday.
Of the dead, five each were killed in Bogura and Rangpur, four in Sirajganj, three each in Dhaka, Dinajpur and Gopalganj, two each in Narayanganj, Munshiganj and Cumilla, and one was killed in Natore, reports our district correspondents.
At least six accidents took place when buses hit pedestrians on highways. Motorcycles and CNG-run three-wheelers were involved in four other incidents.
Road safety experts blamed an increased number of motorcycles and three-wheelers on roads and poor monitoring of the traffic system after the Eid for the loss of so many lives.
They said the number of casualties could be higher as many accidents, especially those on regional highways and district roads, go unreported.
Meanwhile, Road Transport and Bridges Minister Obaidul Quader yesterday told reporters at the secretariat that at least 46 people died in 43 road crashes between August 6 and 13. He said the numbers of accidents and casualties were lower this year than those during the Eid journeys last year.
Replying to a question, the minister said people's Eid journeys were comfortable this year. "But there were some mistakes and we will take lessons from those. I hope that the suffering of people on some roads will be eased in phases and we are working in this regard."
During the Eid-ul-Azha holidays last year, road accidents had claimed at least 31 lives. The number was 29 in 2017, 32 in 2016, 30 in 2015, 26 in 2014, 10 in 2013, and 40 in 2012, according to statistics from reports by The Daily Star.
FIVE KILLED IN RANGPUR
In Rangpur, three teenage boys were killed when a truck hit a rickshaw van they were travelling on in Mithapukur upazila's Baldipukur village on the Eid day on Monday.
The following day, a man was killed when a bus fell into a roadside ditch along the Dinajpur-Rangpur highway in Ikarchali village of Taraganj upazila. The identity of the victim could not be confirmed.
Besides, another unidentified man was killed as a bus hit him in Polichora area of Rangpur city on the same day.
In Dinajpur, one Bulbul Ahmed, 22, died and a boy was injured falling from the roof of a running bus in Nawabganj upazila on Tuesday.
In another incident, bikers Shahriar Sabbir, 17, and Asadul Islam, 16, were killed on Monday when a microbus hit their motorcycle on Dinajpur-Rangpur highway in Chirirbandar upazila.
In Bogura, two buses collided head-on in Aria Bazar area of Shajahanpur upazila yesterday, leaving three people dead and 20 others injured.
The accident occurred around 1:45pm when the driver of the Dhaka-bound bus of Ahad Paribahan lost control of his vehicle and hit another bus of Rangpur-bound Saymoli Paribahan, said Sub-Inspector Kajal Nandi of Kundarhat Highway Outpost, quoiting locals.
The deceased are two drivers of the buses and passenger Ranu Begum, 45.
On Monday, a man was killed when a Rangpur-bound bus ran over him after he fell off his friend's motorcycle on the Dhaka-Bogura Highway in Noymail area. The dead is 21-year-old Sabir Hossain Sawan, police said.
In another incident, one Manik, 30, was killed on Monday when a bus ran over him on Dhaka-Bogura Highway in Noymail area. Manik was returning home after saying prayers at a local Eidgah, said Atiqur Rahman, chairman of Aria Union Parishad in Shahjahanpur upazila.
In Sirajganj, at least four people, including a journalist and his wife, were killed in two road crashes during the Eid vacation.
Rafikul Islam, 50, reporter of Bogura-based Dainik Satmatha, and his wife Morsheda Khatun, 45, were killed when a North Bengal-bound bus hit their CNG-run three-wheeler in Kamaler Chak area on Sirajganj-Bogura highway on Sunday. The two were from the district's Raiganj upazila, police said.
Driver of the three-wheeler was also injured in the accident. Police seized the bus and arrested its driver and his helper from the spot.
In another accident, bikers Mithun and Saidur were killed when a bus hit their motorcycle near Chandaikona area of Raiganj upazila on Monday. Police seized the bus, but its driver managed to flee.
In Narayanganj, a police constable and a businessman were killed as their CNG-run three-wheeler collided head-on with a truck on Gazipur-Madanpur bypass road in Rupganj upazila on Sunday.
The deceased are constable Sayman Islam and Shipon Chandra Das. Police arrested the truck driver and his helper.
CHILD GOES MISSING IN PADMA
A child went missing in the Padma after a speedboat capsized in the river around 8:00am on Tuesday.
The boy, Deen Islam Hossain, 8, is from Mollar Hawla village in Barishal's Kauarchar area, said police.
The speedboat, carrying 19 passengers from Shimulia ferry terminal to Kathalbari ferry terminal, overturned in strong winds in the river.
Some other speedboats rescued 18 people, but Deen Islam went missing.
Divers of Bangladesh Army, Fire Service and River Police scoured the river till yesterday evening, but could not trace the missing boy.