Early marriage even earlier
BBS survey finds women's average marital age drops to 18.8yrs; experts say poverty, insecurity main reasons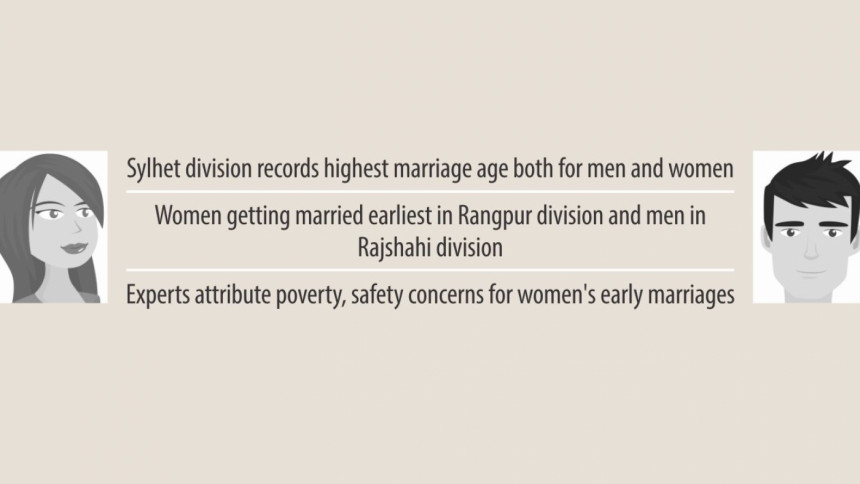 Over the last five years, more women got married at a younger age while men's average age of marriage kept going up.
Last year, women's average age of marriage was 18.8 years, dropping from 19.3 in 2012. During the period, that for men rose to 26.3 from 24.7.
A recent Bangladesh Bureau of Statistics (BBS) survey titled "Bangladesh Sample Vital Statistics 2016" also found that rural women got married at an average age of 18.3 and urban women at 19.9. 
Population experts, rights activists, and policy planners attribute women's early marriage to poverty and social security concerns.
The minimum age of marriage for men and women are 21 and 18 years in the country. But, a special provision in the child marriage restraint act passed by parliament in February allows parents to marry off their children earlier by obtaining a court order.
The recent BBS survey collected data from 2.2 lakh households across the country.
Of the eight divisions, Sylhet has the highest average marriage age for both men (26.6 years) and women (20.4 years).  Women in Rangpur and men in Rajshahi are getting married the earliest, at 17.9 and 24.5 years.
There are districts where girls are married as young as 16.3 to 17.5 years. They include Lalmonirhat, Kurigram, Gaibandha, Bogra, Naogaon, Chapainawabganj, Sirajganj, Tangail, Sherpur, Chuadanga, Magura, Narail, Gopalganj, Madaripur, Khagrachhari, and Patuakhali.
AKM Ashraful Haque, director of the BBS project that keeps track of vital statistics, told The Daily Star that their report showed various trends but he could not tell why women were getting married sooner.
Bangladesh Mahila Parishad President Ayesha Khanam said poverty and social security concerns played a vital role in making parents marry off their daughters at an early age.
Ayesha also stressed that the law, having a provision for underage marriage in "special circumstances", sent a wrong message to the society.
Aminul Haque, chairman of Dhaka University's Department of Population Sciences, said any drop in women's average marriage age was alarming. Social insecurity, job insecurity, and young people's growing exposure to social media were affecting the age of marriage, he said.
Population scientist AKM Nurun Nabi also called the phenomenon alarming, especially since efforts had been made to raise awareness against early marriage. "We can't explain for sure the exact reason behind such regression. Poverty and social insecurity are definitely important factors." 
Plan International, an international organisation that champions the cause of preventing child marriage, identified four reasons for girls getting married young.
The reasons are: younger brides are often preferred because they are considered more obedient and respectful towards their husbands; some girls are married early because their families believe marriage will protect their daughters from sexual violence, and protect the family's honour from the social stigma associated with having unmarried daughters at home; parents often cannot afford to keep their daughters at home while marriage provides the family with economic security; and laws that protect girls from early marriage are either not enforced or completely ignored in many countries. 
Women in Bangladesh are more likely to get married off without their consent than men. A baseline household survey conducted by another international NGO, Oxfam, found 49 percent women were married off by their parents against their will. Only four percent of men had the same experience, the survey found. 
Some recent media reports shed light on young girls' vulnerability to early marriage at a time when awareness and resistance against child marriage were growing.
On July 4, a report headlined "early marriage halted at Nandail, fake marriage registrar held at Trishal" was run by a daily. Two days later, the story of a 15-year-old rural girl, who took refuge at a local administrator's office to escape the marriage arranged by her mother, was published in the media.
Rebecca Momin, who leads the parliamentary standing committee on women and children affairs ministry, said efforts were on to stop child marriage.
"We've issued letters to all districts asking prompt actions against any marriage being solemnised with underage brides," she said.
She, however, said there were some ground realities, including poverty and social insecurity, in rural areas that force parents to get their underage daughters married off.