Natural disasters 2015-2020: Loss, damage rise tenfold
Flood the biggest cause, says BBS survey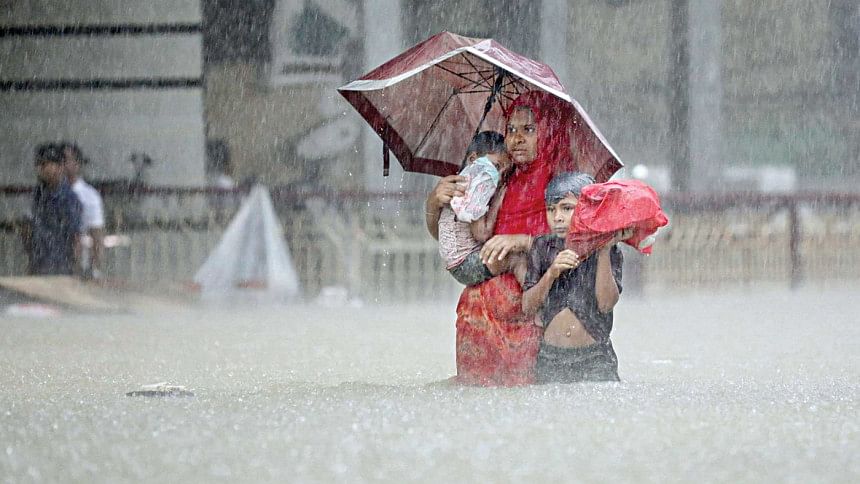 Household loss and damage due to natural disasters saw nearly tenfold increase in 2015-2020 compared to that in 2009-2014, says a report of Bangladesh Bureau of Statistics.
Flooding alone accounted for 56.4 percent of the total loss and damage of Tk 1,79,198.8 crore.
In 2009-2014, the total amount was Tk 18,424.7 crore of which Tk 4,280.71 crore or 23.2 percent was lost to flooding.
When it comes to proportion of damage and loss to total income, the members of the lowest income group lose 97.17 percent of their income during the period of a disaster while it's only 9.33 percent for the highest income group.
Besides, the lowest income group is more than 10 times vulnerable compared to the highest income group in terms of exposure to damage and loss.
Talking to this newspaper, Zahid Hussain, former lead economist at the World Bank's Dhaka office, and Prof Mustafizur Rahman, distinguished fellow at the Centre for Policy Dialogue, said the increase in production cost and the size of the country's economy was one of main reasons behind the rise in monetary value of loss and damage.
The government should have special allocations for its social protection programmes to bail out the poor and vulnerable groups from such damage and loss, they said.
Zahid Hussain pointed out that flood is now causing more damage than in the past because the natural drainage system has been clogged due to unplanned road constructions.
Economic loss from disasters can go up if natural correction mechanism to mitigate the crisis is disrupted because of unplanned infrastructure development, he noted.
Zahid further said the areas vulnerable to different natural disasters have already been identified by the government. For example, it is well-known that Sylhet and Sunamganj are prone to floods in April-May.
He said the government's social protection system has to be more responsive to the impact of disaster to mitigate the crisis of poor and vulnerable groups.
Released on Sunday, the report, "Bangladesh Disaster-related Statistics 2021: Climate Change and Natural Disaster Perspectives", is the second of its kind conducted by the BBS last year. The first one was carried out in 2016.
Its main objective was to develop a national database on disaster risk and impacts, including economic losses.
Over the last three decades, Bangladesh has been hit by more than 200 natural disasters, the latest report said.
The country's proximity to the Bay of Bengal, low-lying terrain and monsoon make it extremely vulnerable to natural disasters.
Flood, erosion, and cyclone together accounted for 85.6 percent of the total damage and loss in 2015-2020 compared to 58.4 percent in the previous period.
According to the report, of the 75,15,977 affected households, 54.69 percent had been hit by flooding, 34 percent by cyclone and 17.83 percent by hailstorm in 2015-2020.
Besides, natural disasters caused a loss of Tk 51,796.1 crore in crops, Tk 7,137.3 crore in livestock, Tk 2,697.6 crore in poultry and Tk 6,646 crore in fishing.
The total value of land lost to erosion was Tk 21,974.4 crore with Dhaka division being the most erosion-prone zone, followed by Rangpur and Barisal divisions.
Besides, total economic loss due to land degradation was estimated at Tk 72,209.9 crore in 2015-2020.
Mustafizur said disasters caused more damage and loss to the poor and vulnerable groups because they were increasingly involved in agriculture and other nature-related income opportunities.
"It is necessary to ensure environment-friendly and inclusive development …"
He further said that if activities that harm the nature and environment cannot be stopped, this will lead to more disasters and cause higher economic losses, affecting the poor and vulnerable disproportionately.
Bangladesh is considered to be among the top five countries economically vulnerable to the impacts of global climate change. The government needs to strengthen its efforts to get more funds to mitigate the challenges, he added.