Cooperation is crucial
Hasina for regional collaboration in tackling disasters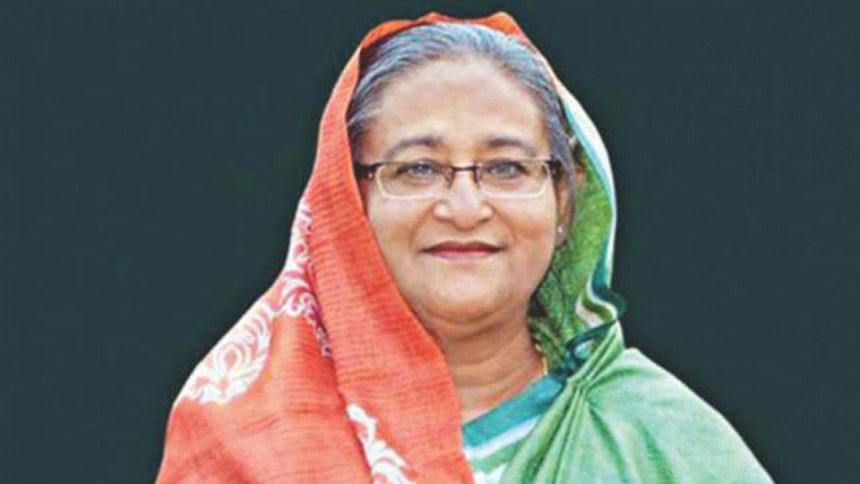 Prime Minister Sheikh Hasina yesterday stressed the need for collaboration and cooperation among neighbouring countries to minimise damages caused by natural disasters.
"Collaboration and cooperation among nations, especially the neighbours, is very crucial in facing damages caused by natural disasters of greater magnitude," she said.
The prime minister came up with the remarks while addressing the inaugural ceremony of the 4th session of the Regional Consultative Group (RCG) on Humanitarian Civil-Military Coordination for Asia and the Pacific at hotel InterContinental Dhaka.
Earlier, she inaugurated the three-day international conference.
Some 150 representatives from 26 RCG member countries participated in the conference arranged aiming to strengthen emergency coordination at national and regional level and exchange experience on disaster management to face man-made and natural disasters. The Group was formed in 2014 for Asia and Pacific region.
"We may not be able to prevent natural disasters but can reduce the extent of damages through prudent initiatives. In Bangladesh, we're giving the highest importance to mitigation programmes," Hasina said.
Noting that casualties from natural disasters has sharply declined in Bangladesh due to various measures taken by the government, she said, "Bangladesh is now known as a role model of disaster management in the world and moving towards building resilience."
Hasina said Bangladesh had been able to reduce casualties in incidents of natural disasters in recent times by taking various measures such as improvement in early warning system, dissemination of information, establishment of cyclone shelters and active engagement of dedicated Cyclone Preparedness Program (CPP) volunteers for preparedness and response activities.
Mentioning that Father of the Nation Bangabandhu Sheikh Mujibur Rahman had initiated the CPP in 1972, Hasina said it was one of the first community-based disaster preparedness programmes in the world. "Now we're replicating the CPP model for other disasters."
Hasina said Bangladesh contributes little to climate change, but it is one of the worst-affected countries by the impacts of global climate change due to its geographical location, which is highly prone to natural disasters such as cyclone, flood, landslide and earthquake.
She said the relevance of Humanitarian Civil-Military Coordination was increasing in the face of increased number of large-scale emergencies in the region. "We're advancing towards national resilience guided by our vision 2021 and 2041 to contribute to global commitments and targets. Our national humanitarian architecture is quite supportive for Civil-Military Coordination," she added.
Providing humanitarian assistance, construction of infrastructure, maintain law and order for the 1.1 million forcibly displaced Myanmar citizens are exemplary works of civil-military coordinated response, she further said.
Mentioning that sustainable development is directly linked to climate change, Hasina said her government has recently adopted Delta Plan 2100, which will provide Bangladesh with the sustainable development pathway for the next 100 years.
She said Bangladesh is working on institutional improvement of humanitarian response mechanism. "We've taken initiatives to establish the Emergency Operation Centre (EOC) for effective and timely response as well as smooth coordination of any emergency operation."
Talking about man-made disasters, the prime minister said, "We can't ignore the man-made disasters like traffic accidents, building fire, building and bridge collapse, terrorist attacks etc. We've to undertake appropriate measures to stop these disasters."
State Minister for Disaster Management and Relief Dr Enamur Rahaman and Chief of Army Staff General Aziz Ahmed, among others, spoke on the occasion. Disasters Management and Relief Secretary Md Shah Kamal delivered the welcome speech.