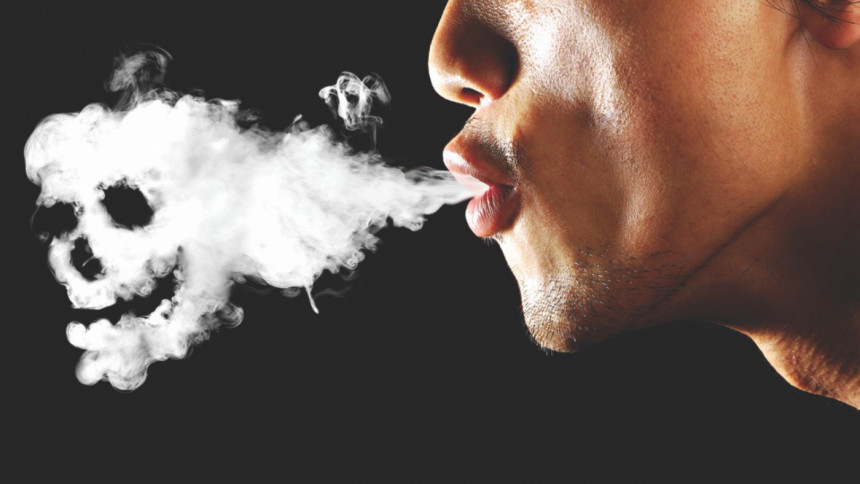 Contrary to its policy of discouraging tobacco cultivation, the government has retained the VAT exemption facility for unprocessed tobacco in the proposed budget for fiscal 2017-18.
Denouncing the government decision, anti-tobacco campaigners say the waiver on unprocessed tobacco, sold to processors mainly by traders, is inconsistent with the government's goal of freeing the nation from the tobacco menace by 2040.
"This is contradictory to the prime minister's directive to free the country from tobacco by 2040 and also against public health," said ABM Zubair, executive director of PROGGA, a platform of anti-tobacco campaigners.
The government decision to continue the facility comes at a time when the health and family welfare ministry is drafting a tobacco cultivation control policy to check expansion of farming of the health hazardous item.
Tobacco was cultivated on 1.15 lakh acres of land in fiscal 2015-16. The acreage was 1.27 lakh in 2014-15, the highest in 29 years, while it was 72,000 in 2007-08, the lowest during the period, shows data by Bangladesh Bureau of Statistics (BBS).
Anti-tobacco campaigners say the VAT exemption would act as an incentive to grow tobacco. This would allow tobacco processors to keep production costs low and offer the hazardous products to people at cheap prices.
Now, 43 percent of the country's adult population consume tobacco products and nearly one lakh people die every year from tobacco-related diseases.
Tobacco-related costs accounted for 3 percent of the country's GDP -- nearly $200 billion in 2015, say campaigners.
More than one-fourth of the Tk 56,081-crore revenue collection from VAT and supplementary duty came from domestic trade of cigarettes and tobacco products in fiscal 2015-16, show data by the National Board of Revenue.
Citing several global studies on tobacco use in developing countries, PROGGA said a 10-percent hike in real prices through tax measures would help cut tobacco use by 5 percent.
In Bangladesh, the real prices of cigarettes, bidi and other tobacco products have not increased that much in the absence of effective tax measures, it noted.
Besides, tobacco products are cheaper in Bangladesh compared to those in many other countries in the world, it said in its analysis on budget proposal for fiscal 2017-18.
Zubair said, "How can unprocessed tobacco get waiver when VAT is imposed on many essential items.
"Public health will be unprotected. There will be no positive impact."
PROGGA said tobacco products are considered as sin goods globally, and tax is imposed on it to discourage its consumption.
Zubair said, "We think if prices of tobacco products are increased, this would have a positive impact."
Revenue officials, however, said unprocessed tobacco has been exempted from VAT, considering it as a primary produce of farmers.
Apart from this, all farm produces are exempted from VAT, said a senior NBR official.
The exemption facility has been there for unprocessed tobacco at the production stage over the last several years, according to NBR documents.
Besides, the budget for fiscal 2017-18 proposes reducing supplementary duty on import of unmanufactured tobacco to 50 percent from the existing 60 percent.
According to the NBR, 100 percent supplementary duty had been imposed on import of unmanufactured tobacco in fiscal 2013-2014 and 2014-15.
Talking to The Daily Star, Towfiqul Islam Khan, research fellow of the Centre for Policy Dialogue, said, "Tobacco, in its all forms, must not be exempted from any tax or VAT."
"When people are paying VAT for a number of essential products and services, including utilities and energy, how can this [VAT exemption] be justified," he asked.
Unprocessed tobacco should be kept out of the VAT exemption list, he said.
Md Mizanur Rahman Khan, deputy director of crops wing at the Department of Agricultural Extension (DAE), said the department discourages tobacco cultivation.
"We don't allow distribution of subsidised fertiliser and other inputs to tobacco cultivators," he said.
Some DAE officials say farmers grow tobacco because of buy-back guarantee from cigarette makers, who also provide growers with production inputs such as seed, fertiliser and technology.
Many farmers cultivate tobacco owing to assurance of getting good prices from processors. But they don't get such assurance in case of vegetable and grain production, they added.
A number of health ministry officials say they have already drafted a policy to control tobacco cultivation and encourage growers to switch over to other crops.
Seeking anonymity, one of the officials said the policy seeks to provide incentive for farmers to cultivate other crops and also to rehabilitate tobacco growers.
The draft policy would be finalised, taking into consideration the views of all stakeholders, added the official.