Dhaka wants the world by its side
Urges int'l community to make Myanmar implement Annan commission recommendations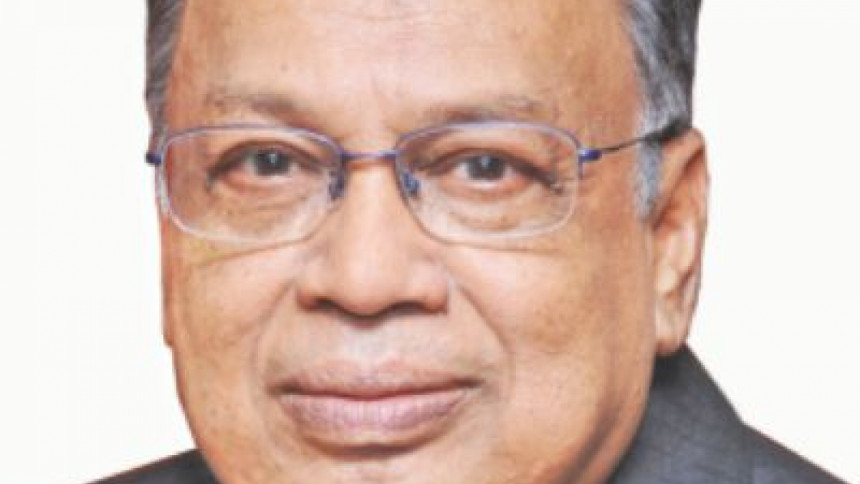 Dhaka yesterday urged the global community to come up with urgent humanitarian assistance to help Bangladesh address the refugee crisis and make Myanmar agree on immediate and unconditional implementation of Kofi Annan Commission's recommendations. 
The government also sought international support in providing shelter and other necessities to over 7,00,000 Myanmar nationals currently living in the country and transporting them to Thengar Char in Hatia where they will be kept until they go back home.  
Briefing Dhaka-based foreign diplomats about the influx of Rohingyas, Foreign Minister AH Mahmood Ali said around 3,00,000 have entered Bangladesh in the last two weeks.
He also mentioned that Bangladesh has already been hosting around 4,00,000 Rohingyas for three decades. A total of over 7,00,000 Myanmar nationals are now in Bangladesh.
"This is creating a huge challenge for Bangladesh in terms of providing shelter as well as other humanitarian assistance to them," he said, calling for political support in ensuring "sustainable return" of all the Myanmar nationals to their homeland.
The minister later said the diplomats extended their all-out support and agreed to stand by Bangladesh.
Mahmood Ali held two back-to-back diplomatic briefings at the State Guesthouse Padma yesterday afternoon.
He highlighted that Bangladesh has always preferred bilateral solution to this longstanding problem.
Dhaka was successful in repatriating 236,599 Rohingyas to their homeland through a bilateral agreement in 1992, he said, noting that the agreement recognised Rohingyas as "members of Myanmar society".
The minister also highlighted Bangladesh's efforts to address the security concerns of Myanmar, particularly by proposing MoUs in 2014 on Border Liaison Office and Security Dialogue.
Bangladesh has proposed joint inspection, coordinated patrolling and "joint operation" along the border.
Unfortunately, Myanmar has not responded to these proposals. Instead, they have been running a malicious propaganda terming the Rohingyas as "illegal migrants from Bangladesh" and the BGP post attackers as "Bengali terrorists".
Ambassadors, high commissioners and CDAs from diplomatic missions of Australia, Brazil, Canada, Denmark, France, Germany, Italy, Turkey, Russia, Sweden, Switzerland, Spain, Norway, Netherlands, USA, UK, and EU and representatives from UN Resident Coordinator, UNHCR, WFP, UNICEF, IOM and ICRC were present at the first diplomatic briefing.
The second briefing was attended by heads of diplomatic missions of Egypt, Iran, Iraq, Kuwait, Libya, Morocco, Oman, Palestine, Qatar, Saudi Arabia and the UAE.
He said the diplomats praised the government of Bangladesh for hosting the Rohingyas for years and giving shelter to the Myanmar nationals who are fleeing violence in Rakhine State.
They also stressed that civilians should be protected and called for immediate end of disproportionate use of force during the military operation in Rakhine.
Emerging from the briefing, CDA of US Embassy Joel Reifman said the United States wants implementation of the recommendations of Kofi Annan Commission as he thinks the problems in Rakhine can be resolved through implementation of the report.
Ambassador of the Holy See (Vatican) Archbishop George Kocherry mentioned the foreign minister in his briefing claimed that more than 3,000 Rohingyas were killed in the recent crackdown in Rakhine.
The global community is ready to help Bangladesh, he added. 
Briefing journalists, the foreign minister said the international community has mounted pressure on Myanmar against "genocide" in Rakhine and it stands beside Bangladesh to help face the humanitarian crisis.
He said Dhaka has stepped up hectic diplomatic efforts to get international support for peaceful solution of the Rohingya crisis. It has already succeeded in mobilising opinion against Myanmar's act of genocide, he noted.
Replying to question whether Bangladesh is negotiating with India and China to drum up support in its favour, Mahmood Ali said India has issued a statement which he read out at the media briefing.
About China, he said "China is different … but we are talking with China … we are working on it."
The minister also gave a background briefing on Rohingya history.
About providing shelter to three lakh newly arrived Rohingyas, State Minister for Foreign Affairs Md Shahriar Alam told the press that a forest land has been demarcated at Ukhia by the local administration.
The 2,000-acre land will be handed over to UN agencies for using it as a temporary camp for the Rohingyas, he added.
US APPLAUDS BANGLADESH'S ROLE 
Meanwhile, the US in its formal press statement yesterday expressed concern at the influx of Rohingya in Bangladesh following allegations of serious human rights abuses in Rakhine, including violent attacks and mass burnings of villages.
"We continue to coordinate closely with our partners, including the UN High Commissioner for Refugees, the International Committee of the Red Cross and the International Organization for Migration to provide emergency assistance to these individuals," US State Department's Spokesperson Heather Nauert said in a statement.
"We applaud the government of Bangladesh's generosity in responding to this humanitarian crisis and appreciate their continued efforts      to ensure assistance reaches the affected population," said the Spokesperson.
In another important move, the OIC in a special meeting in Astana over Rohingya Muslims crisis, yesterday condemned Myanmar for "systematic brutal acts" against the Rohingyas and asked it to accept UN monitors to carry out a thorough and independent investigation of all established violations of international human rights and bring those responsible to justice.
Bangladesh President Abdul Hamid is attending the two-day OIC meeting.
GERMAN MINISTER CONCERNED
Federal Foreign Minister of Germany Sigmar Gabriel's in a statement yesterday said he is deeply concerned about the renewed fighting in the state of Rakhine, which has been triggered by attacks on military and police stations and which have once again triggered a large flow of refugees to Bangladesh.
"The focus now needs to be on the suffering of the affected people. That is why the Myanmar government must allow aid and humanitarian organisations unlimited access to the affected areas," he said.
He said Germany supports the recommendations of the Rakhine Advisory Commission under the leadership of former UN Secretary-General Kofi Annan as a good starting point and urged Aung San Suu Kyi and the Myanmar government to implement the recommendations "directly and comprehensively."
"We expressly welcome the generous reception and care of the refugees in Bangladesh," he said.
Earlier, the Ministry of Foreign Affairs of Singapore in a statement on Saturday urged all parties to the violence in Myanmar's Rakhine state to avoid aggravating the conflict, as it offered to work with Asean in rendering humanitarian aid to the victims.