Dhaka-Sylhet 4-lane Highway: Company that got the job bribed officials
Govt blacklisted it, says Muhith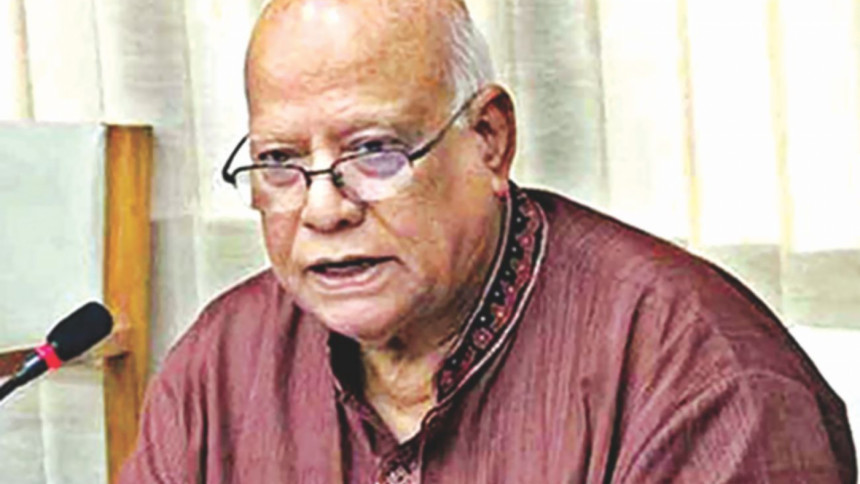 Finance Minister AMA Muhith yesterday said the company that got the contract for expansion of Dhaka-Sylhet Highway had bribed government officials.
So, the government "blacklisted" the firm and decided to fund the expansion work of the 226km Dhaka-Sylhet road to a four-lane highway on its own, Muhith said.
He revealed the information while speaking at a press meet at the NEC auditorium yesterday, ahead of the meeting of Bangladesh Development Forum.
He said, "[The expansion of] Dhaka-Sylhet Highway, somehow, we had to drop it. Because, the party who got the contract, they came up, in the very beginning, with offer of bribe, open bribe.
"So, we gave the money, which they gave to some of our officials, back to the Chinese embassy and naturally blacklisted the company."
The finance minister added, "Now we will implement it by ourselves." 
He, however, neither mentioned the name of the company nor gave any other details.
Bangladesh and China signed a memorandum of understanding during the Chinese president's visit to Bangladesh in 2016. 
Under the deal, China had promised to give soft loans of $21.5 billion for 26 projects, including the Dhaka-Sylhet four-lane highway project. The estimated Chinese finance was $1.6 billion for this project.
China also selected China Harbor Engineering Company Limited for Dhaka-Sylhet Highway project and asked Bangladesh to sign a commercial contract with the company.
Negotiation process also started between the company and the Roads and Highways Department of Bangladesh, finance ministry sources said.
The Bangladesh government planned to sign loan agreements for eight of the 26 projects with China's Exim Bank within 2017.  This project was one of them; but the loan agreement involving this project was not signed, sources added.
Earlier, the government on October 9, 2016, signed a primary deal with China Harbor. RHD Chief Engineer Ibne Alam Hasan and the company's Vice-president Tang Qiaoliang signed the agreement at a hotel in Dhaka.
On September 21, 2016, the cabinet committee on economic affairs approved RHD's proposal, allowing China Harbour to carry out the project.