Where's she now?
Asks Hasina about Khaleda, seeks vote at a rally in Barisal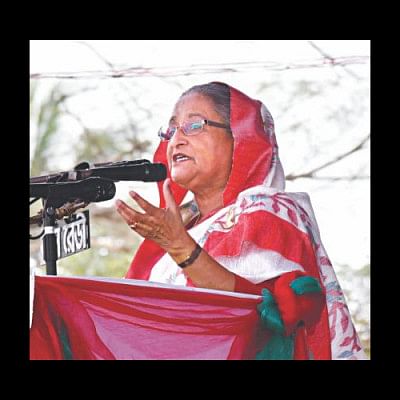 Prime Minister Sheikh Hasina has lashed out at BNP Chairperson Khaleda Zia for "instigating violence" in 2013-2015.
"Where is she [Khaleda] today? The Throne of Almighty Allah gets shaken when one carries out repression against people. Those who burnt people to death face such consequences. And that justice is being done," she said.
Hasina was addressing a public rally at Bangabandhu Udyan in the city yesterday, hours after a Dhaka court jailed Khaleda for five years in the Zia Orphanage Trust graft case, reports UNB.
The PM said the BNP chief had taken position in her office in 2015 declaring that she would not return home until the fall of the Awami League government.
Khaleda had torched some 3,500 cars, burnt 500 people to death and injured over 3,000 in 2013-2015, she alleged.
Reiterating that the country sees development when the AL comes to power, Hasina called upon people to vote for the party and its alliance members in the next national election to maintain the pace of development in the country.
The PM, also the AL chief, said her government carried out massive development work in the country as people voted the party into power for their welfare.
"We've taken Bangladesh to the path of development in the last nine years. The trend has to be maintained. I want you to promise [to vote for Awami League]."
She said her government believed in the country's development and the welfare of its people. "Had we committed corruption, we would not have been able to develop the country so much."
She hoped Bangladesh would be a hunger- and poverty-free country during the celebration of the birth centenary of Father of the Nation Bangabandhu Sheikh Mujibur Rahman in 2020 and the golden jubilee of the country's independence in 2021.
Elaborating on various achievements of her government, particularly in health, education, manpower, export and power sectors, she said 90 percent people were having electricity and 100 percent would come under power coverage in 2021.
Hasina said Bangladesh would not be in the least developed country (LDC) category anymore as the graduation process to come out of this group starts next month.
Pointing at the BNP and its chief, the premier said there would be no place for corrupt, patrons of militancy and terrorism and looters of orphans' money on Bangladesh soil.
She urged the guardians, parents, imams, religious and general teachers to protect children from militancy, terrorism and drug addiction.
Earlier, the PM opened a new cantonment in Patuakhali and inaugurated 39 development projects in Barisal, reports BSS.
Hasina said her government wanted to build an enlightened generation to build the nation's future leaders.
"Barisal was once a neglected region. The present government has embarked on massive development work here. There is now no river in Barisal without a bridge," she said, adding that a bridge would be constructed to link Barisal with Bhola.
Gas would be supplied to Barisal from Bhola through pipeline to develop industries. Besides, a power plant would be built in Bhola, she told the rally.
She said her government has delivered on the commitments to try war criminals and killers of Bangabandhu and 18 members of his family.
The PM announced that medical colleges would be constructed in Barisal and other divisional headquarters.
The AL's district and city units jointly organised the rally, with district AL President Abul Hasnat Abdullah in the chair.
AL General Secretary Obaidul Quader, advisory council members Amir Hossain Amu and Tofail Ahmed and presidium member Matia Chowdhury spoke at the rally, among others.