A coercive trial, not a trial at all
Says Moudud wrapping up arguments for Khaleda in Zia orphanage case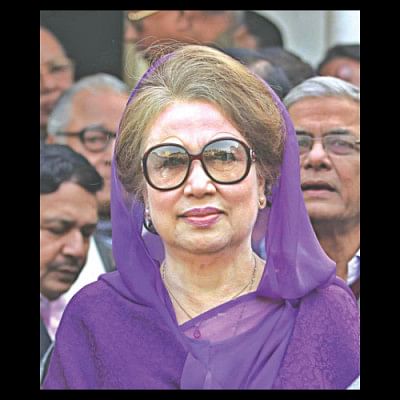 Defence counsels of BNP Chairperson Khaleda Zia yesterday completed their closing arguments in Zia Orphanage Trust graft case and sought her acquittal.
"We took part in the trial proceeding in a confined state. This is a coercive trial ... it is not a trial at all," said Moudud Ahmed, a senior lawyer for Khaleda Zia, as he wrapped up the defence's 10th day of closing arguments.
"We hope you [the court] will consider everything and declare that there is no evidence against her. We hope you will acquit her with honour," said Moudud, also a former law minister.
Judge Md Akhtaruzzaman of Special Court-5 adjourned the case proceedings until today when defence counsels of other accused will resume their closing arguments.
The court also rejected two petitions of Khaleda, one for permanent bail and another for exemption from personal appearance today and tomorrow.
On July 3, 2008, the ACC filed the Zia Orphanage Trust graft case with Ramna Police Station, accusing Khaleda, her eldest son Tarique Rahman, and four others of misappropriating over Tk 2.1 crore that came as grants for orphans from abroad.
Khaleda appeared before the court around 11:40am and Moudud started the closing arguments saying that "this case should have been dismissed on the very first day and continuation of the case until this stage is unnatural."
Moudud said all the documents, on which the prosecution relied upon were "forged" and that they had filed a petition seeking legal action against the people responsible.
"We hope you will take necessary actions following proper investigation," he said.
"KHALEDA NEXT PM"
Anti-Corruption Commission filed the case under section 5 of Prevention of Corruption Act-1947 but the allegations brought against Khaleda could in no way be under that section, Moudud said.
Referring to a case where Hussain Shaheed Suhrawardy, prominent leader of the Indian sub-continent, was involved, Moudud said political leaders had been harassed in different countries across the world.
"Nelson Mandela and many others had been harassed ... Many of us had gone in prisons too. The government usually does this to annihilate political opponents. This case [against Khaleda Zia] is also a part of it," the standing committee member of the BNP said.
"However, this case won't be able to inflict any loss to my leader [Khaleda Zia]. Rather, it will increase her popularity and she is going to be the next prime minister of the country," he said.
Moudud said laws have been "misused and misinterpreted" and "abused" to file the case against Khaleda Zia.
The prosecution has to prove criminal intention beyond any reasonable doubt and has to satisfy the court. But they produced documents which were "overwritten" and "without signatures" and "not the original copy", Moudud claimed.
Moudud said the BNP-led government enacted the Anti-Corruption Act-2004 following a lot of research on combating corruption and there was checks and balances in it. But, it was not meant to harass people, he said.
"… the law was distorted by the Fakhruddin-Moinuddin government during 2007 and 2008 for use against the politicians," he said.
The caretaker government led by Fakhruddin Ahmed was illegal and all their activities were also illegal, Moudud said, adding that the government filed the cases against political leaders, including incumbent Prime Minister Sheikh Hasina.
"They filed the cases to execute their minus-two formula," said Moudud, giving a personal account during the caretaker regime.
One day around 1:30am, some people blind-folded him and took him to their "Boro Shaheb" and sought his advice on how the then army chief could be made president of the country, Moudud claimed.
"I told them that it was not possible without proclaiming marshal law. Then, they said it was not possible, because 'people will go against us'. When I asked them what they will do to the two leaders [Sheikh Hasina and Khaleda Zia], they replied they will remove them," Moudud said.
Then, they asked both the leaders to leave the country but Khaleda declined, Moudud said, adding that they filed cases against them to disqualify them from politics and this case against Khaleda was part of that plan.
Terming the ACC Act a special law, Moudud said the procedure for filing a case under the law has been properly laid out but it was not followed in this case.
He said as per section 22 of ACC Act and sections 8 and 11 of the rules of procedure of the law, the accused shall be given a reasonable opportunity to clear his/her position before filing of a case.
Citing several verdicts, including of a case involving Awami League General Secretary Obaidul Quader, Moudud said the ACC must hear the accused person's version before filing a case, but this was not done in this case.
"Non-compliance of the law makes the total proceeding of the case nullified," said Moudud.
"It is a case of no evidence. Even, the document they placed before the court, do not come under section 63 of the Evidence Act, means, it can't be treated as secondary evidence ... All are forged documents," he said.
Moudud read out several paragraphs of the Supreme Court verdict that scrapped the 16th amendment to the constitution that had given parliament the power to remove SC judges for misconduct or incapacity.
The Supreme Court's verdict reflected the statement of Khaleda before the court elaborating the present situation of the country and the judiciary, Moudud said.
NOT A FREE TRIAL
Moudud criticised setting up of the court at Alia Madrasa in the capital's Bakshibazar.
The court was set up under special circumstances to hold trials of BDR munity cases. But, it was never meant for holding cases like this one, Moudud said. 
The court lacks different facilities, Moudud said, adding that the court arrangement did not allow lawyers proper interaction with the court.
"Isn't it interference to the administration of justice? It is the violation of one's constitutional rights. It is not a free trial," Moudud said.
PP REFUTED
Asked about Moudud's arguments, Mosharraf Hossain Kajal, a public prosecutor in the case, claimed that Khaleda's statement was taken under section 22 of the ACC Act before filing of the case.
Kajal said government officials, who worked at the PMO, and 10 bank officials testified elaborating everything and all the documents are authentic.
"He [Moudud] has placed many irrelevant submissions which are political stunts. It may please his leader but won't yield anything in the case," he added.