Second Aedes variety behind rapid spread
Suspect experts citing growing number of dengue cases outside Dhaka; recommend extensive survey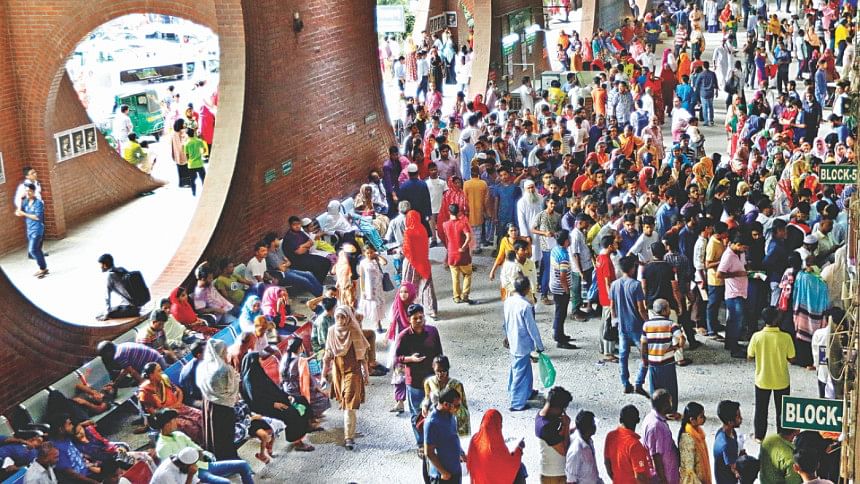 With dengue cases rising fast even outside Dhaka, experts now fear that a second variety of Aedes mosquito is responsible for the rapid spread of the viral disease.
In an "epidemic condition" with mosquito-borne diseases like filaria, dengue and chikungunya, a secondary vector (carrier) becomes active alongside the primary vector, they said.
There are two varieties of Aedes mosquito -- Aedes Aegypti and Aedes Albopictus, the former being the primary vector and the latter the secondary vector of dengue fever.
Experts say reports of a growing number of dengue cases outside Dhaka indicate that their suspicion about the secondary vector is likely true. They recommended carrying out an extensive survey on the matter and take actions accordingly.
A record 22,919 dengue cases have been reported since January this year, with 14,996 cases in July alone. Of the cases, 4,905 were reported from outside Dhaka, according to the Directorate General of Health Services (DGHS).
In the 24 hours till 8:00am yesterday, 1,645 new cases were reported. Hospital sources confirmed 52 deaths so far, although the DGHS puts the death toll at 18.
70PC CHANCES
Kankar Ghosh, an epidemiologist at Dhaka Shishu Hospital, said the symptoms of dengue fever this year are different from those in previous years.
Symptoms like fever with vomiting, abdominal pain, plasma leakage and acute kidney injury are new, he said.
In some cases, condition of patients deteriorated fast, he pointed out, adding that this may be happening because of the virus carried by Aedes Albopictus, the secondary vector.
"We have no scope for researching the matter extensively in Bangladesh, but as an epidemiologist I suspect some patients are being infected by Aedes Albopictus. And this is why condition of some patients are deteriorating rapidly," he said.
"There are no papers to support it, but hypothetically there are 70 percent chances that this is true," he said.
Kholilur Rahman, chief entomologist of DGHS, recommended doing an extensive survey to look into the matter.
Past studies show only 2 percent of Aedes mosquito are of Albopictus variety, and their presence is high outside Dhaka. This is why it is difficult to say for sure that Albopictus is active in Dhaka, he said.
If Albopictus mosquitos play a role outside Dhaka, then it will significantly contribute to the spread of dengue in districts as well as in rural areas because Albopictus population is higher in there, he said.
The DGHS conducted four surveys in Dhaka in 2018 and 2019 and found Albopictus population was 2 percent of all Aedes mosquito population.
But surveys done before 2006 found around 20 percent Aedes mosquito population was of Albopictus variety in Dhaka. It was higher in Chittagong city, Kholilur added.
In Rangamati, a 2017 survey by the DGHS found 30 to 35 percent Albopictus mosquito, he said, adding that it was true that in case of mosquito-borne diseases like malaria, dengue and filaria, a secondary carrier may become active in an "epidemic" situation.
There are around 123 verities of mosquito in the country -- 13-16 in Dhaka, including Aedes mosquitos.
"It is a hypothesis and I suspected it around 15 days back that this kind of situation might arise," he said.
Dengue virus was first detected in Bangladesh in 2000, but it never spread to all 64 districts, he said.
Aedes Albopictus is a wild mosquito, often called "tiger mosquito," while Aegypti is a domestic mosquito, he said.
According to him, Aedes Albopictus is behind the rapid spread this year because there is no presence of Aegypti mosquito in villages.
"You will find Albopictus mosquito in villages. If it were not for Albopictus mosquito, the disease would not have spread in such a speed," he said.
Prof Mahbubur Rahman, who did his doctoral research on Aedes mosquito, said Albopictus mosquito population is high in areas with huge number of trees while Aedes Aegypti breeds in natural and artificial containers. This is why Aedes Aegypti is found in city areas.
Using insecticides is not an effective solution to control Aedes mosquito as its eggs remain viable for up to one year, said Mahbubur, principal of Norail Govt Mohila College.
He suggested drastic measures to destroy all containers like abandoned tyres, plastic drams, buckets and clay pots to control Aedes mosquito.
A July 17-27 survey by the DGHS in the two Dhaka city corporations found discarded tyres, flooded floors, plastic drums, water tanks, plastic buckets, clay pots, flower tubs and trays, paint pots, tin and metal cans, and plastic mugs are the main breeding places of Aedes mosquito.
DGHS Director (communicable disease control) Prof Sanya Tahmina said they have a plan to conduct a survey on Albopictus.
Apart from Aedes Aegypti, there are Aedes Albopictus outside Dhaka and it may contribute to the spread of dengue, she noted.
"We may send our teams to some places to catch adult Albopictus to see if those mosquitos are carrying virus," she said, adding that past studies did not find virus in Aedes Albopictus.