A sigh of relief
Fani crosses Bangladesh; death toll now 14; people returning home from cyclone shelters; water transport may resume today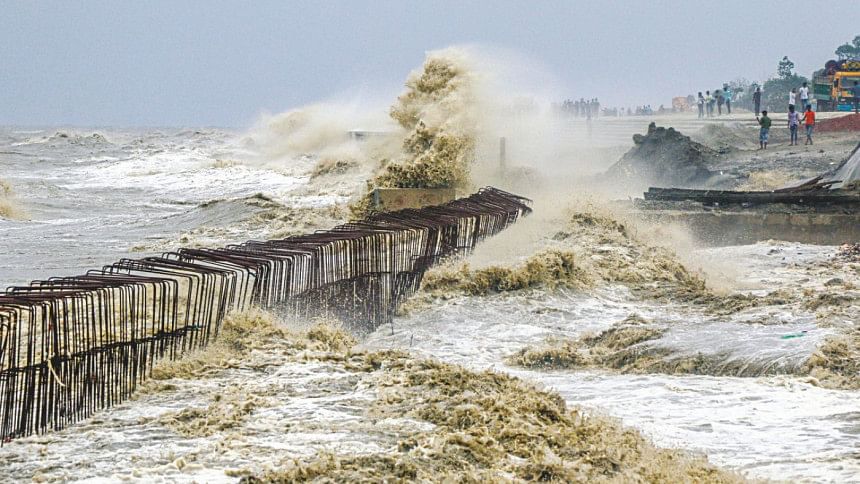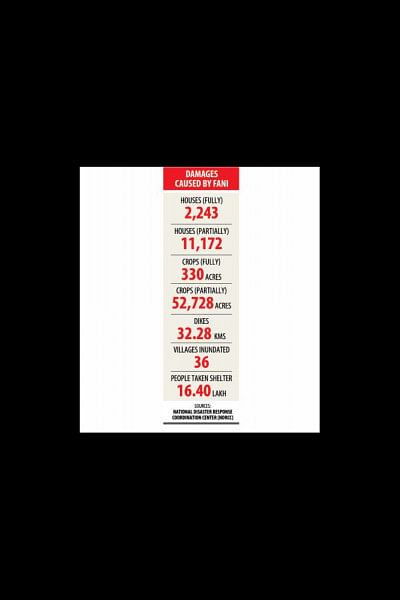 By the time Cyclone Fani entered Bangladesh around 8:00am yesterday, it became much weaker and caused much less damage compared with that by cyclones Sidr and Aila.
When it struck India's Odisha with winds gusting up to 200kmph on Friday morning, it created much panic among some 20 million people in Bangladesh's coastal belt.
For the coastal people, the memory of Sidr and Aila that battered the coastal belt in 2007 and 2009 is still fresh.
Sidr claimed more than 3,000 lives and affected some 40 lakh people while Aila claimed at least 121 people and affected more than 30 lakh. 
The death toll from Fani rose to 14 yesterday, after seven more people died in tree fall and wall collapse in Barguna, Noakhali and Patuakhali yesterday. Two of them were children. Earlier on Friday, seven people died in lightning and tree fall in different districts, according to our district correspondents.
The very severe cyclone entered Bangladesh with wind speeds of 50-60kmph, and took around 10 hours to cross the country through Khulna and Rajshahi regions before heading towards Assam of India.
"There is no fear of danger at all now as Fani already crossed the country," Shamsuddin Ahmed, director of Bangladesh Meteorological Department, told The Daily Star yesterday afternoon.
However, most districts, including Dhaka, witnessed rain throughout yesterday and it may continue today, according to the Met office. 
At least 36 villages in Patuakhali, Bagerhat, Bhola and Satkhira were inundated as storm surges breached earthen dykes and overflew them, according to the National Disaster Response Coordination Centre (NDRCC).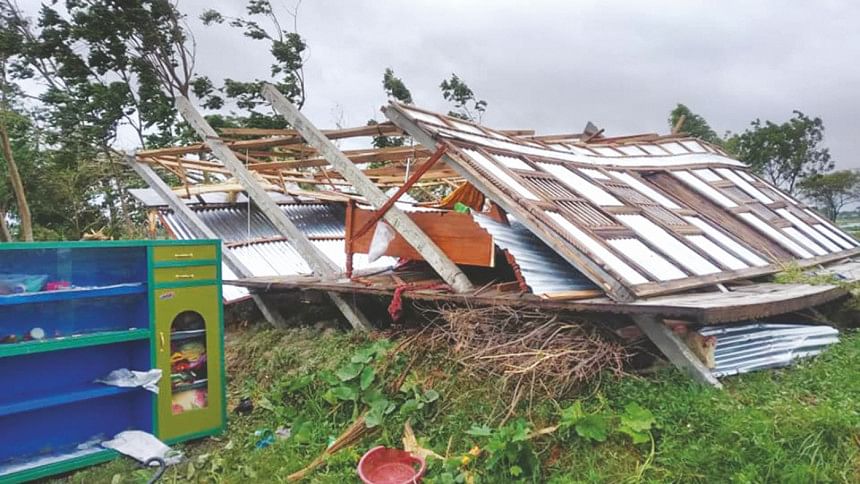 A total of 32.28km of earthen dykes were damaged.
Around 13,000 houses were fully or partially damaged due to cyclonic storm in the coastal districts, including Bhola, Chandpur, Bagerhat, Khulna, Satkhira, Patuakhali and Barguna, according to the NDRCC.
Crops on 330 acres were totally damaged while those on 52,728 acres were partially affected, it said.
"We have collected the information instantly by phone. The figures may rise slightly," GM Abdul Quader, joint secretary of relief and disaster management ministry, told The Daily Star yesterday.
He said 3,800 tonnes of rice, 41,000 packets of dry food and Tk 1.97 crore were distributed among the affected people.
Around 16 lakh people took shelter in 4,071 cyclone shelters in 19 coastal districts on Friday and early yesterday. By yesterday noon, however, they started going back to their homes as the weather improved.
The danger signals at all river ports were lowered.
At least 13 flights were cancelled and several others delayed yesterday due to bad weather.
And as in the previous two days, water transport remained suspended.
The service may resume today if the weather improves, said Alamgir Kabir, joint director of Bangladesh Inland Water Transport Authority.