Assess damage fast, respond quickly
Orders PM; ministry allocates relief materials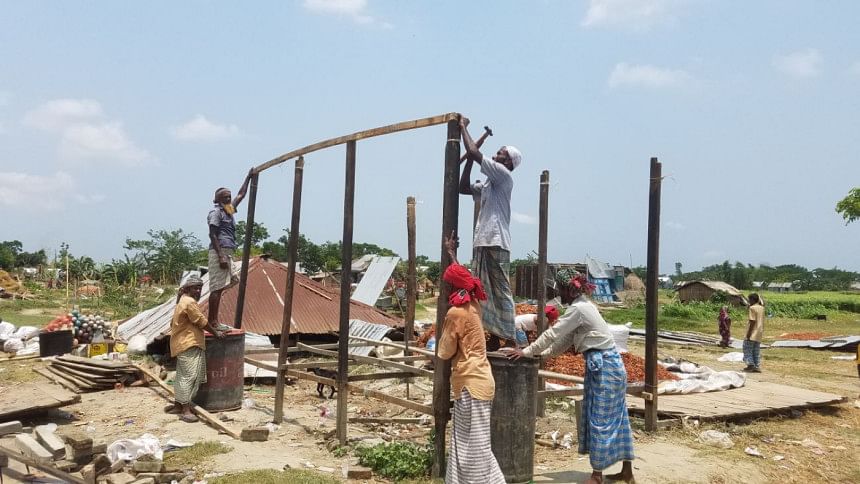 Prime Minister Sheikh Hasina yesterday asked the authorities to quickly assess the damage and provide assistance to cyclone Fani victims.
She also prayed for the people who died during the cyclone and extended condolence to the bereaved families.
Hasina, who is now in London, also directed Awami League leaders and activists to stand by the cyclone victims.
The disaster management ministry has so far allocated 3,800 tonnes of rice, 41,000 packets of dry food and Tk 1.97 crore for the victims.
The National Disaster Response Coordination Centre, a wing of the Ministry of Disaster Management and Relief, yesterday published a report mentioning the amount of damage caused by the cyclonic storm and action taken by the authorities concerned.
About 1.55 lakh acres of croplands were damaged by cyclone Fani that swept over the country on Saturday, said the report signed by GM Abdul Quader, joint secretary at the ministry.
Of the affected croplands, around 1.54 lakh acres were partially damaged while 1,830 acres were fully destroyed, it added.
More than 21,000 houses were affected by the cyclone. Of them, 2,363 houses were completely destroyed, says the report prepared after calculating damages in 26 south-western and western districts.
Some five people were killed in four districts, while 832 people were injured in seven districts, the report claimed.
Some 59 villages have been flooded and rifts have been developed along a total of 22 kilometres of embankments in different districts.
Over 16.66 lakh people took shelter in the cyclone shelters, the report added.
The report also forecast that the temperature might increase across the country in the next 72 hours.
Rain with thunderstorm may occur in different areas of Mymensingh and Sylhet divisions, the report said, adding that the weather will remain dry in the rest of the country.
Danger signals at all the river ports have been lifted, it also said.
Meanwhile, operations of all types of water transports resumed in all the routes across the country from yesterday morning, said Kazi Wakil Newaz, secretary of Bangladesh Inland Water Transport Authority.
Cyclone Fani entered Bangladesh around 8:00am on Saturday with intensity much lower than predicted.