Fani ruins farmers' days before harvest
Weak dyke gives away flooding farmland of 3,000 families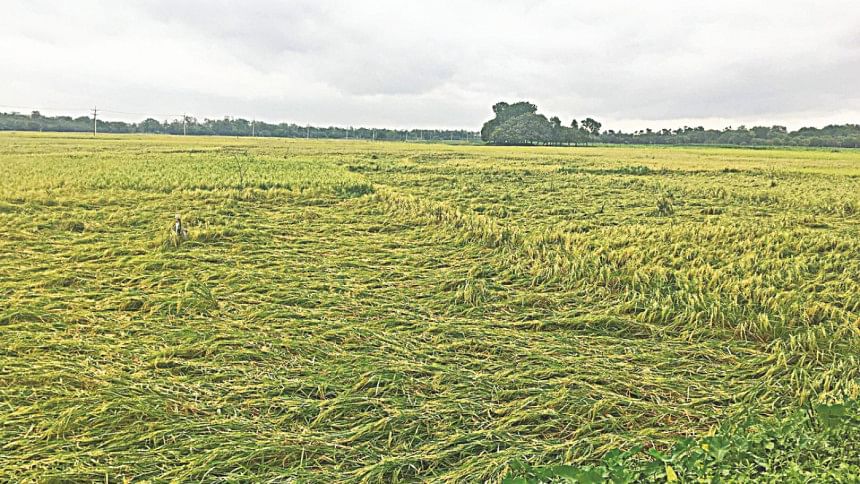 It was only a few days to go until farmer Ruhul Amin's crops would be ready for harvest, but during Cyclone Fani, everything got ruined.
The same fate befell many other farmers living in five villages of Mirzaganj upazila in Patuakhali as water came rushing into their fields breaching a weak part of a 20km earthen embankment separating the villages from the Payra river.
"I planted mung beans on an acre. I hoped the produce would be around 10 maunds [or 370kg]," said 40-yer-old Ruhul Amin of Mehendiabad village.
The storm surges flooded their fields making its way via the Payra river.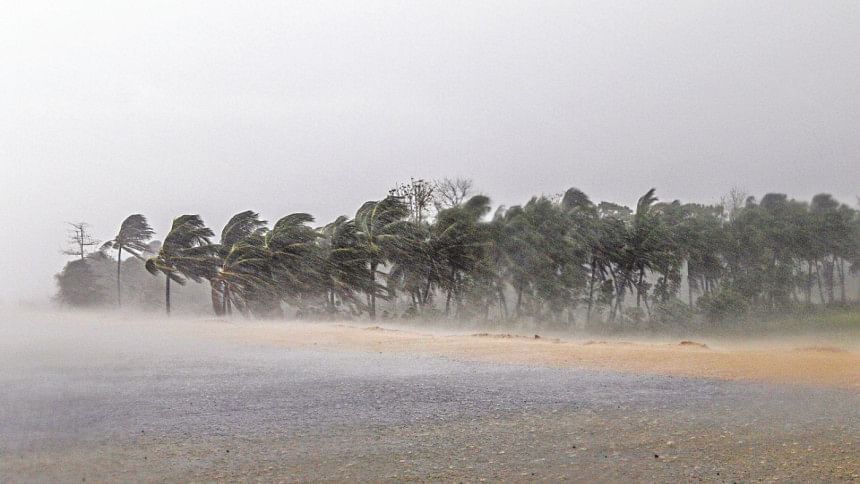 "I also grew various Rabi crops including green chilis, sweet potatoes, and ground nuts, and was planning to harvest them within a few days. Now, see, all are under water," he told this correspondent. "How would I run my family of five for the rest of the year?"
Rabi is one of the two agricultural seasons in the country. It usually lasts from November to March.
His neighbour Golam Mostafa, 50, planted Rabi crops on one and a half acres. The same happened to him.
Farmer Anis Khalifa's crops on two acres also went under water.
Only a handful of some 3,000 families of five villages -- Mehendiabad, Ranipur, Golkhali, Hazikhali, and Charkhali -- remain unaffected.
This correspondent visited the villages yesterday and found almost all farmland and houses under water.
During Sidr, a devastating cyclone in 2007, the dyke had collapsed and flooded these villages the same way. Later, the Water Development Board (WDB) repaired the embankment, but 1km of it was under threat of erosion.
As Fani charged ahead, this 1km could not hold the pressure of the tidal surges and eventually collapsed.
Shahidul Islam, local union parishad member of ward-9 (Mehendiabad), said the 1km stretch of the dyke from Hazikhali sluice gate to Charkhali was vulnerable due to lack of repairs.
Around 90 percent of the villagers are farmers, he said. "Now they are in despair."
Khalilur Rahman, UP member of ward-4 (Ranipur), said locals had been calling for repairs of the dyke for a long time. "We also raised the issue at the union parishad meeting several times but the WDB didn't take any step to fix it."
Abdul Aziz Hawlader, UP chairman for Dewlisubidkhali, also discussed the issue at the meeting. "I had personally requested the WDB officials to repair the dyke."
In 2017, they started the work and left it incomplete, he claimed.
Abu Bakar Siddiq, Mirzaganj upazila chairman, said, "We will request the WDB authorities to repair the dyke on an emergency basis."
Contacted, Hasanuzzaman, executive engineer of WDB, Patuakhali, said, "When we started the repair, some locals refused to give their land for the dyke. So, we had to stop.
"They agreed to give land this year. We'll start the reconstruction soon."