Council of Ministers: Three new faces sworn in
State minister gets cabinet berth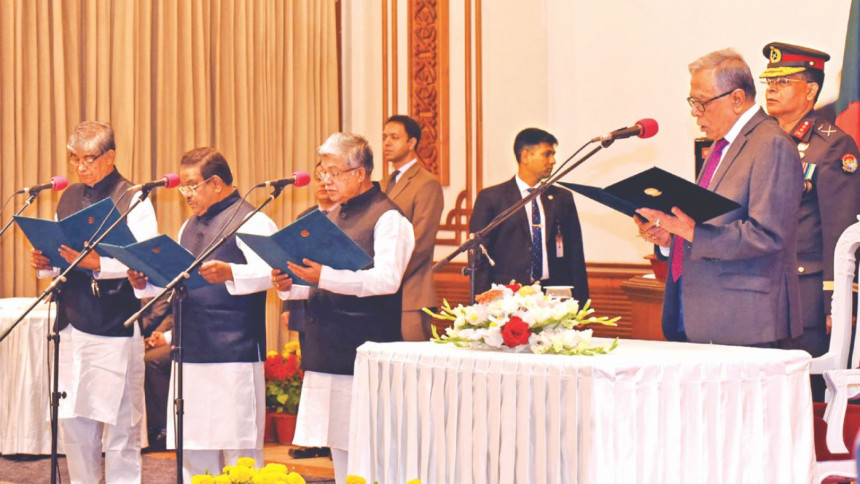 Prime Minister Sheikh Hasina yesterday expanded her council of ministers, inducting three new faces into it and promoting a state minister to a full minister.
Of the new faces, AKM Shahjahan Kamal, an MP from Laxmipur-3 constituency, and IT expert Mustafa Jabbar were sworn in as ministers while Rajbari-1 MP Kazi Keramat Ali was sworn in as state minister.
The Cabinet Division has not announced their portfolios, but sources said Shahjahan would get the social welfare ministry, Jabbar the ICT ministry and Narayon Chandra Chanda, now state minister for fisheries and livestock, will be in charge of the ministry.  
After the oath taking ceremony, Keramat Ali told reporters that he would join the education ministry as its state minister.
With them, the number of council members now stands at 54, including the prime minister -- 34 ministers, 18 state ministers and two deputy ministers.
In addition, five advisers and one special envoy to the PM enjoy a full minister's portfolio.
At a simple ceremony, President Abdul Hamid administered oath at the Bangabhaban at 6:30pm. Cabinet Secretary Mohammad Shafiul Alam conducted the brief programme.
Keeping most of her cabinet and party colleagues in the dark, the PM brought the sudden change in her council of ministers in the last year of her government, said sources in the Awami League.
The move has caught political analysts off guard and raised many eyebrows as to its reason. 
Several AL leaders said through the expansion, Hasina essentially kicked off the election year with a surprise.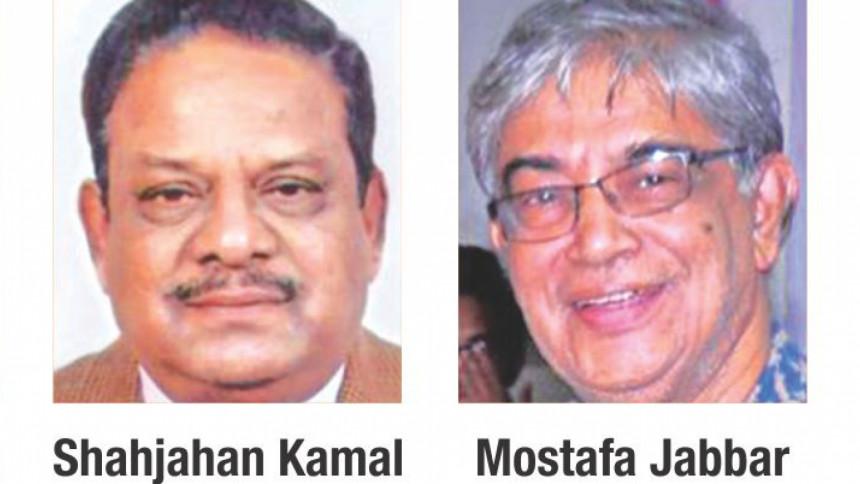 "It was clear to us that Narayon Chandra Chanda will become a full minister as the post of minister for fisheries and livestock was vacant since the demise of Sayeedul Hoque [on December 16]. Besides, there was no full minister from the minority people," said an AL presidium member.
"But the induction of Shahjahan Kamal, Mustafa Jabbar and Keramat Ali was really very surprising. We had no idea about it," the leader added, asking not to be named.
As of Monday, most of the presidium members were in the dark about the new cabinet posts, the leader said.
"Keramat was picked probably because of his popularity in his constituency and the sacrifice of his father, who was assassinated for his loyalty to Bangabandhu three days after his [Bangabandhu's] killing on August 15, 1975," he added.  
Of the three new faces, two are district-level party leaders and are little known in national politics.  
Asked about Mustafa Jabbar, who is well known for creating the first Bangla keyboard "Bijoy", another AL presidium member said it was actually a gift from the PM for his contribution to the party as well as to the country.
He was one of the key persons behind the idea of "Digital Bangladesh", a new slogan that was incorporated in the party's 2008 election manifesto, said the AL leader.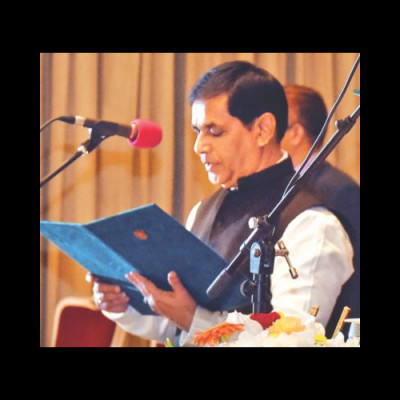 He will be a technocrat minister.  
Kazi Keramat Ali has been general secretary of AL's Rajbari district since 1990.
He was elected lawmaker in the by-election in 1992. He was also elected lawmaker in 1996, 2008 and 2014. In the fifth parliament, he was a member of standing committee for telecommunications ministry and member of standing committee on women and children affairs and relief and disaster management affairs in the seventh parliament.
Shahjahan Kamal took part in mass upsurge in 1966 and 1969 when he was a student of Dhaka University.
A freedom fighter, Shahjahan was elected general secretary of Awami League of Laxmipur district in 1972.  He was elected president of Laxmipur district Awami League in 1985. He was administrator of Laxmipur Zila Parishad.
He is now member of the standing committee on liberation war affairs and government assurances.
Shahjahan Kamal, also elder brother of Dhaka University Teachers Association President ASM Maksud Kamal, was is involved with the AL politics since his student life and was close to Bangabandhu.
Narayon Chandra had made significant contribution to the country's education sector before becoming a parliament member for the first time in the seventh parliament, says his  bio-data.
He had served as school headmaster between 1967 and 2005 and as the president of Khulna Secondary School Teachers Association for 25 years. 
Hasina formed her 49 members of council of ministers in 2014 when she took office for a second straight term.
After two major reshuffles, including the latest one, the country now has the same highest number of ministers and advisers as the last BNP-Jamaat-led government.
In 2001, the BNP-Jamaat alliance had formed its government with a 60-member council of ministers, the largest in the country's history, drawing a lot of flak.
In her first term as prime minister in 1991, Khaleda formed her government with a 33-member council of ministers.
After her landslide victory in 2008, Hasina opted for a medium-sized council of ministers, with 23 ministers and eight state ministers. Six more state ministers were later inducted.
In 1996, Hasina had only 19 ministers to assist her initially. A few more were later added in the cabinet.