Conjoined twins separated
DMCH doctors succeed in 9-hr op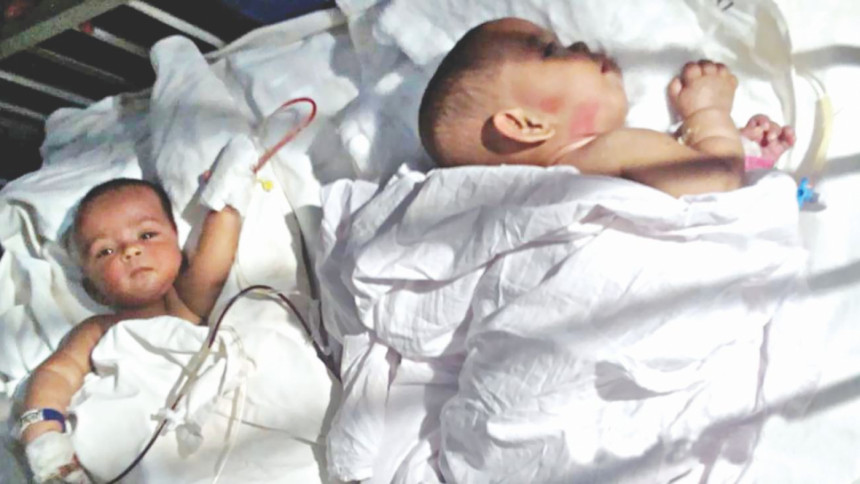 Country's surgeons were tested yesterday as they separated conjoined twins.
A 24-member team of doctors, aided by several nurses and support staffers, operated on the twins at Dhaka Medical College Hospital.
The surgery on Tofa and Tahura, who were joined at the waist, started at 8:00am, Shahnoor Islam, associate professor of paediatrics surgery at DMCH told The Daily Star.
She added that the babies from Gaibandha were in good health after the nine-hour surgery.
Conjoined twins are identical twins joined in the mother's womb. It is an extremely rare phenomenon. Two babies joined at the pelvis are even rarer. Doctors say such cases are called pygopagus conjoined twins.
Yesterday's surgery was the first of its kind in the country, they added.
The 10-month-old babies, each weighing 5kg, were joined from the back to below their waist. They shared one anus.
There will be some minor surgeries after three to six months, depending on the infants' health, Shahnoor said.
Some of their body parts are still displaced and surgeries to reconstruct their anus and vaginal and reproductive organs will be needed, she said. 
The physicians were worried that the surgery would create holes in their spinal cords causing difficulties in movement of their legs, but the babies started moving their legs soon after the operation, she informed.
"The real challenge now is to ensure the babies do not contract infection. We request everyone to maintain hygiene and keep them safe," she stressed.
The babies were moving their legs and one even smiled as they were taken out of the operation theatre complex of the hospital.
Their mother Shahida said she was nervous during the marathon operation.
"My heart pounded every minute during the operation. I asked about my daughters' condition to anyone coming out of the operation theatre. I was relieved when I saw my daughters with my own eyes," she told this newspaper.
Experts of anaesthesia, burn and plastic surgery, orthopaedics, neurosurgery, urology and radiology operated on the babies, said Asraf-ul-Haq, head of paediatric surgery at DMCH.
The physicians spoke to reporters at the hospital after the surgery around 5:00pm.
Director of the hospital Brig Gen Mizanur Rahman said the cost of the surgery was borne by DMCH.