Cold wave to linger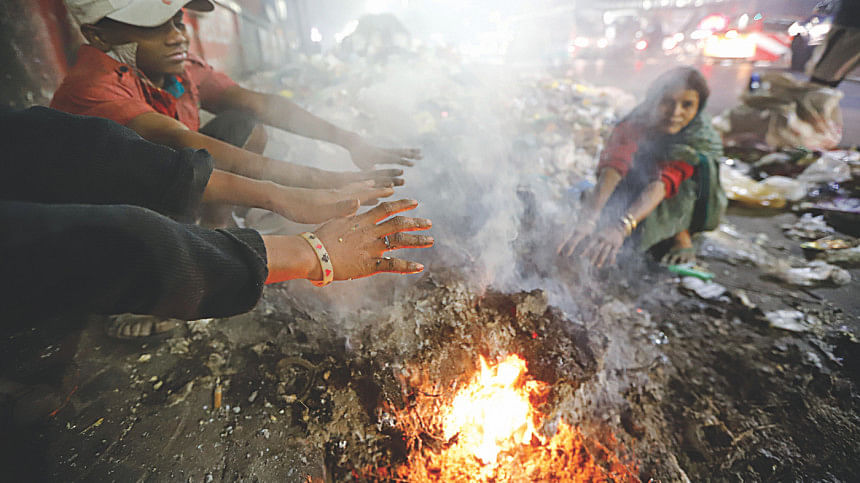 The cold wave sweeping over the country is likely to linger one or two more days.
According to Bangladesh Meteorological Department (BMD), the mild cold wave was sweeping over Ishwardi, Kurigram, Panchagarh, and Kushtia yesterday.
According to BMD records, the lowest temperature in the country was 9.5 degrees Celsius in Rangpur's Rajarhat yesterday while the mercury dropped to 13.6 degrees Celsius in Dhaka.
Chuadanga experienced 9.8 degrees Celsius, Tentulia 9.9 and Ishwardi 9.8.
Parts of the country had been shrouded by mild to dense fog since midnight on Sunday.
Much of the country will be covered in mild to dense fog from late yesterday until early today,
according to the Met office. However, no rain has been forecast during the cold spell.
Md Abul Kalam Mollic, a meteorologist of the BMD, said wind from the foot of the Himalayas which entered into the country, dense fog even during the day, and small difference between day and night temperature was making the cold wave feel worse.
He said now night temperatures are between 9.5 degrees and 15 degrees Celsius while day temperatures are between 16 degrees and 23 degrees Celsius.
He advised vehicles as well as vessels to ply carefully in the fog.