Cold wave rolls in, hits poor hard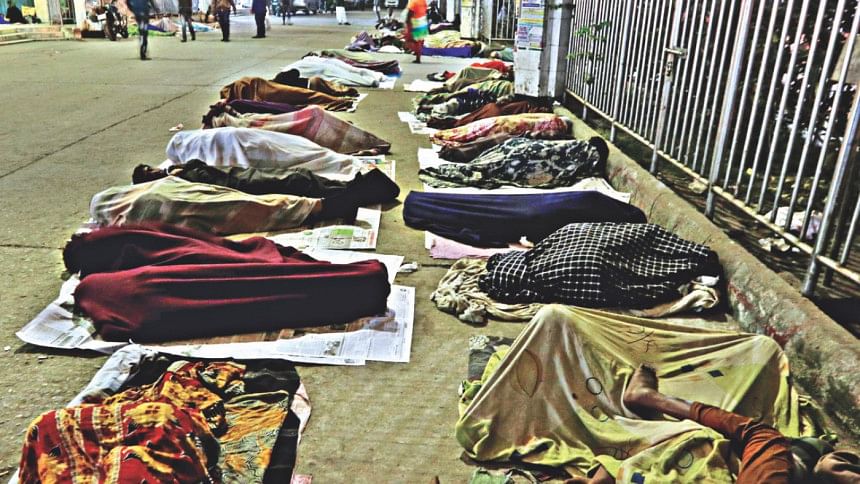 A mild cold wave is sweeping over several districts of the country causing sufferings to the poor and the elderly. The Met office said temperatures could drop even further this evening.
The lowest temperature in the country was recorded at 6.3 degrees Celsius in Chuadanga yesterday.
Doctors warn that the number of patients, especially children and the elderly suffering from cold-related ailments like pneumonia, and diarrhoea, thronging to hospitals might further increase in the coming days. 
Dense fog and strong cold wind hit Chuadanga, Kurigram, Nilphamari, Lalmonirhat, Thakurgaon, and Dinajpur hard. Many opted to stay indoors there.
The sun was not visible in most of these districts yesterday and there was fog early in the evening.
In Chuadanga, the mercury is expected to drop until Saturday morning, said Samadul Islam, in-charge of Chuadanga Met office.
At least two children died of cold related diseases in Chuadanga and Kurigram yesterday, our correspondents report.
One-and-a-half-year-old Meem died in Kurigram Modern Hospital while Babu, 4, died at Chuadanga Sadar Hospital.
People living in the 250 char areas or near river banks in Chuadanga bore the brunt of the cold wave, our correspondent there reports.
There has been an increase in rotavirus-infected patients in Nilphamari and on an average, 50 people are being admitted to hospitals every day since Wednesday.
District Relief and Disaster Management Officer Md Akhtaruzzaman said 2,000 blankets were distributed among the poor in the last couple of days.
In Thakurgaon, the drop in temperature forced people to stay indoors. The lowest temperature recorded here was 9 degrees Celsius yesterday.
The district administration has distributed 34,177 blankets among the poor, said Thakurgaon Deputy Commissioner Abdul Awal.
The deputy director of the department of agricultural extension in Thakurgaon said agricultural activities were disrupted due to cold wave. However, crops were not under threat, the official said.
Around 220 patients got admitted to Thakurgaon Sadar Hospital until yesterday afternoon with cold-related diseases. The hospital has 100 beds.
In Panchagarh, at least 140 patients were admitted to the 100-bed Panchagarh Sadar Hospital with similar diseases.
A total of 31,921 blankets have been distributed in Lalmonirhat.
Dinajpur recorded 9.8 degrees Celsius yesterday.
Conditions in Joypurhat and Naogaon were similar.
[Our correspondents in Kushtia, Kurigram, Nilphamari, Thakurgaon, Lalmonirhat and Dinajpur contributed to this report]