China-Funded Projects: Dhaka seeks to speed up deals
Targets 12 priority projects involving $9b Chinese loan for next year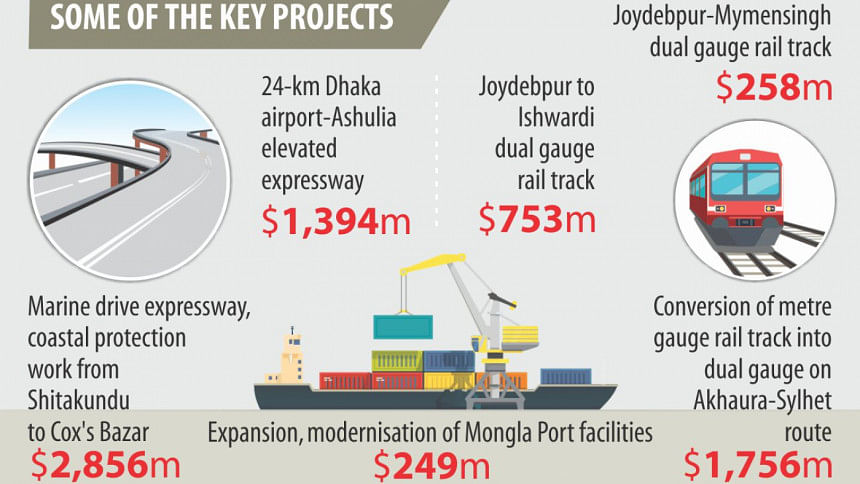 More than a year after the Chinese president's historic Dhaka visit, some of Bangladesh's key development projects have finally gained momentum.
Dhaka and Beijing have reached the final stage of signing loan agreements on eight projects, including the crucial Padma Bridge Rail Link. Last week, Bangladesh forwarded to China a new list of 12 projects earmarking those as priorities in 2018, say finance ministry sources.
China would provide Bangladesh with over $9.45 billion in credit for the 12 projects. 
Completion of these projects would mean better rail communication, revival of the state-run jute mills, cut in system loss in the power sector and development of road infrastructure, they added.
These are part of the 27 projects that the two countries agreed to implement with Chinese assistance under an umbrella deal struck during President Xi Jinping's Dhaka visit in October last year. Xi had promised to give soft loans of $21.5 billion for these projects.
Three of the next 12 projects involve upgrading railway infrastructure with Chinese financing of $2.76 billion. They include laying out dual-gauge rail track in parallel to the existing metre-gauge one from Joydebpur to Mymensingh, construction of dual-gauge track on Joydebpur-Ishwardi railway section, and conversion of metre-gauge rail tracks into dual-gauge ones on Akhaura-Sylhet route.
Once implemented, these would help cut travel time and let passengers experience better train journeys, say railway officials.
The list of 12 also includes some infrastructure development projects that involve construction of Dhaka-Ashulia elevated expressway, coastal protection work and construction of marine drive expressway from Chittagong's Sitakunda to Cox's Bazar, and expansion and modernisation of Mongla Port facilities.
The China National Machinery Import and Export Corporation will build the 24-km elevated expressway from Dhaka airport to Ashulia as an extension of the under-construction 26-km Dhaka Elevated Expressway connecting the airport to the Dhaka-Chittagong highway near Shanir Akhra. 
The new component of the expressway has already got the nod from both the Executive Committee of the National Economic Council (Ecnec) and the cabinet purchase body.
One of the projects involves the much-needed balancing, modernisation, rehabilitation and expansion (BMRE) of public sector jute mills.
Bangladesh Jute Mills Corporation (BJMC) officials say once the BMRE is completed, many of the age-old state-run jute mills would become more productive.
There is also a "digital connectivity" project involving $1billion. Its main objective is to connect 2,250 unions with the upazilas concerned through optical fibre cables and set up business process outsourcing (BPO) centres.    
The other projects include: Rajshahi Wasa surface water treatment plant, reduction of system loss under Dhaka Power Distribution Company (DPDC), extension of the existing underground mining operation of Barapukuria Coal Mine and establishment of six TV stations of Bangladesh Television (BTV).
EIGHT ONGOING PROJECTS
Bangladesh and China are now at the final stage of signing loan agreements involving over $3 billion for the Padma Bridge Rail Link project, modernisation of telecommunication network for "digital connectivity", China Economic and Industrial Zone in Chittagong, and installation of a single point mooring (SPM) with double pipelines.
Under the SPM project, crude and finished petroleum products will directly be taken to the Eastern Refinery in Chittagong's Patenga from deep sea through two pipelines. Currently, the petroleum products are unloaded from big ships and taken to the port in small ships. It is then taken to the refinery by oil tankers.
A loan deal has already been signed for "Development of National ICT Infra-Network for Bangladesh Government Phase-iii" (Info-Sarker) project.
Besides, negotiations are underway over loan mechanism (commercial or/and soft loan) for two other projects: Expansion and Strengthening of Power System Network under the DPDC, and Power Grid Network Strengthening Project under Power Grid Company of Bangladesh (PGCB).
Apart from these, a commercial contract has been signed for Dhaka-Sylhet Four-lane Highway Project.
On the perception that the China-funded projects are moving slowly, Chinese Ambassador Ma Mingqiang recently said the decision-making process is time-consuming.
"It is not that we can say something today and do it overnight," he said, adding that there are many layers of evaluation and administrative team work.
Sometimes bureaucracy does not help matters either, he said, citing the release of a Chinese shipment from the Chittagong port that took 11 months as a case in point.
"These slow down the pace of projects," he said, adding that both the Chinese and Bangladesh sides are working hard to speed up the implementation of the projects.
Speaking at the signing of the framework agreement on SPM project on October 29, Economic Relations Division (ERD) Secretary Kazi Shofiqul Azam acknowledged that the implementation of the projects has not been smooth.