Cash crunch turns grave
Bangladeshis visiting Kolkata in trouble after withdrawal of Rs 1,000 and 500 notes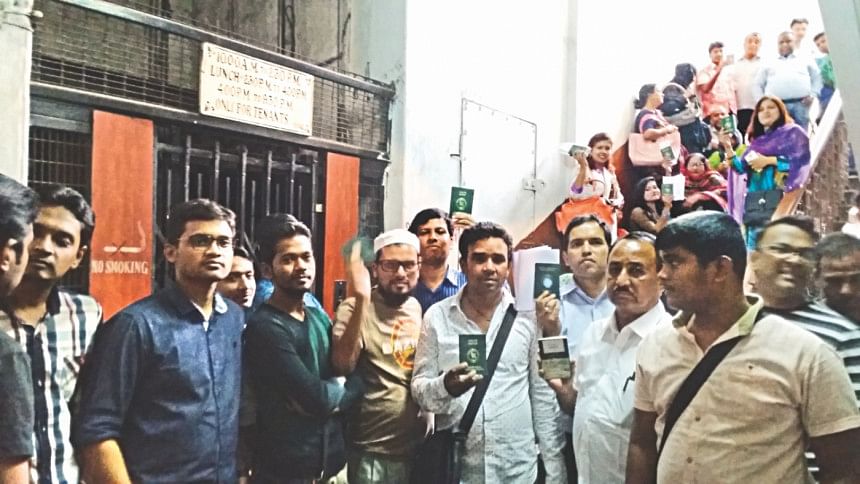 Bangladeshis visiting India continue to face cash crunch although new bills are available and a week has passed since New Delhi, in a shock move, withdrew Rs 500 and Rs 1,000 banknotes from circulation.
Things have turned so serious for Bangladeshi tourists that the Kolkata branch of state-run Sonali Bank is now urging Bangladeshis not to visit the country before December.
"We urge Bangladeshis not to visit India until December unless they have some emergency purposes," said Ali Mortuza, deputy general manager of Sonali Bank there.
He said the branch got a supply of Rs 40 lakh from the Reserve Bank of India yesterday against the demand of Rs 1.5 crore to help ease sufferings for the Bangladeshi nationals confronting the currency exchange crisis.
Tourists who are already in the country, particularly in Kolkata, are facing serious inconveniences because of the cash crunch.
Two of them are Muntasir Maruf and his wife. The physician couple of a government hospital in Dhaka landed in Kolkata on November 12. They could change the US dollar they were carrying but could not get change for Rs 500 and Rs 1,000 notes which they took in exchange of dollar at the airport.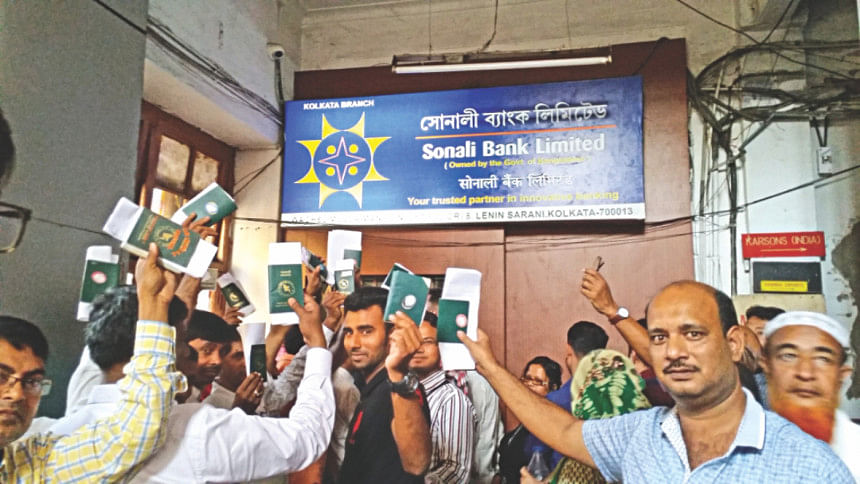 AKM Kamaruzzaman Parvez, a marketing official of a daily in Dhaka, reached Kolkata on Sunday. His father Nazrul Sarker and mother Rihia Khatun had appointments with physicians at a hospital in the capital of Pashchimbanga on Monday.
Parvez could not even collect enough Indian currency to pay the bill for their lunch in the city. He went to the Sonali Bank branch in Dharmatola and got some dollar changed which allowed him to pay for their lunch.
Jhorna Moni, another journalist of a daily, came to Kolkata for her eye operation. She had planned to pay the operation bill by changing dollar and some Bangladesh currency into Indian banknotes. But the sudden decision by the Indian government put her in an awkward situation. As a result, she could not get the eye operation done. 
"If I had anticipated the problem beforehand I would not have come to India for the eye operation."
She said she wondered in Kolkata for two days with the rupees she had and it seemed she was like a beggar. 
She said some of her acquaintances came to her rescue with a little bit of cash, but she didn't get the large amount she needed for her treatment.
Mortuza of Sonali Bank said of the 180 Bangladeshis who got tokens from the bank, 60 could exchange their currency, mainly US dollars, for a maximum $200 for each day.
During a visit to the branch yesterday afternoon, this correspondent found about 700 to 800 Bangladeshis queuing to exchange their dollars.
The branch is exchanging a maximum $200 and Rs 4,000 of the recently banned Rs 500 and Rs 1,000 notes for each person.            
The branch will change old notes belonging to Bangladeshi tourists in Kolkata in the future too, Mortuza added.
Debashish Chatterjee, chief of immigration at Petrapole border, said with the introduction of new Rs 2,000 notes the arrival of Bangladeshi tourists will become normal in the next few days. 
Both money changers and tourists have been facing problem in getting their money changed at the border, he said. 
Madhab Saha, a money changer at Petrapole border, said they would not be able to change money at a normal pace until adequate small notes come in circulation.
The cash crunch also hit the trade between the two countries.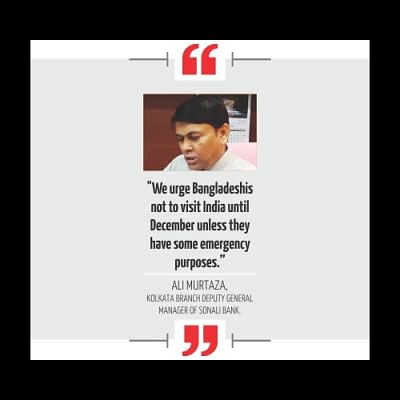 Atul Chandra Das used to buy betel leaf and fish from Hawrah haat and export those items to Bangladesh. But he could not export any item to Bangladesh since the announcement of the Indian government's decision on November 8.
Sujon Hossain, a businessman at Baro Bazar in Kolkata, could not export onion to Bangladesh for the last four days. 
Kartik Chakraborty, a clearance and forwarding agent at Petrapole border, has been exporting to Bangladesh only those goods against which letters of credit were opened earlier. No commodity under new LCs has yet crossed into Bangladesh.
About 20 to 25 tonnes of fish and 50 to 60 tonnes of betel leaves are exported to Bangladesh through Petrapole-Benapole and Ghojadanga borders in Basirhat every day.
In the last one week, the export of fish and betel leaves fell by 80 percent, said Atul Chandra Das, president of the West Bengal Fish Importer-Exporter Association.
On average, 6,500 Bangladeshis enter into India through Petrapole border every day. The number has dropped to 800-1,000.
Modi ordered the withdrawal of large denomination banknotes from circulation to fight tax evasion, corruption and forgery.
The government only gave people a few hours before cancelling old 500 and 1,000 rupee banknotes that accounted for 86 percent of cash circulating in Asia's third-largest economy.
The sudden move has caused huge disruption to daily life, especially for poor people who live in the cash economy.