World treats Bangladesh with respect
Says PM at dinner in Phnom Penh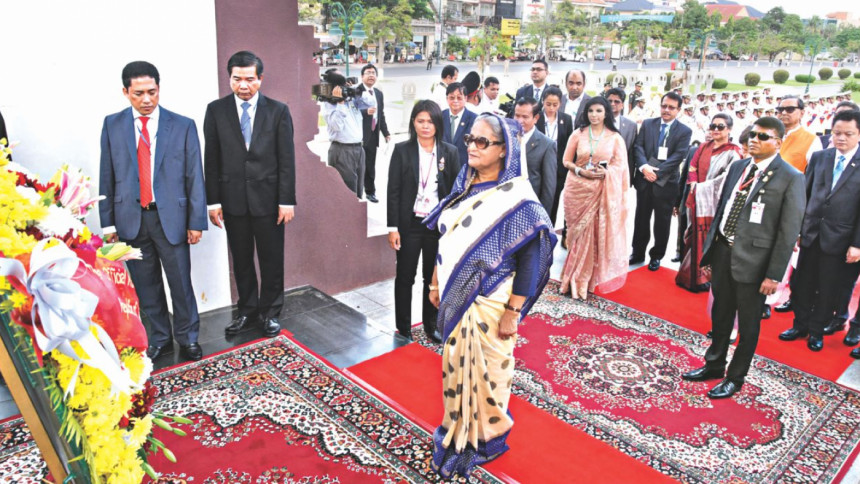 Prime Minister Sheikh Hasina has said her government's stance and continued efforts to build the Padma Bridge with its own fund have changed the world's attitude towards Bangladesh and all now treat it with respect.
"They [the global community] now show due respect while talking about Bangladesh. We want to move ahead in the global arena with due honour as a victorious nation...," she said while addressing a dinner programme at Hotel Sofitel in the Cambodian capital.
The dinner was hosted in the PM's honour by Bangladesh Ambassador to Thailand Saida Muna Tasneem, concurrently accredited to Cambodia.
Earlier in the afternoon, a red carpet was rolled out for Hasina as she arrived in Phnom Penh on a three-day official visit at the invitation of her Cambodian counterpart Hun Sen.
At the programme, Hasina said her government faced a big challenge over the Padma Bridge issue when the World Bank and other development partners withdrew their funding from the bridge project following false allegations of corruption.
"There was a perception that we won't be able to construct the bridge without the World Bank funding. But, I then insisted that we can do that. We didn't accept any false allegation and we had to endure sufferings... but we took the challenge.
"Now the most important thing is we are doing it with our own fund," she added.
Hasina also urged Bangladeshi businesses to look for suitable partners in Cambodia and move ahead with joint venture projects.
The PM said her government's aim is to improve the socio-economic condition of the country and alleviate poverty.
She also stressed the need for increasing the size of the domestic market as well as boosting exports.
Renewing her call to Bangladeshi businesses to explore new markets, the PM said her government wants to boost inflow of foreign direct investment as well as trade and commerce, maintaining good relations with neighbouring countries.
Turning to her visit to the Tuol Sleng Genocide Museum yesterday, Hasina said no other countries like Bangladesh and Cambodia have witnessed such large scale genocides.
She said her government is taking steps to preserve the historic sites and evidence of the 1971 Liberation War so that the future generation can properly learn the history of the war.
Hasina also made a mention of the Unesco's recognition of Father of the Nation Bangabandhu Sheikh Mujibur Rahman's historic March 7 Speech as World Documentary Heritage.
"No one can erase history... distorted history can never help people grow...," she added.
Bangabandhu's younger daughter Sheikh Rehana, Foreign Minister AH Mahmood Ali, and Civil Aviation and Tourism Minister Rashed Khan Menon, among others, were present.
The PM and her Cambodian counterpart Hun Sen are scheduled to hold official talks today with a focus on trade, investment and cooperation in various sectors.
Later, 11 instruments -- two agreements and nine memorandums of understanding -- will be signed between the two countries in the presence of the two prime ministers.
The two premiers will speak at a function where an announcement will be made over the naming of two important roads in Dhaka and Phnom Penh after the founders of the two nations.
The two countries have decided to name "Baridhara Park Road" in Dhaka's diplomatic zone after Cambodia's late king Norodom Sihanouk and a road in Phnom Penh after Father of the Nation Bangabandhu Sheikh Mujibur Rahman.
Hasina will have an audience with Cambodian King Norodom Sihamoni, and also call on Cambodian Senate President Say Chhum and National Assembly President Heng Samrin.
As the chief guest, she will join a business dialogue to be organised by the Cambodian Chamber and attend a dinner to be hosted by the Cambodian PM.
Hasina will return home on Tuesday.