Blissfully Unaware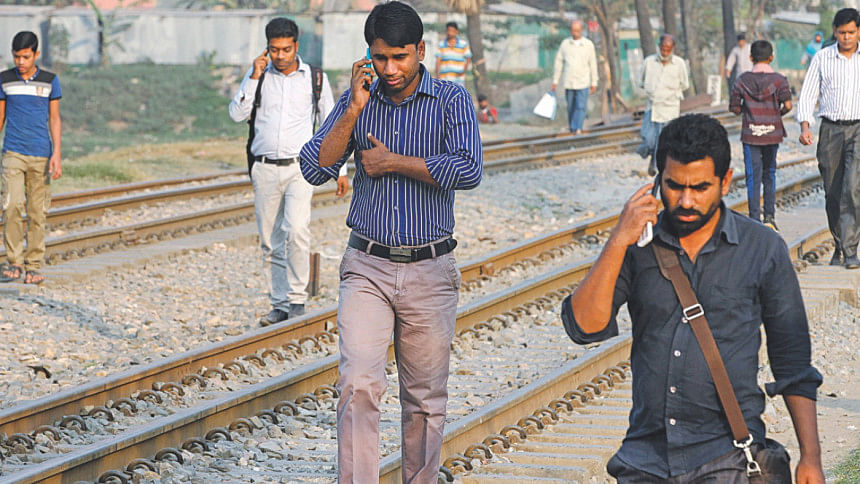 Despites the high risk of accidents due to talking on mobile phones or listening to music with earphones whilst walking on streets or along rail lines, pedestrians of Dhaka continue to ignore the danger.
This behaviour often causes accidents in which people lose limbs and in some cases their lives even, railway police and experts said, adding that walking along or on rail lines is actually illegal but people do not care.
The matter came to the forefront once again when Tanvir Gawhar Topu, a Buet student, died on Wednesday after a train hit him. He was walking along the rail lines whilst talking on his phone at the capital's Moghbazar-Wireless Rail Gate. 
Even though the death of a smart student was widely covered by both print and electronic media, this death and a lot more similar deaths seemed to have not woken up the people.
When a correspondent of The Daily Star visited Tejgaon Rail Gate area yesterday, not far from where Topu was killed, he found dozens of people crossing the lines or walking along or even on the lines whilst talking on their phones or listening to music with earphones.
They seemed to be oblivious to the very real risk of being run over by trains.
Prof Azizur Rahman of psychology department at Dhaka University said when people talk on the phone or listen to music with earphones or headphones, their spatial awareness gets reduced significantly. They lose some awareness of what is going on around them. 
He said talking on the phone or listening to music with earphones or headphones should be avoided on the streets and places where the slight loss of spatial awareness could be dangerous.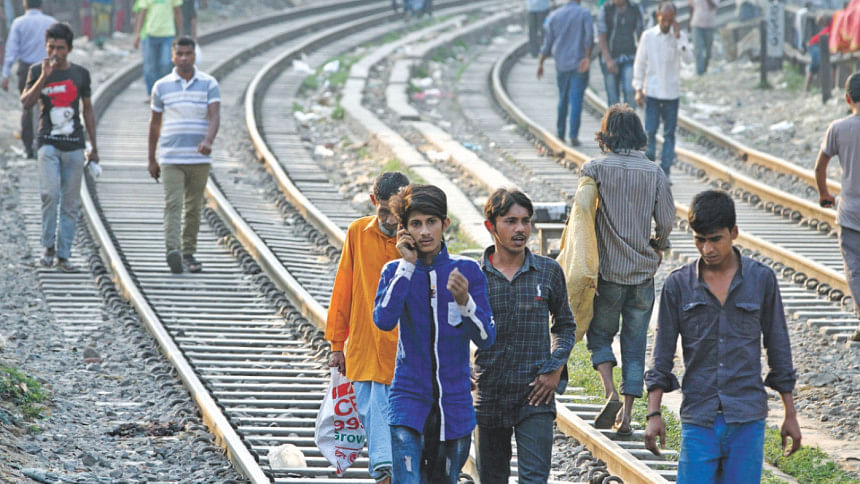 Kazi Shifun Newaz, an associate professor of the Bangladesh University of Engineering and Technology (Buet) working at the university's Accident Research Institute (ARI), termed it "an utterly risky behaviour".
He said when a pedestrian has earphones on, he or she is less likely to hear the sound of an oncoming train.
"We always stress that the level crossings and areas adjacent to lines should be free of loud noise and visual obstructions so that people can see and hear oncoming trains. But if people put on earphones, they are filtering out all sounds and their mind remains elsewhere," he told The Daily Star.
Rafiqul Islam, operations officer of Dhaka Railway Police Station, told The Daily Star that as many as 48 people were killed after being hit by trains in their jurisdiction (from Narayanganj to Bangabandhu Bridge East station).
Most of the accidents had happened when people were walking on the rail lines, usually whilst talking over their phones or using earphones, he said.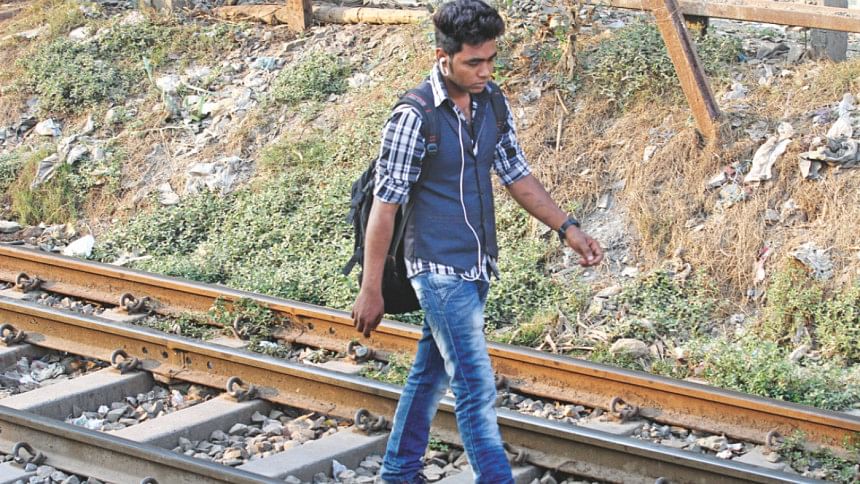 Habibur Rahman, additional director general (operation) of Bangladesh Railway said there is a law that makes it illegal for people to be within 11 feet of rail lines. But people do not follow the rules. 
"There is no alternative to raising awareness among people for avoiding such deaths," he said.
Former director of ARI Shamsul Hoque said rail lines and roads should not be intertwined in the heart of the city.
"As it takes longer to stop a train, such accidents would continue if the lines go through populous areas. That's why, in most planned cities, rail lines are elevated to avert tragedies," he stressed.