Quota Reform Agitation: 'Postponed', not quite
Within an hour after a leader of students yesterday announced one month's suspension of their street agitation for quota reforms in the public service recruitment, another group defied it and vowed to continue their demonstration.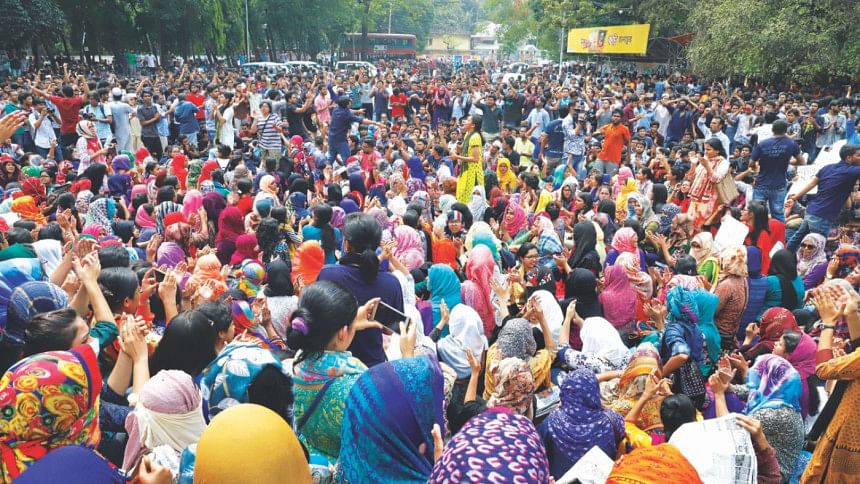 Within an hour after a leader of demonstrating students yesterday announced a one-month pause in their movement for quota reforms in public service recruitment, a group of protesters defied it and vowed to press on with their agitation.
Hasan Al Mamun, convener of Bangladesh Shadharan Chhatra Odhikar Sangrakkhan Parishad, a platform spearheading the protest, made the announcement following a meeting with representatives of the government and the ruling Awami League.
At the meeting, joined by a 20-member student delegation and held at the Secretariat, the government pledged to "examine the existing quota system" and inform all about the "outcome" by May 7.
But the group, which was agitating in TSC area of Dhaka University even during the two-hour talks that started at 4:00pm, rejected the government assurance.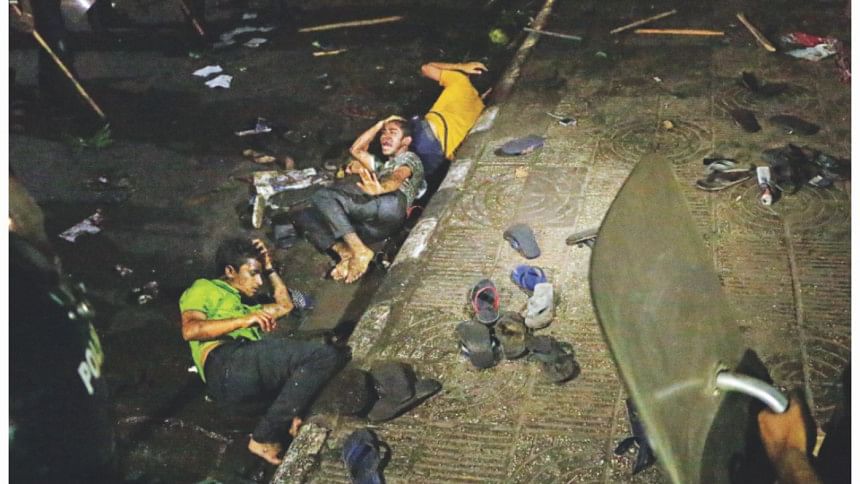 Bipasha Chowhdury, coordinator of a newly formed committee of the agitating students, announced around 9:30pm that strikes will continue at all universities and university colleges.
They will take position at the foot of Raju Sculpture near TSC around 11:00am today and stage a "March to Dhaka" programme on April 16, she said.
"The existing committee didn't consult us and just decided to postpone the demo. We don't agree with this. The protest will go on," said Bipasha.
Ahmed Salikin, a postgraduate student at DU, said, "We don't want to stay away from the movement based on this decision. We cannot allow the government to buy time."
The demonstrators later left the TSC area.
After the meeting at the Secretariat, Awami League General Secretary Obaidul Quader said the students agreed to suspend their movement till May 7, following government assurance.
"The prime minister has sent us with some message .... She has already given directives to the authorities concerned to examine the existing quota system to find out a solution," Obaidul, also road transport and bridges minister, told reporters.
"The government is not rigid on this. We will positively consider the rationale of their demands."
He, however, said action would be taken against those who attacked the residence of Dhaka University vice-chancellor during early yesterday's violence.
Quader also called upon police to release "innocent" detainees and said the government will bear the treatment expenses of those injured during the protest.
After his briefing, Hasan Al Mamun expressed gratitude to Prime Minister Sheikh Hasina for taking their demands into consideration, giving the minister necessary directives and pledging to inform them within the first week of May after doing "reasonable reforms" through the public administration ministry secretary.
Though Hasan said the government assured them of a "reasonable reforms" by the first week of May, Quader said the authorities will "examine the system" by the time.
As the delegation conveyed the developments to their fellow protesters at Shahbagh, a section of them demanded specific announcement from the government to resolve the issue. 
The meeting took place following agitations in different universities across the country, with demonstrators blocking different roads and highways, disrupting communications.
In Dhaka, protesters re-grouped from morning on Dhaka University campus hours after they clashed with law enforcers between Sunday night and early yesterday.
At least 60 students were injured as police swung into action against demonstrators on Dhaka-Aricha highway.
Students and job seekers have long been demanding reforms of the quota system, terming it "discriminatory" and "hugely disproportionate".
Currently, 44 percent of the public service recruitments come from merit list and the remaining 56 percent from various quotas. 
On February 17, students under the banner of Bangladesh Shadharan Chhatra Odhikar Sangrakkhan Parishad launched the movement over five-point demand, including reducing the quota privilege to 10 percent from 56.
The movement turned violent on Sunday as police fired several hundred teargas shells and rubber bullets, used water cannons and charged batons to disperse the demonstrators who blocked the Shahbagh intersection for over five hours.
At least 75 people were injured and several others detained as violence flared up with Shahbagh and its adjacent areas turning into a battlefield.
The protesters called strikes at all universities and university colleges for yesterday.
Around 1:00am, a section of the protesters broke the lock of main gate of the DU vice-chancellor's house, vandalised furniture and damaged four cars inside the compound, according to witnesses and fire service personnel.
About half an hour later, BCL men swooped on the protesters and chased them away from the VC residence. Several gunshots were heard at that time, added the witnesses.
Agitators denied their involvement in the attack, blamed outsiders and called for proper investigation.
About the detainees, Maruf Hossain Sardar, deputy commissioner of Dhaka Metropolitan Police (Ramna Division), said, "We have contacted the university authorities. But no one came yet. We will release them after their relatives sign bonds."
After the nightlong clash, around 250 BCL leaders and activists led by its President Saifur Rahman Sohag and General Secretary SM Jakir Hossain were seen marching towards Curzon Hall from Shahbagh at daybreak. They were with sticks, rods and other weapons.
As soon as they reached near Shahidullah Hall, a running battle began between a group of demonstrators and BCL activists. Police fired teargas again.
Later, BCL activists took positions in front of Madhur Canteen.
Earlier at night, many female students came out of their halls and joined the protest. Around 300 of them got stuck inside TSC during chase and counter chase among police, BCL activists and protestors till 6:00am.
Speaking at an impromptu press conference at DU Central Library compound around 10:30am yesterday, Rashed Khan, joint convener of the agitating platform, demanded the authorities release the detainees without delay.
After that, the demonstrators marched in a procession through TSC, Doyel Chattar and Shahbagh areas.
Around noon, they tried to bring out a procession again through the university campus, but police stopped them and lobbed teargas shells.
Protesters gathered at the foot of Raju Memorial Sculpture in the TSC area.  Some were seen putting up barricades at each point for entering the TSC area.
They didn't allow vehicles to pass and were asking for identities of people.
At one moment, a group of BCL activists were seen marching towards them from Shahbagh. Some of them were on bike. The agitators chased them away.
Meanwhile, at least five reporters and camera persons from media outlets were assaulted by some protesters.
A reporter and a cameraman of Independent TV were physically assaulted near TSC for what the attackers said was reporting against their movement.
Camera persons of ATN news and Channel 24 were also assaulted while an Ekattor TV crew was forcibly driven away from the spot while discharging duties.
However, Rashed Khan told journalists that those who are attacking journalists are outsiders and that they had urged all the protesters gathering there not to attack the media persons.
Around 3:00pm, the agitators announced that a 20-member delegation of their platform will sit with the government representatives.
Led by platform's convener Hasan Al Mamun and Faruk Hasan, the delegation went to the Secretariat around 4:00pm.
Besides Obaidul Quader, AL leaders Jahangir Kabir Nanak, Khaled Mahmud Chowdhury took part in the meeting.
COMMENTS OF TWO SECRETARIES
In another development, Md Mozammel Haque Khan, senior secretary of the public administration ministry, said the government has no plans to reform the existing quota system right now.
"Prime Minister Sheikh Hasina supports the existing quota system. She believes it should stay," he said while talking to reporters at his office yesterday.
But Cabinet Secretary Mohammad Shafiul Alam said the public administration ministry will scrutinise the existing quota system and inform the prime minister about it, reports UNB.
He was talking to reporters after a cabinet meeting at the Secretariat where an unscheduled discussion on quota system was held with the prime minister in the chair.
"No decision was taken at the meeting on the quota system in government service but it must be scrutinised," he said.
On March 7, the government issued a notification relaxing its previous system of preserving vacant posts. Now different government positions, which remain vacant for not getting eligible candidates from quota, will be filled from the merit list.