Japan was always close to my heart
Hasina writes in Japanese newspaper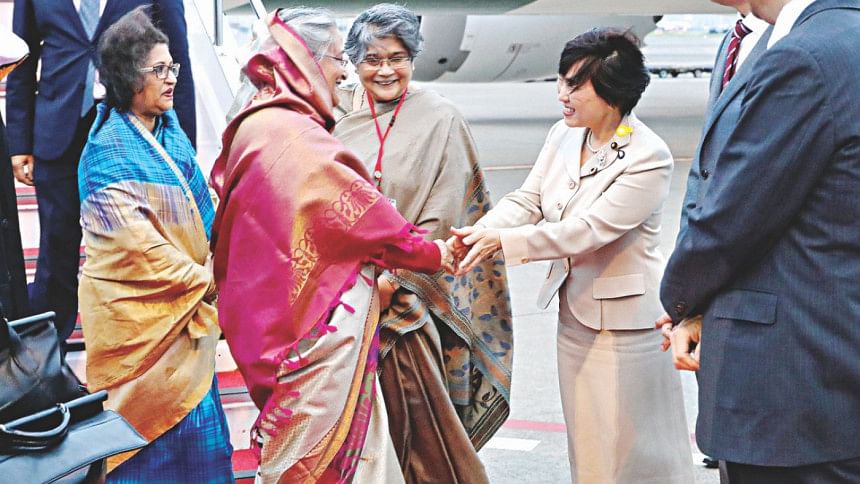 Prime Minister Sheikh Hasina has shared her father Bangabandhu Sheikh Mujibur Rahman's aspiration to transform Bangladesh into another Japan saying a new era with hope and harmony has begun in Japan.
"Japan was always close to my heart. This was transmitted to me from my father. I share his aspiration to transform my country into another Japan," reads an article written by the Prime Minister ahead of her bilateral talks with her Japanese counterpart Shinzo Abe scheduled to be held in Tokyo today.
In the article published by The Japan Times, she wrote, "Let the new era bring us closer, connect us deeper and help us build a safe and prosperous world for our children."
From her childhood, the prime minister said, she has had a fascination for Japan. "I used to collect Japanese art, calendars, stamps, dolls, etc."
In the article titled "Japan-Bangladesh partnership for development", she mentioned that the friendship between the two countries was tested in the terror attack in Dhaka in July 2016, which led to the tragic death of seven Japanese nationals.
"It was during that moment of national anguish and mourning that yet again, the Japanese people and government stood by us and reassured us of Japan's continued support to Bangladesh's development. Japan and Bangladesh are resolved to fight terrorism and extremism together," the article reads.
She said the two countries would be celebrating the 50th anniversary of diplomatic relations in 2022. "I am confident that with our shared values and commitment to promoting peace and development, we shall ensure prosperity for our peoples. Our twin flags are a reminder of the umbilical ties that bind us together."
The PM mentioned that Bangladesh offers the most liberal and congenial investment regime in South Asia.
"We welcome foreign private investment in almost all sectors of the economy with no restriction on the amount of investment," she said.
The PM mentioned that foreign investors are eligible to take advantage of a wide range of generous tax concessions and other fiscal incentives. "We have bilateral investment treaties with 32 countries and Avoidance of Double Taxation treaties with 28 countries, including Japan."
"As part of our Dream Trajectory, we have approved Delta Plan 2100 with the vision of ensuring long-term water and food security, economic growth and environmental sustainability. In its implementation, Agenda 2030, Vision 2041 and 2071 are our milestones of different development flights," the PM wrote.
She said they are transforming from an agrarian economy into a service and manufacturing sector-led growth trajectory.
The PM mentioned that some transformational projects initiated by the current government, such as Padma Bridge, Rooppur Nuclear Power Plant, High-tech Park and ICT Parks are now visible.
She said they have initiated massive infrastructural development for ensuring multimodal transport system, safeguarding energy security, maintaining food security, keeping a regional balance and ultimately improving our standard of living.
"We believe our time-tested friend Japan and its people will be with us on our transformative journey to development and prosperity," the PM wrote.
The PM reached Japan yesterday afternoon on a 12-day tri-nation tour that would take her to Saudi Arabia and Finland.