Hasina-Modi virtual summit: 7 MoUs signed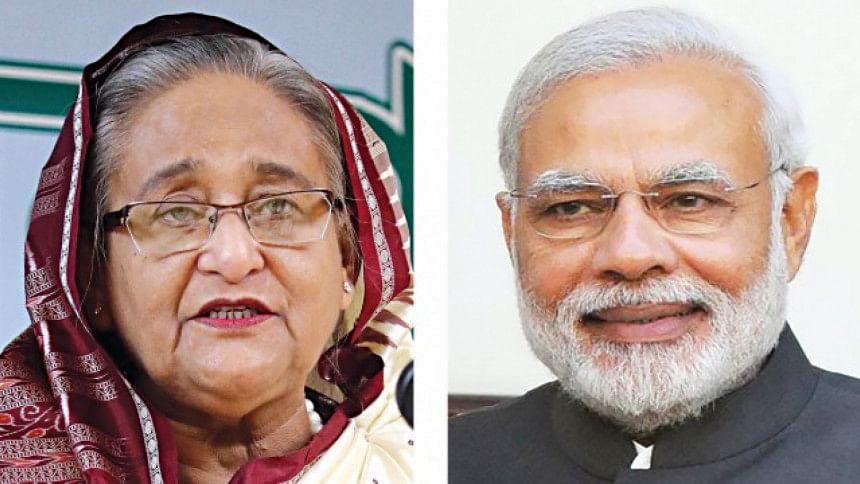 Bangladesh and India signed seven memorandum of understanding (MoUs) on cooperation in seven sectors during a virtual summit today.
The seven MoUs include framework agreement on high impact community development projects; cooperation in the field of agricultural, protocol on trans-boundary elephant conservation; supply of equipment and improvement of garbage/solid waste disposal ground in Barishal City Corporation; cooperation between Father of the Nation Bangabandhu Sheikh Mujibur Rahman Museum, Dhaka and museum in New Delhi; terms of reference of India-Bangladesh CEOs Forum; and framework understanding on cooperation in Hydrocarbon sector.
The virtual summit between Bangladesh Prime Minister Sheikh Hasina and Indian PM Narendra Modi began around 11:30am.
Hasina and her counterpart Modi delivered their opening remarks.
The meeting will continue until 1:00pm today.
Following that, Foreign Minister AK Abdul Momen will hold a press conference at the State Guesthouse Padma in Dhaka at 2:30pm.
They launched a postal stamp marking the birth centenary of Bangabandhu Sheikh Mujibur Rahman, and inaugurated Bangabandhu-Bapu Digital Museum, which highlights the lives and activities of the founders of Bangladesh and India.