Dhaka clearly wants to see a solution
Says outgoing UN resident coordinator
In a fresh spike, around 5,000 Rohingya refugees entered Bangladesh in just one day.  
They crossed the Naf River and reached Palongkhali union in Cox's Bazar and took shelter at Anzumanpara since Wednesday night, reports our Cox's Bazar correspondent.
Some 1,700 of them had been moved to the Balukhali temporary shelter until yesterday evening but many more remain at Anzumanpara as of 7:00pm yesterday, border guard sources said. 
According to an estimate, around 622,500 refugees arrived in Bangladesh since August 25 fleeing a brutal military crackdown in Myanmar's Rakhine State.
Meanwhile, outgoing UN Resident Coordinator in Bangladesh Robert Watkins said, "I think everyone knows Bangladesh more than any other country wants to see a solution to this problem because you [Bangladesh] are suffering the consequences of the problem and you are paying the heavy toll by your generosity in welcoming so many refugees in your country."
Responding to a question after Myanmar blamed Bangladesh for delaying the start of repatriation process of nearly one million forcible displaced Myanmar nationals in the hope of getting foreign aid, he said it was very clear to them that Bangladesh has clear interest in a solution to the problem, reports our diplomatic correspondent.
Watkins, who has been in the country since February 2015, will leave Dhaka tomorrow ending his mission in Bangladesh. He met diplomatic correspondents under the Diplomatic Correspondents Association, Bangladesh (DCAB) at Ascott Dhaka Hotel yesterday.
"We all know where the problem is originated and it is not to be solved in Bangladesh. We have to find solutions across the border," Watkins said.
"The solution is not easy. It's not the question of the government and the military changing its policy, that is important of course, we have mechanism for that. Myanmar said they will adopt the Rakhine Commission recommendations, but it is more than the implementation which is having the change of the mentality of the people of the entire country," he said.
He observed that there was very deep-rooted antagonism between the populations of the Rakhine State against the Rohingyas which is unfortunately going to take long time to address.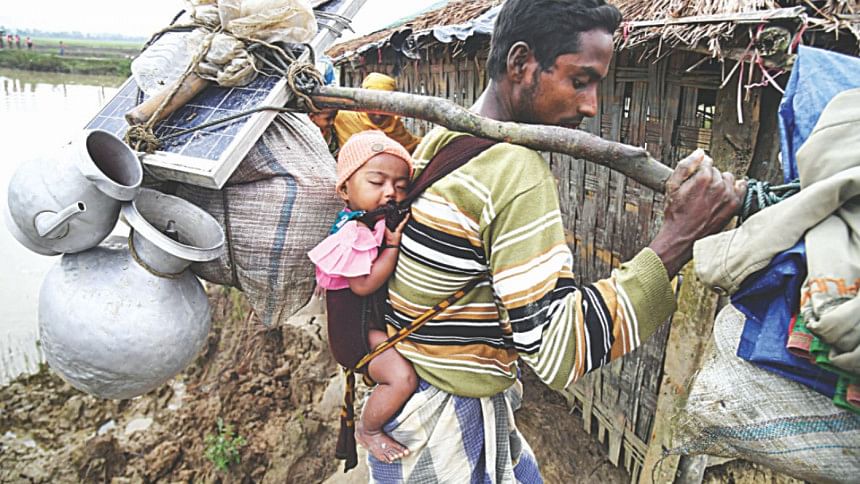 "Even if the two governments find solutions to repatriate, we have to consider their safety and security."
He stressed for mounting more pressure on Myanmar to allow the international community's access to Rakhine State.
Responding to a series of questions about the next general elections in Bangladesh, the UN official said, "Some signs are positive as all parties are preparing for the election and a peaceful election is essential.
"It is up to the political parties whether they participate or not. But we want to see them participate in the elections," he said, adding that the UN is working to strengthen the capacity of the Election Commission.
"People have to be reassured that all of the institutions of the country are neutral and not working under pressure coming from any other sources and they are independent," Watkins said.
OIC RESOLUTION FOR UN
According to a draft resolution seen by the AFP, Muslim countries led by Saudi Arabia asked the UN to denounce the serious rights abuses in Myanmar and demand an end to the military campaign against the Rohingyas.
The draft resolution, written up by the 57-member Organisation of Islamic Cooperation and introduced this week to the General Assembly's human rights committee, said UN member states were "highly alarmed" by the outbreak of violence and "further alarmed by the disproportionate use of force by the Myanmar forces" against the Rohingyas.
The non-binding measure was expected to come up for a vote in the committee around November 14 and to be discussed in the assembly a month later.
It calls on Myanmar authorities "to end the ongoing military operations" and allow aid workers' access to Rakhine State, ensure the return of all refugees, and grant full citizenship rights to the Rohingyas.
HEALTHCARE IN CAMPS
One in four Rohingya children in Bangladesh are malnourished, placing them at increased risk of death, warns Save the Children.
About a third of those children are "severely" malnourished, meaning they are nine times more likely to die than the children who are not malnourished, says a research conducted by Save the Children, Action Contre La Faim, UNHCR, Unicef, and WFP in last two weeks.
They are significantly more vulnerable to infections and diseases like diarrhoea and chest infections, it said.
"The situation is worse than we feared," said Nicki Connell, Save the Children's emergency nutrition adviser in Cox's Bazar.
"Large numbers of Rohingya children are arriving in Bangladesh already malnourished. Then they are put in a situation where they have to rely on food rations to survive, where hygiene standards are poor, where clean drinking water is hard to come by and lots of people are getting sick as a result.
"Every day we see children arrive at our health clinics in desperate need of therapeutic food to stave off death," Connell said.
"It is rare to see this level of malnutrition among children, even in a crisis like this, and even rarer to see it affecting adults as well. A few days ago two men came in to one of our clinics, one weighing 32kg and the other 34kg," Connell said.
TICKING BOMB
The threat of cholera is like a "ticking bomb" for the hundreds of thousands of Rohingyas who have flooded into Bangladesh in recent weeks, the Red Cross chief warned.
"We have every reason to fear that we can get into a situation that can lead to cholera outbreaks," Elhadj As Sy, head of the International Federation of Red Cross and Red Crescent Societies (IFRC), told AFP in an interview.
"We are definitely sitting on a ticking bomb," he warned.
Sy, who spent three days in Cox's Bazar last week, said the conditions there were "difficult to describe" and "very heartbreaking".
One of the biggest concerns is the poor sanitation and lack of hygiene facilities that has sparked growing fears over the emergence of cholera, which spreads through dirty water and can kill if untreated.
The IFRC, which last month opened a field hospital near the camps, has treated numerous patients for acute diarrhoea.
At the same time, the UN began a massive vaccination campaign in a bid to avoid a cholera epidemic, but while no cases have appeared so far, Sy warned unhygienic conditions could see the disease spread.