9 prison doctors for 90,000 inmates
Nurses, pharmacists taking care of prisoners as no doctors in 60 jails; 132 posts of doctors vacant; on average 23 inmates die a month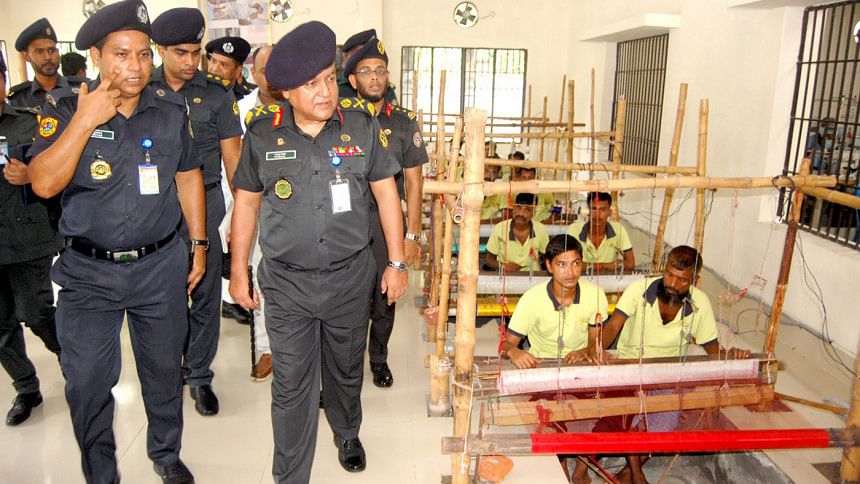 Over 23 inmates are dying every month, amid a shortage of doctors, nurses, and ambulances, and poor medical facilities in 68 prisons of the country.
There are nine doctors for 90,638 inmates, one for every 10,000 inmates. This does not appear too bad but the fact is 60 of the prisons have no doctors at all.  
Instead of doctors, those prisons only have nurses or pharmacists taking care of inmates.   
Sources in the prison department claimed that half the inmates suffer from diseases like tuberculosis, diabetes, and kidney and liver issues. They require continuous treatment. 
At least 188 inmates died of illness in the eight months of this year. Last year, 316 prisoners died, an average of 26 deaths a month, said Amirul Islam, assistant inspector general of the prisons department.  
For years the jail authorities have been asking the home ministry to fill the 141 vacant doctor's posts in prisons but almost nothing fruitful has happened. Just two months ago, they asked for doctors again.  
Due to the lack of doctors and medical facilities in prisons, sick and seriously ill inmates are often taken to hospitals at the eleventh hour. 
"In majority cases, we do not get the scope for doing anything as inmates are brought in at the last stage," Abul Kalam Azad, assistant director of MAG Osmani Medical College Hospital, told The Daily Star.  
Sources said there are only 15 ambulances for prisoners in the 68 prisons but they could not say how many of them actually worked.  
The poor medical care available in prisons is evident when a few cases are looked into.  
Former Bangladesh Bank staffer SM Giasuddin Mridha, 70, started complaining of severe chest pains in Dhaka Central Jail in Keraniganj around 11:00am on September 6.  
With no proper facility to deal with such a case, the jail authorities decided to transfer him to Dhaka Medical College Hospital, a mere 13km away. But it was not until 2:00pm the diabetic kidney patient could be taken there, after all procedures and formalities had been completed, the prison sources said.  
It was too late. Doctors declared him dead on arrival. 
His wife Hasina Begum said Gias had been in prison for seven months. "Every month, I used to send him medicine worth Tk 3,500. Recently, he became more sick and told me that he was not getting proper treatment in the jail hospital," she said on Friday.  
"Gias asked me to arrange Tk 20,000 so that he could bribe jail staffers to get transferred to a hospital outside. Before, I could arrange the money he died," she said.  
"If the jail authorities had taken steps in time, he might not have died," she said.  
Iqbal Kabir Chowdhury, senior jail superintendent at Dhaka Central Jail, said he would definitely investigate the allegations of jail staffers demanding bribes. 
On September 3, Musa Sardar, 52, an autorickshaw driver by profession, died while being taken to DMCH.  
Musa, diabetic and suffering a heart disease, was in Narayanganj jail for two months.  
That very day his wife Rita Akter went to visit him in jail around 12:30pm. She was told her husband had been taken to Narayanganj General (Victoria) Hospital minutes before.  
Rita saw Musa was having breathing difficulties at the hospital and the doctors referred him to DMCH as his condition deteriorated.  
"But the jail guards did not arrange an ambulance or oxygen support during his transfer to DMCH. They just hired an autorickshaw," Rita told this paper on Friday.  
"They reached DMCH around 3:10pm and doctors declared him dead while hospital staffers were preparing his admission," said Rita.  
These two cases happened in prisons that had at least one doctor.  
NO DOCTORS IN 60 PRISONS
Only the prisons in Narayanganj, Barishal, Cumilla, Gazipur, Brahmanbaria, Chattogram, Sylhet, and Dhaka Central Jail have doctors.  
Dhaka Central Jail has two doctors. Many prisons that do not have doctors at their disposal send sick inmates to Dhaka. The jail has a 172-bed hospital and it treats at least 350 inmates a day.  
Amzad Hossain, jailer of Rangpur Central Jail, told The Daily Star this week that they have no doctors and that a pharmacist treats 35 to 40 inmates daily.  
The eight other prisons in Rangpur division have no doctors either and sick inmates are sent to Rangpur Central Jail, as it is in close proximity to Rangpur Medical College Hospital.   
There is an eight-bed prison cell in RMCH. 
Every two-three days, doctors from the civil surgeon office visit the central jail and decide if any inmates need to be hospitalised.  
"We are not doctors, but we often have to decide if an inmate needs to be hospitalised," added Amzad.  
The prisons in the country only have 40 nurses and 28 pharmacists.  
According to jail officials, there are 173 posts of nurses and pharmacists.  
The jail authorities on several occasions have asked the Public Service Commission and the home ministry to fill the vacant posts.  
The Ministry of Public Administration on January 28 last year transferred 20 doctors to prison duty but only four of them joined.  
A prisons official told The Daily Star yesterday that they last year wrote to the home ministry to find the 16 who did not join. The ministry is yet to reply.  
However, the four who joined want to be transferred, according to ministry sources.  
Doctor Mahmudul Hasan Shuvo, now working in Dhaka Central Jail hospital, has sought his transfer.  
He told The Daily Star that the home ministry had said his transfer would not be possible now. 
Shuvo said they do not want to stay on jail duty as there was no room for promotions or professional growth. "I did not get any promotion in the last 10 years but many of my batch mates have been promoted to assistant professors or residential surgeons."  
"We have to work round the clock here, but in hospitals doctors have fixed working hours," he said.  
SEPARATE MEDICAL UNIT
Mizanur Rahman, a doctor at Sylhet Central Jail, said, "Prisoners die as there is no fully-fledged medical facility in prisons and we only admit sick prisoners to the prison hospital and forward the critical ones to hospitals outside." 
Inspector General of Prisons Brig Gen AKM Mustafa Kamal Pasha yesterday said they were working to solve the doctors' crisis in prisons.  
While addressing reporters after inspecting the Narayanganj District Jail, he said they had already held a meeting with ministries concerned. "The prime minister has issued directives in this regard," he added. 
Home ministry sources said they were forming medical units for all departments, including prisons. This would allow them to appoint, transfer, and promote doctors in prisons directly, rather than depending on the health ministry.  
Col Abrar Hossain, additional inspector general of prisons, told The Daily Star, "We are hopeful that the doctors' crisis will be finally addressed with the formation of the medical units." 
A home ministry sub-committee is currently working on formulating appointment rules for the medical units.  
Nurul Islam, additional secretary (police and NTMC) of the home ministry who is coordinating the sub-committee's work, yesterday said, "We are hopeful of forming the separate medical units soon."  
[Dwoha Chowdhury, our Sylhet Correspondent contributed to this report]