52 children still at Indian safe home
Nine of those trafficked victims return home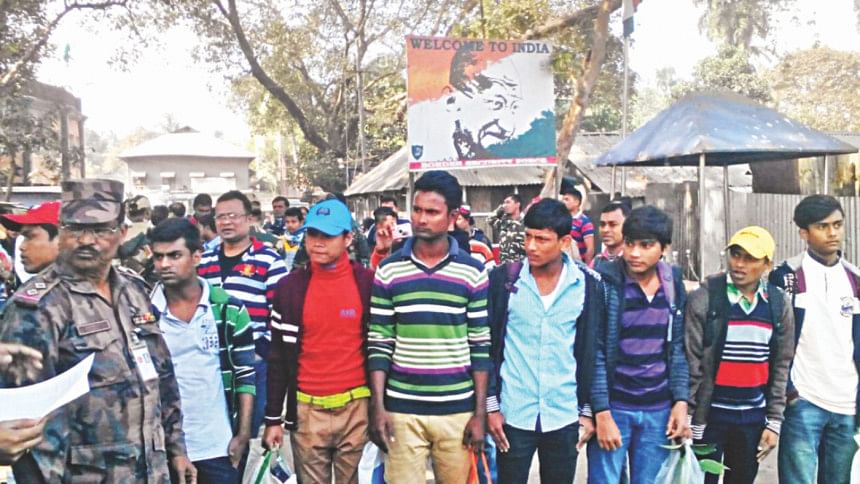 More than 50 Bangladeshi children have remained trapped at a West Bengal shelter home in India for months as they are waiting for the Bangladesh government's intervention in their repatriation.
Four months back, 42 Bangladeshi children living at the government-owned Shubhayan Shelter Home in Balughat of Dakkhin Dinajpur pleaded with Prime Minister Sheikh Hasina to bring them home, sources said. Only nine of them returned to Bangladesh since then.
Eight of them -- all teenage boys -- came back through Hili Land Port of Hakimpur upazila in Dinajpur yesterday, said Dewa Dorji Sherpa, superintendent of Shuvayan Home.  Another returned a couple of days earlier.
Meanwhile, Indian police have recently detained 19 more children and sent them to the shelter home.
According to Child in Need Institute (CINI), a voluntary organisation in India, 203 Bangladeshi children are trapped in different shelter homes in West Bengal.
The Deputy High Commission of Bangladesh in Kolkata confirmed the figure.
Children at Shuvayan Home wrote to PM Hasina with the help of the voluntary organisation on August 1 this year.
Suroj Das, a local caretaker of Child Line, yesterday said the remaining 33 children of those who wrote the letter from the shelter home were spending days in inhuman conditions.
Recently the West Bengal government issued a letter to the CINI asking for assistance in sending Bangladeshi children back.
The Deputy High Commission also sent a list of 203 Bangladeshi children to the CINI and requested it to help get them back, said Subir Roy, senior programme manager of the CINI.
The voluntary organisation was involved in the process as per an initiative taken by the Department of Women and Children of the West Bengal government.
Subir expressed the hope that the organisation would be able to send the children to Bangladesh soon.
Consular (political) BM Jamal Hossain of Bangladesh Deputy High Commission said whenever the mission received information about trapped Bangladeshi citizens they took prompt actions.
The boys repatriated yesterday were identified as Sohel Rana, Amit Chandra Roy, Azizul Islam, Mizanur Rahman, Goutam Roy and Sujan Ali of Kaharol upazila of Dinajpur, Ariful Islam of Pirganj upazila of Thakurgaon and Jonayed Ahmed of Keraniganj upazila of Dhaka.
Nazir Hossain, in-charge of Indian Hili Immigration, handed over the boys to his Bangladeshi counterpart Md Rafiquzzaman.
Rafiquzzaman said he handed over the boys to their parents after completing formalities.
These boys -- aged between 13 and 15 -- had been trafficked to India through different borders. Later, Indian police and Border Security Force rescued them from traffickers and sent them to the shelter home.
[Our Dinajpur correspondent contributed to this report]