$340m pledged to help Rohingya refugees: UN
Bangladesh ambassador to UN terms the influx untenable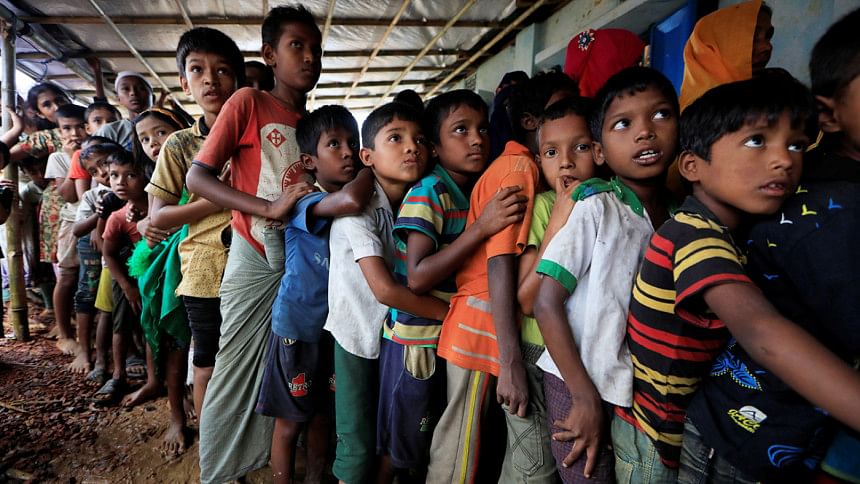 The head of the UN agency that coordinates humanitarian aid says they have pledged roughly $340 million to help more than 6,00,000 Rohingyas who have fled Myanmar into Bangladesh since August.
Mark Lowcock of the UN Office for the Coordination of Humanitarian Affairs said donors included governments and the European Union at a one-day conference in Geneva for the Rohingya. The UN and its partners are seeking $434 million to help the Rohingya through February.
Lowcock said more contributions are still expected.
Bangladesh faces an untenable situation because nearly 1 million Rohingya refugees, including the new arrivals, have fled across its border from violence in Myanmar and its government should let them return home, Bangladesh's UN envoy said the at the pledging conference.
"This is an untenable situation," Shameem Ahsan, Bangladesh's ambassador to the UN in Geneva, told the UN pledging conference. "Despite claims to the contrary, violence in Rakhine state has not stopped. Thousands still enter on a daily basis."
Vital humanitarian aid must continue, Ahsan said, adding: "It is of paramount importance that Myanmar delivers on its recent promises and work towards safe, dignified, voluntary return of its nationals back to their homes in Myanmar."
Myanmar continued to issue "propaganda projecting Rohingyas as illegal immigrants from Bangladesh", Ahsan said, adding: "This blatant denial of the ethnic identity of Rohingyas remains a stumbling block."
Myanmar considers the Rohingya to be stateless, although they trace their presence in the country back generations.
Filippo Grandi, UN High Commissioner for Refugees, later told journalists that the two countries had begun talks on "repatriation".
Any return must be "voluntary, safe and dignified" and conducive conditions have to be "recreated" in Rakhine, he said. "This must include a solution to the question of citizenship, or rather lack thereof for the Rohingya community," Grandi said.
Khaled al-Jarallah, deputy foreign minister of Kuwait which co-hosted the meeting, called on Myanmar authorities to "cease the practice of stripping the Rohingya minority of their right of citizenship, which as a result deprives them of the right to property and employment".
The UN appealed for the $434m fund to provide life-saving aid to 1.2 million people for six months.
"We need more money to keep pace with intensifying needs. This is not an isolated crisis, it is the latest round in a decades-long cycle of persecution, violence and displacement," Mark Lowcock told the talks.
"Children, women and men fleeing Myanmar are streaming into Bangladesh traumatized and destitute," he added.
New pledges included 30 million euros announced by the European Union, $15 million by Kuwait, 10 million Australian dollars by Australia and 12 million pounds from Britain.
POPE CONCERNED
Pope Francis yesterday mourned the plight of 200,000 Rohingya children stuck in refugee camps a month before he heads to Myanmar and Bangladesh.
"Two hundred thousand Rohingya children [are] in refugee camps. They have barely enough to eat, though they have a right to food. [They are] Malnourished, without medicine," he said.
The pope will visit Myanmar at the end of November before moving on to Bangladesh. During his visit, he will meet with Aung San Suu Kyi.
There are currently no plans for the Argentine pontiff to stop in strife-torn Rakhine State or the refugee camps in Bangladesh.
CANADIAN ENVOY FOR REFUGEE CRISIS
Canadian Prime Minister Justin Trudeau appointed a special envoy to Myanmar yesterday tasked with pressing its leadership to resolve the Rohingya refugee crisis.
Trudeau also announced in a statement that Canada would be doubling its contribution this year of humanitarian aid for the refugees to $20 million.
Former senior MP Bob Rae will "reinforce the urgent need to resolve the humanitarian and security crisis in Myanmar and to address the situation affecting vulnerable populations, including the Rohingya Muslim community," read the statement, released as an international donor conference opened in Geneva.
Rae, who preceded Trudeau as leader of Canada's Liberal Party, will also advise him on how best to support "those affected and displaced by the recent violence."
Trudeau said he is "deeply concerned about the urgent humanitarian and security crisis in Myanmar's Rakhine State, particularly the brutal persecution of the Rohingya Muslim people."
At a press conference, Foreign Affairs Minister Chrystia Freeland called for the immediate end to "widespread attacks against the Rohingya."
"These are crimes against humanity and the responsibility for ending the ethnic cleansing falls squarely on Myanmar's military leadership and its civilian government," she said.
Canada, she added, is looking at possibly resettling some of the refugees.
Rae will travel to the region next week and make his findings public at the end of January.
[From AP, Reuters and AFP]