14 wounds
Killers were gone in 10 minutes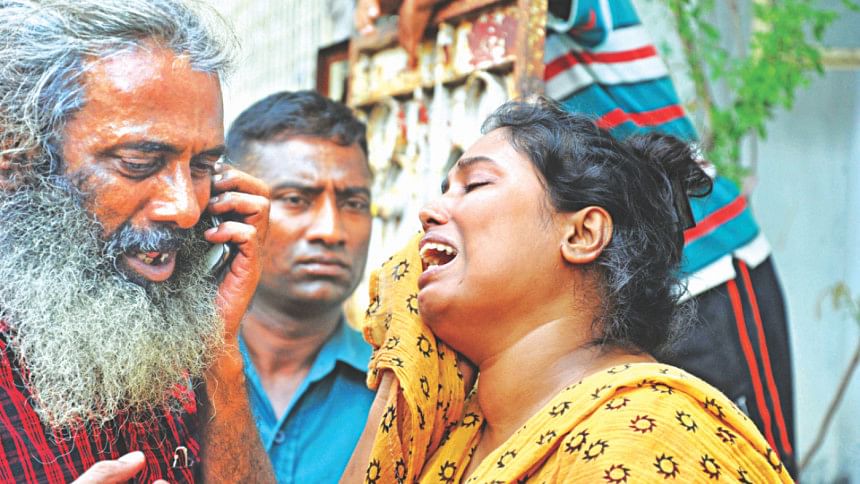 A four-inch wound gaped from below the chin to the right ear and a three-inch wound in the right side of his head. Another gaping wound was deep in the back of his neck. His chin and hands were severely wounded too.
This was how a police inquest report described the wounds to the body of Niladri Chattopadhyay Niloy, 28, who was hacked to death by four assailants inside his flat in the capital's Goran on Friday afternoon.
There were eight wounds to the upper part of his body, excluding several others to both of his hands. The ones to the upper part were three to four inches wide and two to two-and-a-half inches deep, according to Dhaka Medical College (DMC) morgue sources.
A test at the DMC's forensic department says he was hacked 14 times in a brutal manner, which has many similarities with the murders of other bloggers.
He died on the spot due to excessive blood loss from the wounds, said Prof Habibuzzaman Chowdhury, head of the forensic department at DMC.
Hours after the gruesome attack, a group identifying itself as Ansar Al Islam claimed responsibility for the murder.
A Gonojagoron Mancha activist, Niladri is the fourth blogger hacked to death this year. Earlier this year, suspected militants killed three secular bloggers and writers -- Avijit Roy in February, Oyasiqur Rahman in March and Ananta Bijoy Das in May. However, unlike Niladri, the others were attacked outside their homes.
Niladri's wife Asha Moni said that he had tried to lodge a general diary to the nearest police station a couple of months ago after sensing that he had been followed by some men. She alleged Khilgaon police refused to file any complaint, passing the buck to Shahjahanpur Police.
Investigating the gruesome killing, Dhaka Metropolitan Police (DMP) yesterday said they would probe the allegation immediately.
"We will probe the allegation over police refusal to file a GD about his security," Muntasirul Islam, deputy commissioner (media) of DMP, told reporters yesterday.
The DMP has formed a three-member committee, headed by Additional Deputy Commissioner Tareque bin Rashid of DMP's Motijheel division, to look into the allegation.
However, Zia Md Mostafiz Bhuiyan, officer-in-charge of Khilgaon Police Station, said he was unaware that anybody had wanted to file a GD.
Talking about the progress of the investigation, he said the evidence collected from the crime scene was sent to the DMC for a DNA test.
Police, however, are yet to arrest anyone in connection with the killing, said the OC.
Niladri's wife Asha Moni filed a case with Khilgaon police on Friday night, accusing four unnamed persons. While leaving, they took away Niladri's laptop and mobile phone, Asha mentioned in the case statement.
A TEN-MINUTE MISSION
Talking to this correspondent, Asha said the murderers took about 10 minutes to complete their mission to kill Niladri.
First a thin man, posing as someone looking to rent a place, entered the flat. Instead of taking a look around, he was occupied with his mobile phone. In five minutes, three more youths entered the flat and hacked Niladri indiscriminately with cleavers for around three minutes. Then they fled down the stairs.
"I saw them push him into the bedroom and attack him there," she said.
HE WANTED TO LIVE
Niladri's uncle Bimol Chattopadhyay, who received the body from DMC morgue yesterday, said Niladri had shared his feeling of insecurity with family members back home.
Asha said Niladri had gone to his village home in Pirojpur and come back to the capital on July 25. Then he started looking for an opportunity to go abroad. He was supposed to meet a friend today regarding the matter.
"Niladri wanted to live," she lamented. "If there was justice in this country, then so many killings [of freethinkers] would not take place and the killers [of Niladri] could not escape so easily in broad daylight."
The insecurity that gripped her following Niladri's death forced her to leave the flat, where they had lived for the last two years. She took shelter at a relative's house yesterday.
DB'S CLAIM
Detectives have yet to arrest any of the masterminds behind the gruesome killings of bloggers and freethinkers.
Asked about the progress into the investigations of those cases, DC Muntasirul claimed success in the murder probes of the bloggers.
"We successfully arrested the killers of Ahmed Rajib Haidar and submitted charge sheet against them. Two of the accused in Oyasiqur's killing were arrested and we are trying to nab the others. We also identified seven persons involved in Avijit's murder," he said.
FBI ASSISTANCE
Meanwhile, the Federal Bureau of Investigation (FBI) of the US Government has shown interest to help probe the Niladri murder case, said DC Muntasirul.
"A team of FBI will soon hold a meeting with the DMP here in Dhaka," he said.
Asked about the result of FBI's DNA test of the evidence collected from Avijit's murder scene, he said the FBI has made some headway but they didn't send the report yet.
NILADRI'S FUNERAL
Niladri's body was sent to his village home around 10:15pm yesterday. He was cremated around 12:15 am today, family sources said.