Chuadanga records highest temperature at 42.8 degrees Celsius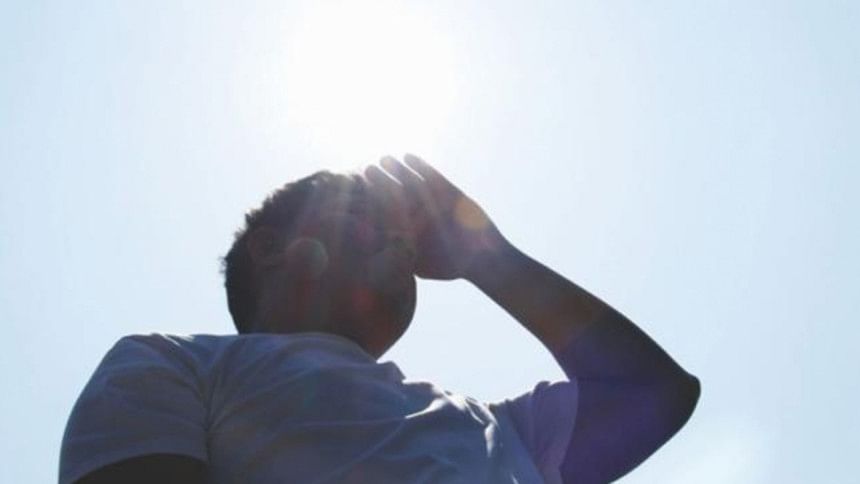 The maximum temperature in the country was recorded at 42.8 degrees Celsius in Chuadanga today, said Rakibul Hasan, senior observer of Chuadanga First Class Weather Observatory.
Although there is a possibility of rain in some regions across the country, there is no such possibility in Chuadanga before April 23–24, he said.
People in the district are experiencing scorching heat as a mild to severe heatwave continues to batter Chuadanga for the past two weeks.
The extreme heat has put the working people in great trouble. Due to the heat, people are unwilling to leave their homes unless it is an emergency.
The situation has been exacerbated by frequent power cuts in the district.
Dr Aulia Rahman, health and family planning officer of Chuadanga Sadar upazila, cautioned against going out in the extreme heat unless absolutely necessary.
"People who are fasting are being asked to drink more water and eat fruits in the evening.
Children, adolescents, and those who are not fasting are advised to drink water frequently. There is a risk of heat stroke due to the heat," he said.
People from all walks of life are suffering due to the ongoing heatwave battering the country.
Shilon Ali, an electronic mechanic at Chuadanga Ali Hossain Market, said, "The heat is unbearable. The market remains empty during the day due to the heat."
Chuadanga Deputy Commissioner Aminul Islam Khan said the district administration is alerting the public not to leave the house unless necessary.
"The Sadar Hospital authorities have been instructed to make special arrangements for the treatment of heat-related patients. We are also providing assistance to the low-income people affected by this rising temperature," he said.