33 rare 'Batagur Baska' turtles hatched in Sundarban's Karamjal
Thirty-three babies of Batagur Baska, a critically endangered riverine turtle species, were born today at Karamjal Wildlife Breeding Centre in the Sundarbans in Bagerhat.
Of the total 34 eggs which were laid by one Batagur Baska on the edge of a pond at the wildlife sanctuary on March 6 this year, 33 hatched, our local correspondent reports quoting Azad Kabir, officer-in-charge of the centre.
With this, a total of 264 offspring of endangered turtles hatched in a few rounds at Karamjal Wildlife Breeding Centre. At present, the centre has a total of 387 turtles of different ages.
"The babies started hatching from dawn and continued till 9am.Thirty-three turtles came out one by one today. One of the eggs was spoiled. After 9 o'clock, the babies were picked up from the sand beach and placed in the pan of the centre. After rearing in the pan, they will be released in a big pond in the centre," Azad Kabir said.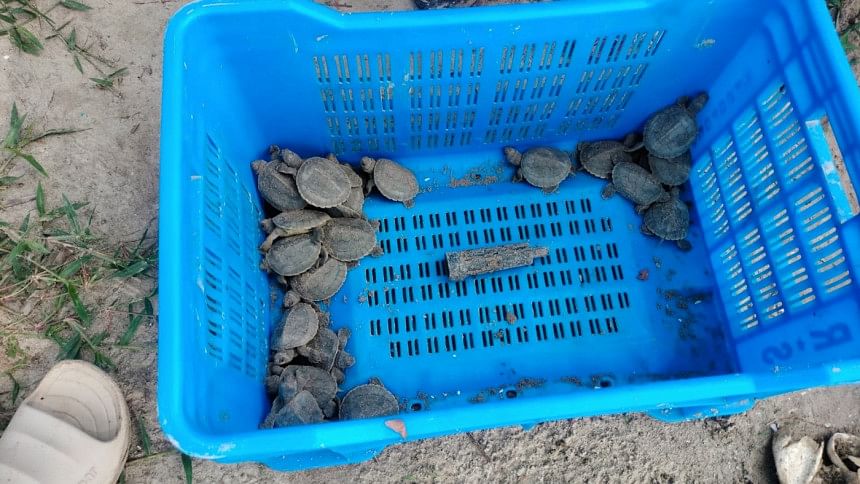 "We have been rearing this endangered species of very seriously. We are keeping a close eye on the breed. Earlier the gave us eggs here. Babies also hatched from those eggs.''
In the year 2000, wildlife researchers believed that the Batagur Baska no longer existed on earth. Later, in 2008, researchers began searching for the species in nature and found eight of them in different water bodies of Noakhali and Barishal.
Of them, four were male and four female. The turtles were taken to Gazipur for breeding. In 2014, they were taken to Karamjal artificial insemination centre along.
So far, two turtles of the species were released in 2017, five in 2018 and five in 2019 in different rivers of Sundarbans. On the occasion of Bangabandhu's birth centenary, 10 more were released in the Sundarbans.