All 32 Batagur baska babies hatch at Karamjal
The breeding centre in the Sundarbans now has 212 turtles of the endangered species
All 32 eggs of Batagur baska, a critically endangered northern river terrapin, have hatched at Karamjal wildlife breeding centre in the Sundarbans in Bagerhat.
Twenty-one eggs of the reptile species, one of Asia's largest freshwater and brackwater turtles, hatched out yesterday evening, 67 days after laying of the eggs, while the rest hatched out today, reports our Bagerhat correspondent quoting Divisional Forest Officer Mahmudul Hasan.
The offspring came out through natural incubation (a process of keeping them in sand) from the 32 eggs laid on March 11 by a female terrapin at the breeding centre in Chandpai range of the East Sundarbans, said Mahmudul Hasan.
Currently there are 212 turtles at the centre, said Azad Kobir, an official of the breeding centre.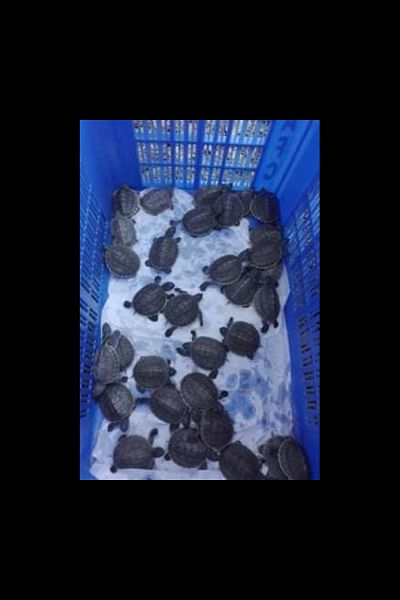 "This is the third time Batagur baska laid eggs in this breeding centre. Earlier, in 2017, two terrapins laid 63 eggs and 57 offspring were born. In 2018, two terrapins laid 46 eggs, from which 24 babies came out," he said yesterday.
The breeding centre has four female adults.
A few years ago, wildlife researchers found four male and four female Batagur baska in different ponds of Noakhali and Barishal.
Then the turtles were taken to the breeding centre at Bhawal National Park in Gazipur, where 94 turtles were hatched.
In 2014, the eight adult Batagur baskas and their 94 offspring were brought to Karamjal wildlife breeding centre.
Batagur baska is one of the 10 most critically endangered turtles in the world and can only be found in the wild in the mangroves of Bangladesh and India.