1,000MW solar power project stuck in red tape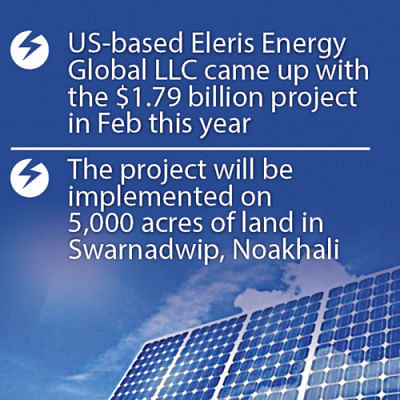 Despite the government's commitment in the national plan to increase production of renewable energy, an investment proposal to produce 1,000 megawatts of solar power is waiting for approval at a time when the country is facing persistent power-cuts.
Eleris Energy Global LLC owned by US-based Pacific Energy came up with the 1.79 billion project in February 2022, just before the Russia-Ukraine war which has triggered the global energy market prices to soar up, forcing the government to stop LNG import from the spot market. This has resulted in a cycle of power-cuts across the country.
Eleris managed to get lease 5,000 acres of marsh land in Swarnadwip in Noakhali District through a joint-venture agreement in February this year. Covering an area of 370 square kilometres, Swarnadwip is a Bangladesh Army acquired island, handed over to the army in 2013.
According to the Mujib Climate Prosperity Plan submitted in Conference of Parties (COP-26), Bangladesh aims  to produce 40 percent of clean power by 2040 as part of its commitment to reduce the  impact of climate change.
Bangladesh submitted Nationally Determined Contribution (NDC) to UNFCCC (United Nation's Framework Convention on Climate Change) promising to produce 911 MW unconditional with it own resources and another 4114 MW conditional renewable power subject to the availability of fund and technical support.
If it had been approved on time, the project could have added 200 MW of power by the time the power crisis hit the country. As per the project documents, the facility can be made ready to produce 1,000 MW within two and half years.
Eleris is still waiting for a response to a Letter of Interest (LoI) to Bangladesh Power Division since February.
Although the company officials held a series of meetings with Power Division high-ups to get the project approved, the project did not see any progress.
Jerry Price, chief operating officer of Eleris Energy Global LLC told The Daily Star that the land they were leased out for the project in Swarnadwip remains under water eight months a year.
"The 1,000MW solar project on Swarnadip  will provide inexpensive power with an economic impact coming back to the people of Bangladesh of more than USD$2.42 Billion.  This includes over 1,000 construction jobs as well as more than 100 high paying operational jobs that are ongoing", he said.
Jerry believed the $1.79 billion project would make Bangladesh a pioneer in renewable energy.
"Despite all these positive economic benefits and positive technical feedback, the project has stalled at the approval stage", Jerry added.
As per Power Division information, the power generation capacity rose to 22,348 MW in 2022 from 4,924 MW in 2009. $25 billion has been spent to build this capacity over the last 13 years.
The Power Sector Master Plan drawn in 2010 promised to produce at least 10 percent of the total power production from renewable energy, a provision excluded in the revised Power Sector Master Plan drawn in 2016.
According to the Sustainable and Renewable Energy Development Authority, Bangladesh currently produces a total of 948 MW of which 714 MW comes from solar with  588 MW linked to the national grid.
This correspondent tried to reach Nasrul Hamid Bipu, state minister for Power, Energy and Mineral Resources Ministry over phone for his comment on the project. He did not receive phone nor did he reply to the text asking him why this project is still on hold.
Nirod Chandra Mondol, joint secretary (renewable energy) of Power Division under Ministry of Power, Energy and Mineral Resources told The Daily Star that they a got a proposal from Eleris Energy Global which held several meetings with them.
"We have some queries about the project which is in the process", he said.
M Zakir Hossain Khan, executive director of Change Initiative, a research platform of renewable energy told The Daily Star that renewable initiatives don't enjoy the flexible provision and facilities fossil fuel based independent power producers enjoy in the country.
"If foreign investment in renewable energy unnecessarily delayed, it will send a negative massage in the global market. It may affect adaptation funding for us", he said adding that Bangladesh lacks a political decision to shift from fossil fuel to renewables as per its commitment in Mujib Climate Prosperity Plan and Power Sector Master Plan.
He commented that the alacrity with which the government acquired land for the Rampal power project, was absent when it came to renewables. Rather, renewable energy faces a setback including a 37 percent VAT and tax on equipment for renewables.
Meanwhile, Public Relations Office of the Power Division mentioned that proposals for producing 4,000 MW of solar energy have been waiting for approval for long.