Time for a renewables revolution
Why sit on the proposal to produce 1,000 MW of solar power?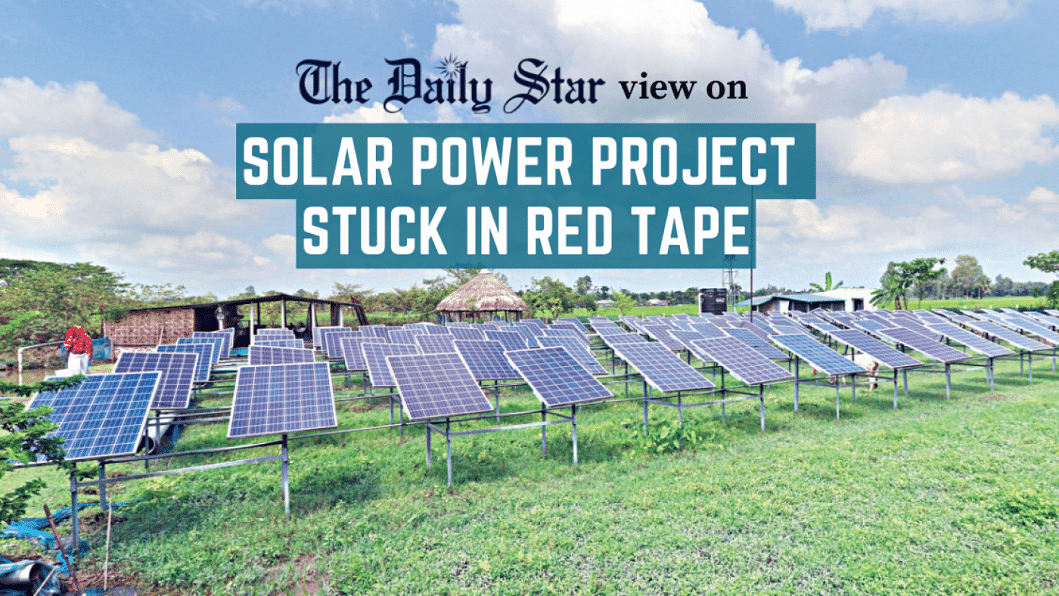 It's frustrating to know that an investment proposal to produce 1,000 megawatts (MW) of solar power has been gathering dust at the Bangladesh Power Division at a time when the country desperately needs to expand and diversify its energy basket. Reportedly, the proposal for the USD 1.79 billion project was submitted by a US-based company in February 2022, just before the Russia-Ukraine war, which caused global energy prices to soar forcing a dollar-strapped Bangladesh to stop LNG import from the spot market. The lack of response from the authorities – despite the project's potential to meet domestic needs and realign our energy policy with international commitments on renewables – is inexplicable, to say the least.
We are told that, if approved, this would be the biggest investment of its kind in Bangladesh. Lack of investment is among reasons cited for the lack of growth of our renewable energy sector. Why sit on the proposal, then? Is it because of any pushback from anti-renewables interest groups? Is it because of lack of land needed to produce solar energy? The last argument doesn't hold with the aspirant investors having secured 5,000 acres of marsh land in Swarna Dwip, Noakhali, following an agreement with Bangladesh Army, which is in charge of the island. Those who have long benefitted from Bangladesh's dependence on fossil fuels and its energy policy that left room for exploitation through collusive deals and exorbitant prices may have an interest in seeing any renewable project to not take off.
Whatever the reason may be, there is no doubt that proposals that advance the cause of renewables deserve serious consideration. Officially, the government remains in favour of this cause. According to the Mujib Climate Prosperity Plan submitted in COP26, Bangladesh aims to meet 40 percent of its energy demand through clean power by 2040, as part of a bid to reduce the impact of climate change. Last year, it made a major leap forward when it scrapped plans for 10 new coal-fired power plants. Despite that, use of fossil fuels hasn't decreased, and is unlikely to do so in the near future. The push for renewables has somehow never gone beyond official plans, feel-good commitments and cosmetic changes.
As the UN secretary-general has said, "our burning world needs a renewables revolution". For Bangladesh, it means waning itself off harmful fossil fuels including coal, oil, and gas, and redirecting efforts to scaling up renewable energy. Unfortunately, renewable initiatives still don't enjoy the flexible provision and facilities that fossil fuel-based power producers do. The playing field is decidedly uneven for the former. Experts warn that if such initiatives are unnecessarily delayed – there are currently unapproved proposals for producing 4,000 MW of solar energy – it will send a negative massage, and may even affect adaptation funding for us.
We, therefore, urge the authorities to address the mismatch between our energy commitments and practices, and take steps to get rid of the bottlenecks in the process of undertaking renewable initiatives. The Power Division must support the cause through its policies and initiatives.