Power Supply During Summer: At least $4.45b needed to cover fuel costs
Says PDB's conservative estimate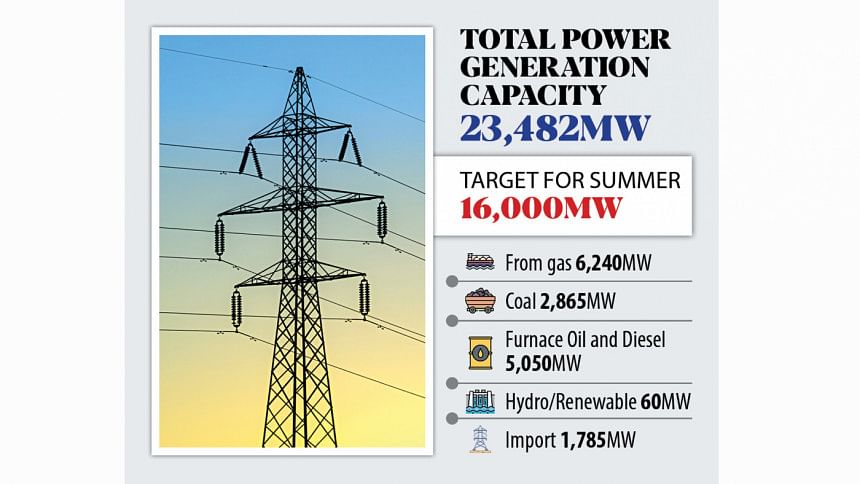 At least $4.45 billion is needed in fuel costs to ensure adequate power supply from February to June, when demand is set to increase by more than 50 percent, the Bangladesh Power Development Board (PDB) estimates.
The amount could exceed $5 billion if the power import bill from Indian Adani Power and the payment to Chevron, which operates the biggest gas field in Bangladesh, are factored in, according to PDB officials who spoke on the condition of anonymity.
The months of February through June see heightened demand for electricity given the summer heat and Boro irrigation season.
And this year, Ramadan is scheduled to take place during the period, so an uninterrupted power supply is expected to ease the demands of monthlong fasting.
Subsequently, PDB estimates 15,000-16,000 megawatts would be needed in a day during the five months. In January, electricity production was around 7,000 to 10,000 megawatts a day, according to PDB data.
Last year, the highest production was in April: 14,778 MW.
"We might not be able to get rid of loadshedding entirely this year but we are trying our best -- all measures have been taken," said Shameem Hasan, PDB's spokesman.
He hoped that there will no interruption in the fuel supply chain during the summer months.
Whether the government would be able to make the funds available to import the fuel necessary for power generation remains to be seen as the pressure on foreign currency reserves that saw acute loadshedding between August and November last year -- is yet to subside.
As of February 8, foreign currency reserves stood at $32.6 billion, down 28.1 percent from a year earlier -- and enough to cover four months' import bills, according to data from the Bangladesh Bank.
"In such a situation, it will not be possible to spend $4.45 billion for fuel import -- PDB's estimation needs revision," said Khondaker Golam Moazzem, research director of the Centre for Policy Dialogue.
There were talks of the government increasing the local gas supply and setting up solar systems in schools and for irrigation as alternate options.
"Then why will they need the huge amount of money to import fuel?"
The government is trying to control imports in different sectors to preserve dollars. "PDB's plan is contradictory to the government's initiatives," Moazzem added.
PDB's plan to ensure 16,000MW electricity a day is appreciable as it would go some way towards bringing down loadshedding and people's sufferings, said Mohammad Tamim, professor of petroleum and mineral resources engineering at BUET.
"But from where they would be able to manage the dollars? It will be challenging," he added.
The ongoing dollar crisis is PDB's concern too.
And to meet the additional demand amid the narrow fiscal space, PDB is aiming to get the most out of the gas-fired power plants as those are the cheapest electricity generators.
In fiscal 2021-22 fiscal year, the cost per kilowatt-hour of electricity by gas-fired power plants was Tk 3.46. In contrast, it was Tk 9.17 for coal-fired plants, Tk 22.10 for furnace oil-based plants and Tk 154.11 for diesel-fired plants.
Of the 23,482 megawatts of electricity production capacity, gas-fired power plants account for 47.8 percent, furnace oil 25.2 percent, coal-fired plants 11.1 percent and diesel-run plants 5.5 percent.
Subsequently, PDB has asked Petrobangla to provide 1,200 million cubic feet (mmcf) of gas a day.
Recently, in a letter to the finance division, Petrobangla wrote that they will need around $1.75 billion in five months to meet the demand for liquified natural gas through spot purchases and long-term contracts.
The state-owned agency plans to import 10-12 cargo LNG from the spot market by June. Another 24 cargo is expected under long-term agreements with Qatar and Oman, said a Petrobangla official requesting anonymity.
This will require $1.75 billion, he said.
"Additional money will be needed as we have a liquidity crisis now. PDB said they will need additional gas but we have not got our dues from the company. Bangladesh Bank also doesn't cooperate with us," he added.
In another letter to the finance division, PDB sought $750 million to import coal for the local coal-fired power plants including Payra and Rampal power plants.
Individual power producers told The Daily Star that they would require $1.15 billion to import furnace oil and diesel to produce electricity as per PDB's demand.
The Bangladesh Petroleum Corporation will need $2-2.25 billion to import fuel, 10 percent of which will be needed for power generation.
Power Cell Director General Mohammad Hossain is hopeful of a better summer this year.
"Most of the coal-fired power plants are now in operation. Though the coal price hiked abnormally in the international market, we are trying to get it as coal is cheaper than furnace oil and diesel," he added.