Floods submerge 60pc of Bangladesh every year: report
Cause $1b damage; low-carbon pathway is crucial for the country to tackle future floods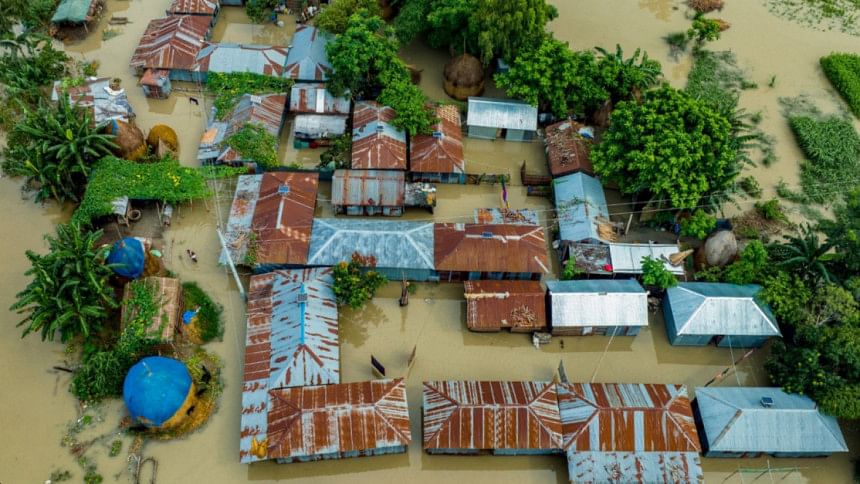 Flooding in Bangladesh will worsen in future as a new study indicates that peak river flows could surge by 36 percent during 2070-2099 if the global emission continues to rise and escalate the climate change situation.
Currently, floods submerge around 55-60 percent of Bangladesh every year and cause a damage worth $1 billion, according to a report published today by Grantham Research Institute on Climate Change and the Environment and Centre for Climate Change Economics.
The report says over half of the country's population is exposed to high flood risks. Bangladesh stands at the crossroads of a crisis with grave humanitarian, economic, and environmental consequences.
The roots of this issue run deep, with climate change driving erratic rainfall patterns, intensifying flash floods, rising sea levels, and hastening glacial melting. The situation has escalated dramatically due to the intensifying impacts of climate change, demanding an urgent and comprehensive response on a global scale, says the study.
It also mentioned that without greater adaptation action and resilience-building, the humanitarian and economic costs of flooding in Bangladesh, which are already high, are expected to increase further due to climate change. The mounting toll of these floods is felt in lost lives and economic devastation.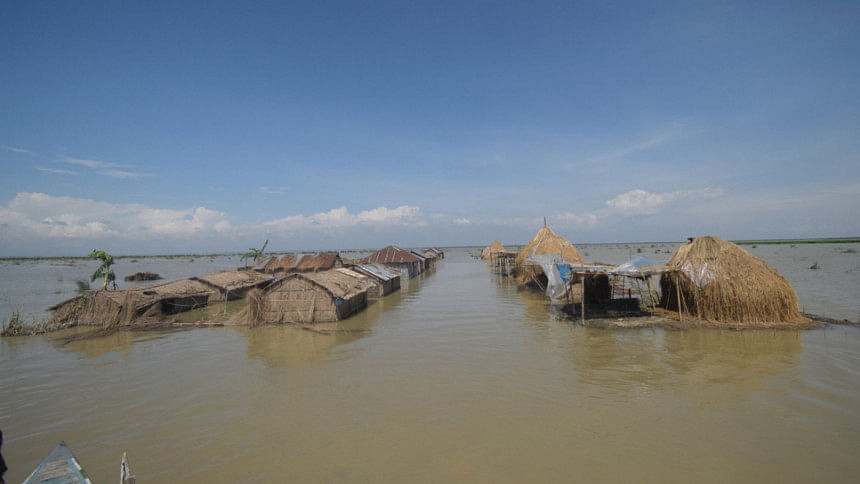 Between 1971 and 2014, 78 floods claimed over 41,783 lives and inflicted economic damages totaling $12.2 billion. The 2022 flood is estimated to have cost $1 billion and affected 7.3 million people, the report adds.
It says a low-carbon pathway is crucial for Bangladesh to tackle future flood crises.
Referring to the recent flood in Bandarban, the study says Bangladesh is under siege by water -- floods have reduced the population's ability to cope, triggering a cascade of setbacks that have long-lasting implications for their well-being and prosperity.
The report highlighted that while Bangladesh contributes just 0.25 percent of global greenhouse gas emissions, its plight underscores the interconnectedness of climate action. The nation's survival hinges on a concerted global effort to mitigate the impacts of climate change.
However, the agriculture and energy sectors are responsible for most of the country's emissions, contributing 44 percent and 39 percent respectively, and are estimated to peak in 2040.