1,500 flood-hit families in Kurigram getting PM's rehabilitation assistance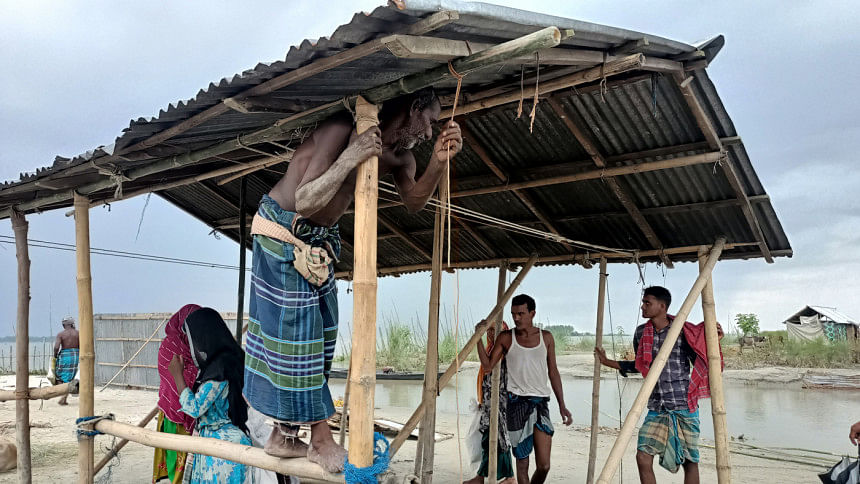 A total of 1,500 flood-hit families of Kurigram are getting Tk 10,000 each for rehabilitation as Prime Minister Sheikh Hasina has allocated Tk 1.5 crore for them.
"District administration started distributing the finance from yesterday. Each family is being given Tk 10,000," Kurigram Deputy Commissioner (DC) Mohammad Rezaul Karim told our Lalmonirhat correspondent today (July 9, 2022).
Prime Minister Sheikh Hasina's relief and welfare fund has donated the financial assistance of Tk 1.5 crore for the 1,500 flood-affected families, he said.
The money will be used to repair flood-damaged houses and purchase educational materials for students and household items, the DC said.
According to the list, the grant money is being distributed through local public representatives to the flood affected families, he said.
According to the sources at district administration, more than 2.50 lakh people from about 80,000 families -- on the banks and char areas of Brahmaputra, Dudhkumar, Teesta, Dharla and Gangadhar Rivers --have been affected by the floods.
Of them, the houses of more than 1500 families have been damaged.
Flood hit Sonavan Bewa (85),  resident of Porar Char area of Kurigram Sadar Upazila, told this correspondent that two of her three houses were damaged flood. His son will be able to repair two houses if he gets Tk 10,000 from the assistance given by the Prime Minister Sheikh Hasina.
Akam Uddin (62), another flood-hit victim said three of his houses had been damaged. Local representative has assured him that he will be given money from the PM's assistance.
Bimal Chandra Das, a resident of Ghogadaha village, said he received Tk 10,000 as assistance given by the PM. With this money he has started repairing his house.