Flood hits Habiganj after Sylhet, Sunamganj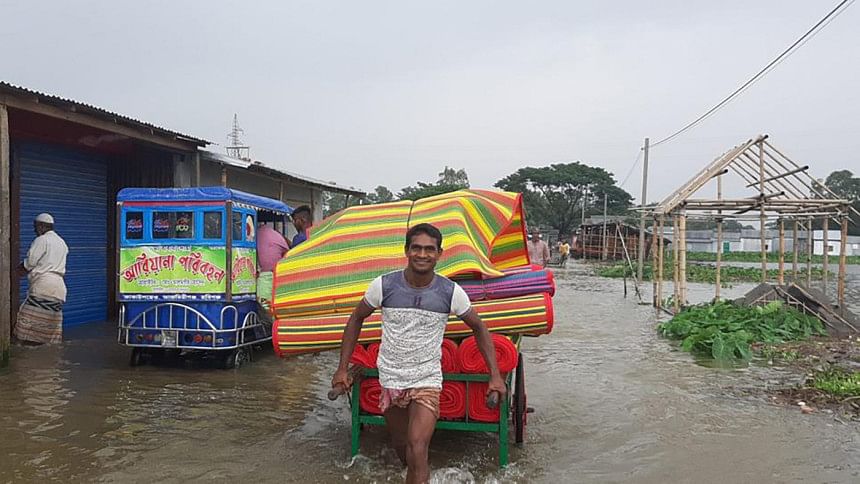 Heavy rains and rush of water from upstream in India's northeast have started flooding Habiganj, after Sunamganj and Sylhet have been submerged.
The low-lying areas of Ajmiriganj and Nabiganj upazilas of Habiganj have been inundated as the water level of Kushiyara-Kalni and Khowai rivers have increased due to torrential rains and the gush of water from upstream, reports our Moulvibazar correspondent.
Electricity and communication have been cut off in some places of the two upazilas.
Uttam Kumar Das, assistant commissioner (land) of Nabiganj Upazila, said all educational institutions, including Ajmiriganj Government College, Miyadhan Mia Secondary Girls' School, Paharpur College, and Kakailheo Mamchan Bhuiya High School have been declared as shelter centres.
The administration is trying to rescue the people of the flood-affected villages and bring them to a safe shelter, he said.
Uttam Kumar said water has already started entering Dighalbak and Inatganj unions. Committees have been formed with the chairmen of each union to rescue those who are under water.
Ajmiriganj Upazila Nirbahi Officer (UNO) Sultana Saleha Sumi said flood water continued to enter different areas. "We are trying to bring the flood-affected people to safety. Many have been brought to safety using boats."
Nabiganj Upazila Nirbahi Officer Sheikh Mohiuddin said due to the rise in water level of Kushiyara river, water is overflowing at the flood-control dam at Paharpur, Radhapur in Nabiganj upazila and entering different villages by submerging the Inatganj-Kasba road.
"Boats have been kept ready. Dry food is being served among flood-affected people. I am constantly monitoring the issue," he added.