Flash flood in haors: Harvesting of half-ripe paddy continues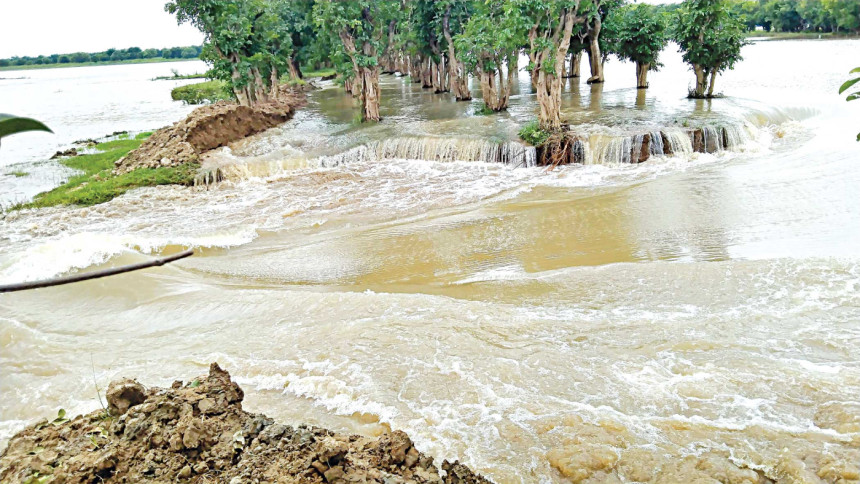 Farmers in haor areas continue to harvest half-ripe Boro fearing more flash floods triggered by torrential rain in the north-eastern districts of Bangladesh and in India's Meghalaya.
Rivers in the areas are flowing close to or over the danger level and crop protection levees are on the verge of collapse. The Department of Agricultural Extension also urged farmers to harvest the paddy fast.
Swapan Kumar Barman, a farmer of Khorchar Haor in Sunamganj's Bishwambarpur upazila, said, "We can't wait any longer. As rivers are swelling and the dykes are vulnerable, it is high time to harvest."
According to the Flood Forecasting and Warning Centre (FFWC) of Bangladesh Water Development Board, the Baulai river in Netrakona was flowing 27cm above the danger level and the Sarigowain river in Sylhet 5cm above the danger mark at 9:00am yesterday.
FFWC added that water of rivers would slowly rise in Netrakona. The level would stay close to the danger level in haor areas of Netrakona, Sunamganj, and Sylhet.
Farmers of Netrakona harvested paddy of 69 percent haor farmland until yesterday, and no new areas were inundated, said FM Mobarak Ali, deputy director of the DAE in the district.
In the district, Boro has been cultivated on 40,960 hectares. Around 133 hectares of the paddy were damaged by the first flash flood earlier this month.
Two levees at Khaliajuri upazila of Netrakona -- Kittonkhola and Payra -- are at risk of breaching if the flood continues, the DAE official said, adding that the paddy on the remaining 31 percent farmland would take more time to ripen.
In Sunamganj, paddy on only 37 percent of 2,22,805 hectares was harvested until yesterday, said Bimol Chandra Ghose, deputy director of the DAE at the district.
"It's a good sign that water is slowly receding in the haors of Sunamganj and it is increasing in the haors of Netrakona. But we are still at risk if it rains in the upstream again."
Meanwhile, Planning Minister MA Mannan, also the lawmaker from Sunamganj-3, said farmers were harvesting half-ripe paddy in fear of more floods.
He told journalists, after the Ecnec meeting yesterday, that this time in 2017, all haors were inundated and almost all paddy went under water. "But this year, the situation is better."