Communication with Sylhet: Air, rail gone, road too may go soon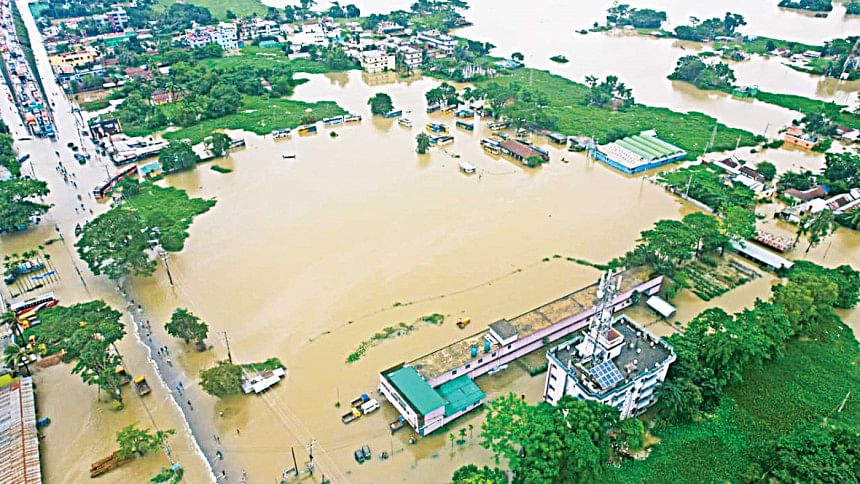 If the flood worsens, Sylhet could become unreachable via roads within a day or two. Air communication had already been snapped and train services were stopped yesterday.   
Bangladesh Railway (BR) yesterday suspended operations of all trains to and from Sylhet Railway Station as most of the lines there went under flood water.
Officials said some trains are now travelling up to Moglabazar and Maijgaon stations, while the rest are running up to Kulaura station in Moulvibazar. Maijgaon station is two stations before Sylhet station.
Road communications between Sunamganj and the rest of the country are already cut off and Sylhet may be in a similar situation as most of the major roads, including national highways in the two districts, have already been inundated.
"There is a concern that Dhaka-Sylhet road communications may be snapped within a day or two if the water level continues to rise," said Fazle Rabbe, additional chief engineer (Sylhet zone) of Roads and Highways Department (RHD).
About 80-90 percent of around 350km road under the RHD in Sunamganj has already gone under water.
Meanwhile, rail communication with Mohanganj upazila in Netrakona with the rest of the country was also severed yesterday after a part of a railway bridge got swept away.
Heavy rain and onrush of water from upstream in India's northeast have inundated large swathes of Sylhet division in the last few days, leaving lakhs of people stranded.
The authorities on Friday suspended flight operations at Sylhet Osmani International Airport for three days after floodwater reached the runway.
COMMUNICATIONS ALMOST COLLAPSED
Flash floods have hit hard the Sylhet division, badly affecting road communications in Sylhet and Sunamganj. People are force to use boats and trawlers to travel from one place to another.
"Most of the roads have already gone under water with parts of many roads swept away by floodwaters," RHD official Fazle Rabbe told The Daily Star yesterday.
He said 10 major roads in Sylhet and six in Sunamganj have been submerged. In some areas, water was flowing four to five feet above the road surface.
"We are continuously monitoring the flood situation and taking measures to prevent sweeping away of roads."
RHD headquarters sources in Dhaka said they received information that around 143km roads in Sylhet, Sunamganj and Sherpur went under water.
"This is not the complete information. We hope to get more information tomorrow [today]," an official said wishing not to be named.
The sources said part of a national highway from Sylhet to Bholaganj was submerged, disrupting road communications.
Regional highways and district roads, including Sylhet-Sunamganj, Jamalganj-Sunamganj, Gobindaganj-Chatak-Goainghat, Sari-Goainghat, and Companyganj-Chatak road, are now under water, they added.
Ashraful Islam Pramanik, executive engineer of RHD's Sunamganj division, said parts of Jamalganj-Sunamganj road and a part of the road connecting a bridge on the Surma river in Chhatak upazila were swept away.
"We have some 350km roads and around 80-90 percent of those have already been inundated," Ashraful told this newspaper.
He said it is not possible for them to assess the damages right now.
RAIL COMMUNICATION
Operations of trains to and from Sylhet Railway Station were suspended around noon yesterday as the main platform went under water, said a BR engineer.
He said two other platforms at the station were inundated earlier.
A total of 13 trains, including six intercity trains, travel to Sylhet daily from different destinations, including Dhaka and Chattogram.
In Netrakona, the soil under the railway bridge 23 between Mohanganj and Atitpur railway stations was swept away sometime Friday night due to strong currents of floodwater.
This caused rail communications between Mohanganj station in Netrakona and the rest of the country being cut off, Mymensingh Railway Station Manager Jahangir Alam said.
Intercity train Haor Express was stranded at Mohanganj station yesterday morning as it could not depart for Dhaka. Another local train was also stuck there, he added.
Our correspondents in Moulvibazar and Mymensingh contributed to this report.