Sohanur Rahman was a maestro in shaping artistic talent: Riaz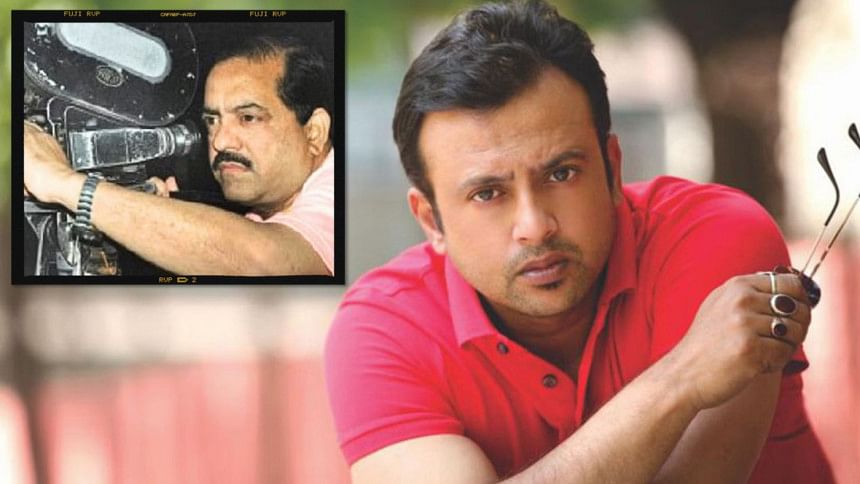 The recent passing of renowned director Sohanur Rahman Sohan has left an irreplaceable void in the Bangladeshi film industry. Sohan, celebrated for his ground-breaking work in the 90s, particularly his iconic film "Keyamot Theke Keyamot", will forever be remembered as a trailblazer who transformed the landscape of Bangladeshi cinema.
Sohan's illustrious career included a string of hit productions, such as "Amar Desh Amar Prem", "Swajan", "Amar Ghor Amar Behesto", "Ananta Bhalobasha", "Shami Chintai", "Amar Jaan Amar Pran", "Poran Joliya Jay Re", "Koti Takar Prem", "She Amar Mon Kereche", and "Lobhe Paap Paape Mrittu". These films showcased his exceptional storytelling and directorial abilities, earning him a special place in the hearts of moviegoers.
Sohan's journey in the film industry commenced in 1977 when he began as an assistant director under the guidance of Shibli Sadiq. In 1988, he took the director's chair for the first time with "Biswas Obiswas". However, it was his 1993 magnum opus, "Keyamot Theke Keyamot", starring Salman Shah and Moushumi, that catapulted him to stardom and changed the trajectory of Bangladeshi cinema.
Tragically, Sohan left us on a Wednesday, just a day after his wife's passing, leaving the industry and his fans in mourning. Actor Riaz Uddin Ahamed Siddique, affectionately known as Riaz, expressed his heartfelt feelings and condolences for Director Sohanur Rahman Sohan in an interview with The Daily Star.
"Sohanur Rahman Sohan was an incredibly talented director and a luminary of the silver screen. He was an artiste akin to a craftsman, and had a unique ability to nurture and shape the careers of numerous artistes. He was a maestro in shaping artistic talent, a feat that set him apart as an exception in the industry," said Riaz.
One of Sohan's greatest contributions to Bangladeshi cinema was introducing the world to the legendary actor Salman Shah. Salman Shah's enduring popularity remains undiminished, a testament to Sohan's remarkable eye for talent and his role in shaping the actor's illustrious career. Riaz believes that Sohan's pivotal role in Salman Shah's journey has left an indelible mark on the history of Bangladesh cinema.
Sohanur Rahman Sohan was also instrumental in discovering other notable stars, including Moushumi, and shaping the careers of numerous artistes. Riaz acknowledged Sohan's immense creative talent and unwavering dedication to his craft, which allowed him to continually bring new talent to the forefront and delight audiences.
"If a director has a big heart and exceptional talent, he can create history by introducing fresh faces to the industry. Director Sohan has set such an example for aspiring directors," shared the actor.
"Keyamat Theke Keyamat", one of Sohan's iconic creations, remains immensely popular amongst new generations of viewers, a testament to its enduring appeal. Even after three decades since its release, the film continues to captivate audiences.
Riaz expressed his profound gratitude for the opportunity to work under Sohan's direction, particularly in the film where he shared the screen with Purnima and Amin Khan.
"I feel incredibly lucky for the opportunity. I shared the screen with Purnima and Amin Khan in that film. The Memories of the production still linger, and I will forever cherish those," expressed Riaz.
In these trying times, Riaz extended his condolences to Sohan's family, recognising the added sorrow of losing both Sohan and his wife within a short span. He said, "I will say one thing - Sohan bhai, wherever he goes, he will be fine. It is heartbreaking to see both husband and wife leaving us within a short period of time. Everything is written by the creator."
"May Allah grant Jannat (paradise) to Sohan bhai and his beloved wife, and may their family find the strength to bear this profound grief," he concluded.