Shah Rukh Khan and his diverse cabinet of characters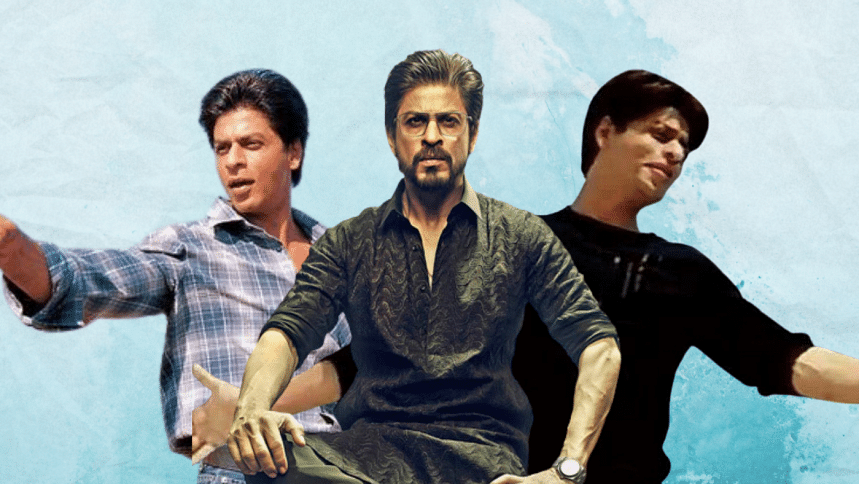 Over 30 years, Shah Rukh Khan has ruled over the hearts of the audience. With each new film, the actor has demonstrated why he is adored by millions of people, all over the world. The 'Badshah of Bollywood', who has been the undisputed king of romance, turns 57 today.
To celebrate his birthday, let's have a look at some of his most legendary characters, that we will forever adore and remember.
Aman Mathur - Kal Ho Naa Ho (2003)
Aman from "Kal Ho Naa Ho" (KHNH) definitely deserves a spot on this list. Through this character, we see first-hand just how tragic unrequited love can be. At the same time, Aman shows us just how selfless the act of letting go is.
With this character, SRK redefined the meaning of love for the audience. Be it Aman's obsession with fixing everything, his witty remarks and the portrayal of first love, Aman was a fictional character many of us fell in love with ourselves. "KHNH" is regarded as one of Shah Rukh's best performances on screen, and lives rent-free in our hearts and our heads even today.
Mohan Bhargav - Swades (2004)
One of Shah Rukh's most unique roles in his body of work, Mohan from "Swades" is a non-resident Indian—going through a moment of self-realisation. The character beautifully embodies the principles of patriotism and undertakes several ground-breaking decisions to change his motherland.
"Swades" re-established hope for a changing India, and resonated well with thousands of non-resident Indians (NRIs). Mohan also sent a resounding message to these NRIs, to abandon their sheltered lives in the West and return home to work for the benefit of their own nation.
Kabir Khan - Chak De! India (2007)
While Shah Rukh has established his stock as the king of romance in Bollywood, "Chak De! India" was one of the first films where he opted to step out of his comfort zone. His rather unique appearance in the film caused quite a stir amongst the Indian audience back in 2007, when the movie was released.
Through this film, we saw Shah Rukh Khan go from being a lover-boy to a robust athlete, who gets a second chance at atonement. "Chak De! India" also had one of my favourite dialogues, when Shah Rukh gives a monologue to the team explaining how seventy minutes could change their lives.
Rizwan Khan - My Name Is Khan (2010)
If I had to pick the most powerful character played by Shah Rukh, it would be Rizwan, a man with Asperger's syndrome, who sets forth to change public perception around his community. Throughout the film, people end up loving him more than feeling pity for his condition.
Following the 9/11 attacks, he is determined to meet the President of the United States, simply to tell him that his name is Khan and that people like him, and those from his community, are not all terrorists. While this isn't the usual plotline of an SRK-Karan Johar collaboration, it is one role where Shah Rukh's range is on fully display.
Raees Alam - Raees (2017)
We have seen Shah Rukh play the infamous Don twice, but his role in Raees was unique and, in some ways, better than that that in Don. Raees rises from the ashes, after indulging in the illegal alcohol trade persisting in Gujarat between the mid-1960's and the late 1980's. Despite being the 'bad guy', the character ends up winning hearts both on and off screen.
While there lies an element of a love story in "Raees", it is just an element and not definitive to the entire plot.