Pori Moni signs up for a new film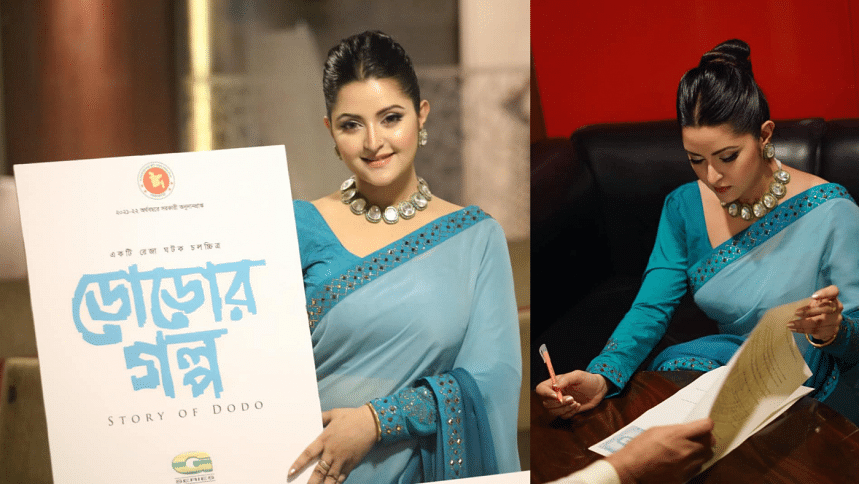 Earlier on, Pori Moni created social media uproar when she wrote that she will be taking an important decision in her life on Sunday, and that she requested everyone's love and support. 
Many assumed that she might be signing legal papers to officially terminate her marriage. However, she surprised everyone at midnight by announcing her new film "Story of Dodo."
"Story of Dodo" is a government granted film which received funding in the financial year 2021-2022. Directed by Reza Ghatok and produced by Nazmul Haque Bhuiyan, the film received a grant of Tk 60 lakhs.
The director of "Dodor Golpo" informed The Daily Star that Pori Moni will play the role of Kajol, who is a single mother. "The plot revolves around the struggles of a single mother, and the journey of Kajol in the span of 20 years will be highlighted," he said.
In the film, Monira Mithu will play the character of Kajol's mother.
Pori shared that she believes audiences of all ages will be able to relate to the plot and added, "I want to work in different stories and experiment with new characters."
This is the first film that the actress has signed after embracing motherhood for almost a year. Earlier on, Raihan Rafi confirmed that Pori Moni will be working on his new web-film, which will be launched on Binge. In Chayanika Chowdhury's upcoming web-film, Pori Moni will be seen opposite Mahfuz Ahmed.