"Poran" may not have a BDT 100 crore budget, but it has "heart"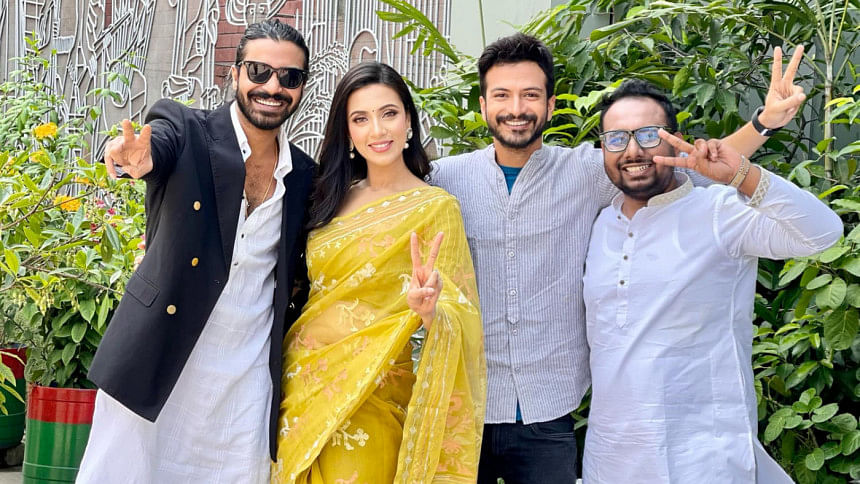 This Eid-Ul-Adha, Raihan Rafi directorial "Poran" is up against the BDT 100 crore mammoth production, Ananta Jalil's "Din: The Day". While both films have gathered considerable hype ahead of release, the difference in budget and halls released in means that "Poran" will only have to do a fraction of the business to be deemed "successful".
The Bidya Sinha Mim, Yash Rohan and Sariful Razz starrer is allegedly based on the infamous Rifat-Minni story, that shook the nation to its core. However, the director prefers not to comment on that, only maintaining that it follows real life events.
"I am very confident of this film", said Raihan Rafi, while sipping a cup of black coffee at The Daily Star's canteen. "Even though we shot for it before the pandemic, the triangle love story has retained its ingenuity."
"Poran" will release in just over two-dozen halls. "The amount of people who will go to watch the film is more important than how many halls we actually release it in".
The director further said that an OTT release is on the horizon, after the film runs its course in the cinema halls.
Bidya Sinha Mim, on the other hand, is not bothered by the prospect of OTT at the moment. "The real fun is in the cinema hall, where we can watch it with family and friends," she says, urging everyone to come and experience the film for themselves.
Even though many critics have cited the "glorification" of a villain in the film as a major downside, the director firmly brushes aside these allegations. "This is most certainly a film that you can watch with family. As for the elements that they talk about, there is nothing that we show that is outside what we experience in real life," he says.
Yash Rohan, who seemingly plays a straight-cut "good guy" in the project, is very hopeful about the film. "I am sure that if you go to watch Poran, you will feel like you have watched something substantial," he says. "The chemistry, the script, the cinematography – I will say that I am more than satisfied with what we have achieved with the film. Until now, the songs of the film have been appreciated by the audience as well."
How will "Poran" fare in the halls? Only time will tell. However, it is easy to say that the director and its actors firmly believe in it, with a lot of heart.