Nora Fatehi's appearance at Dhaka event hits new snag
The participation of Bollywood artiste Nora Fatehi at an event in Dhaka has hit a new snag.
The VAT department of National Board of Revenue (NBR) yesterday said the organisers did not take permission from its field office to hold the cultural event with the actress and deposit the bank guarantee in line with rules to hold such events involving ticket sales.
In a letter to the field office, the VAT department said VAT and supplementary duty is applicable for such events and the organisers should take permission as per VAT rule.
The letter also said no such commercial event can be held in violation of the rule.
The Bollywood artiste is scheduled to arrive in Dhaka on November 18 to shoot a documentary on Global Achievers Award titled "Women Empowerment in Bangladesh".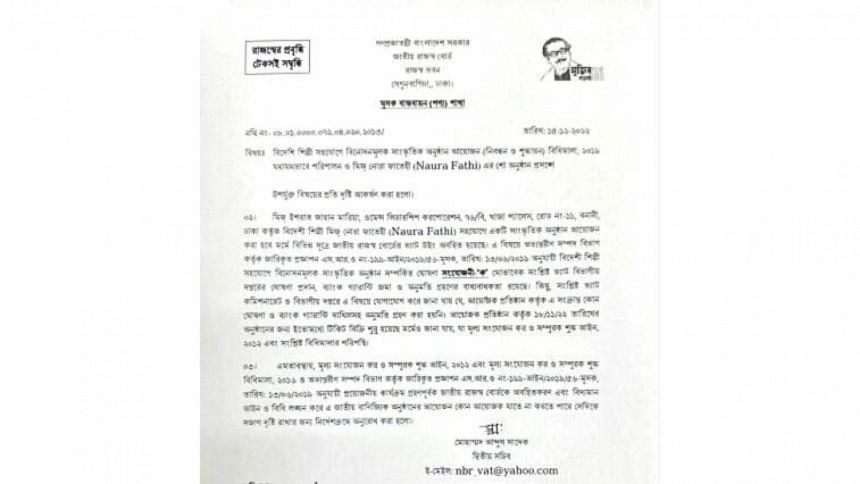 The latest developments followed a recent move by the income tax wing of the NBR requesting the home, cultural affairs and other agencies to ensure payment of source tax on the honorarium and other expenses for Bollywood actress Nora Fatehi.
The tax administrator in a letter on November 13 said 30 percent source tax is payable on the total amount of honorarium and other expenses, including transport and accommodation as per the law.
In response, the organisers said they paid the tax on honorarium and other expenses related to the Canadian-born Indian actress attending the event.
In its letter yesterday, the NBR's VAT wing advised its field office to take measures so that organisers take permission and provide bank guarantee to hold the event.
The information ministry on November 7 gave permission to Nora Fatehi's arrival in the country following a request from the Women Leadership Corporation.
She is likely to join the event of the Global Achievers Award.