I'm in love, but don't know when I will get married: Bobby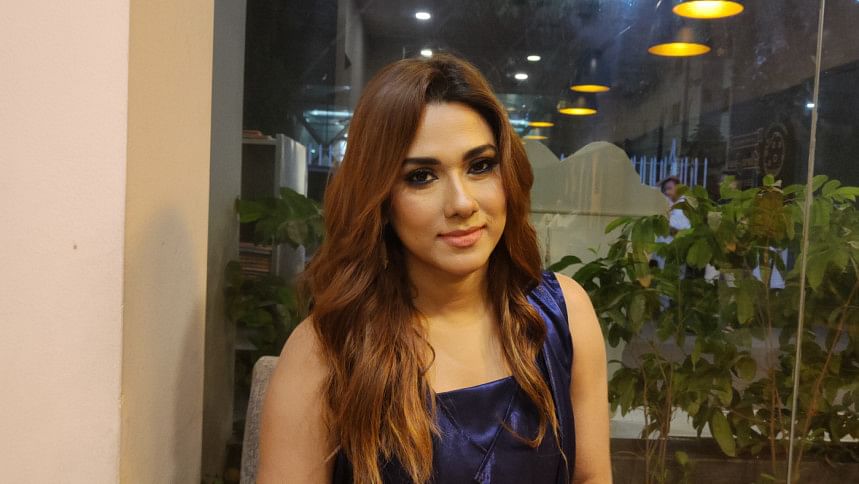 The Bobby Haque starrer film, "Paap" is all set for release during Eid. Directed by Saikat Nasir, the film will see Bobby take on the role of a DB police officer.
The teaser, trailer and songs for the film have already been released. Speaking with The Daily Star, Bobby talked about a variety of topics, including the release of "Paap", plans for Eid, her favourite Eid dish, her experience of debuting as a film writer, love and much more.
Your latest film, 'Paap' will be releasing this Eid. Could you tell us a bit about the film?
Everyone who saw the trailer for "Paap" have shared that they have never seen me in such an avatar. I got a lot of praise for the teaser, trailer and songs from the film. It is true, that I have never played such a character before. Initially, I was not ready to do this movie at all. Later, after hearing the film's story, I agreed to join the project. It is only because of the director and producer that I was able to work in this film, as they were able to convince me.
Why should audiences go to theatres to watch this film?
Over the years, the audience's taste has changed. Now, they prefer to watch films that have good stories. "Paap" is a thriller film, with a quality story, so I am sure the audience will come to the theatres to watch it.
Is it true that you have written a movie called 'Mastermind'? What made you decide to write movies?
The story and concept of "Mastermind" is mine. This story came to mind when I was quarantined at my house during the pandemic. Once upon a time, I would write quite a lot. So, this is a story that is comprised of all of those little stories. When I spoke to Saikat Nasir, he said that it was a great story. The screenplay for "Mastermind" will be written by Abdullah Zahir Babu. The film's story will be about corporate culture and underworld contacts. It will be a complete action-thriller.
Will you now regularly write stories for films?
Even if it's not a regular thing, I'll think about stories for films from time to time. I really love doing this kind of creative work.
Your fans are very curious to learn about your love life and when you will get married. Can you open up about this?
Love is an eternally beautiful thing. Everyone likes to be in love. There is nothing quite like love in this world. I'm in love too, but I don't know when I will get married. That's because marriage is a big deal. If I get married, I'll surely tell everyone.
What are your plans for Eid?
My plan for Eid is to visit my close relatives. I'm also going to visit a few movie theaters. I could meet the audience at any of the halls at any time. So far, I have received a salwar kameez as a gift. I also gave many gifts to the people close to me. I also have plans to buy a few more things before Chaand Raat.
What is your favourite Eid dish?
My favourite thing to eat during Eid is chotpoti. I like to make it with my own hands. Usually, it is very delicious.